Fact Checked
Home wireless broadband is a great NBN alternative that plenty of providers are now offering, in case you can't get fixed-line internet at your home, or you simply don't want it! As long as you've got a decent 4G (or 5G, if you're lucky) connection, then you can get home wireless broadband for all your work, streaming and general web browsing needs.
One of the providers offering home wireless broadband is Southern Phone, typically known for its NBN and phone plans. Southern Phone offers up two home wireless broadband plans on 24-month contracts, but how do they stack up? Read on below to find out.
How much does Southern Phone home wireless cost?
Southern Phone offers two home wireless broadband plans, priced at just $50 per month for 200GB of data (minimum cost $1,279 over 24 months) and $70 per month for 500GB of data (minimum cost $1,759 over 24 months). Both plans include a $79 upfront cost for a new modem. You can find these plans in the table below.
Southern Phone Wireless Broadband Plans
The following table shows a selection of published Southern Phone wireless broadband plans on Canstar Blue's database, listed in order of cost, from the lowest to highest and then by data allowance, largest to smallest. This is a selection of products with links to referral partners.
What do you need for home wireless broadband?
To access home wireless broadband, you'll need a dedicated modem and SIM card delivered by your chosen provider. You then just insert the SIM into the modem, plug the modem into the wall and you're good to go. Home wireless broadband is not intended to be portable, but you can set it up anywhere in your home – and even take the modem with you to your holiday home or hotel if you want WiFi access wherever you go.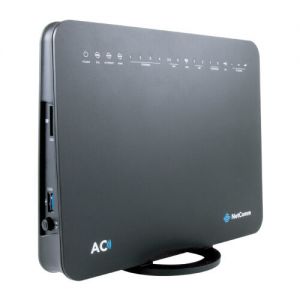 A Netgear NL1901ACV, a home wireless broadband modem offered by Southern Phone
What network does Southern Phone home wireless use?
Southern Phone uses the Optus 4G Plus Network to deliver its home wireless broadband plans. Only Telstra, Optus and Vodafone have their own mobile networks in Australia, meaning that all other telcos have to piggyback off one of these networks. This often means the small providers don't get access to the entire network, but it's usually good enough for standard home wireless.
How fast is Southern Phone home wireless broadband?
It's reasonable to expect download speeds of around 12Mbps with home wireless broadband, similar to the Basic NBN 12 speed, although faster speeds are common. Determining factors include your location, signal strength, network congestion and the technology you're using to connect.
If you already have a phone plan using the same network, try running a speed test to see what speeds you're getting on your mobile, because you can expect exactly the same through your home wireless.
Southern Phone may have access to Optus' 4G network (and 3G for those who still rely on it), but it doesn't yet offer plans on the new Optus 5G network. 5G networks are still being rolled out across Australia.
Southern Phone Home Wireless Plans Compared
Southern Phone is one of the leading providers of home wireless broadband, but you have plenty of other options if its prices, data inclusions or network don't quite work for you. See below for a range of wireless broadband plans.
Southern Phone Home Wireless vs NBN
Southern Phone also offers NBN plans, if you're deciding between the two. If you can get the NBN, odds are that you could get home wireless broadband, with both options being on the table if you're a casual internet user, and certainly worth consideration.
Southern Phone's NBN plans start at $65 per month for an unlimited Standard Plus plan, with an optional $99 modem. Unlike Southern Phone's home wireless plans, these plans are without any contracts, so they give you greater flexibility. Plus, they all come with unlimited data, so you don't have to worry about those home wireless data caps.
See the table below for Southern Phone NBN plans on Canstar Blue's database, listed in order of standard monthly cost, from the lowest to highest, and then by alphabetical order of provider. Use our comparison tool above to see plans from a range of other providers. This is a selection of products from a referral partner.
Why should I get a Southern Phone home wireless plan?
If you're comfortable with a 24-month contract, and have good reason to be avoiding an NBN connection (we don't blame you if that's how you feel), then Southern Phone's home wireless plans could be a great solution for getting the internet on at home. These plans are reasonably priced with decent data inclusions that should suit most households, unless you're used to running on unlimited data because of excessive streaming and/or gaming use.
If you're shopping around for a home wireless broadband plan, then Southern Phone is certainly a provider to keep your eyes on. Just remember that the 24-month contract means you are tied into a pretty hefty total cost over that term. As such, you may want to consider plans being offered on a monthly basis instead, especially if you're trying home wireless for the first time.
Southern Phone home wireless key takeouts:
Prices start from just $50 per month
Typically one of the cheapest providers
Data caps at 200GB and 500GB
24-month contracts only
Uses Optus 4G Plus Network