Top Online Gift Delivery Service – Dessert Boxes
Forget charcuterie boards with crackers and cheese, it's all about the sweet stuff for the folks at Dessert Boxes. Gifts usually start from $38 for cheeky novelty lollies, toys, and accessories, and reach up to nearly $300 for the World's Biggest Dessert Box which is filled with donuts, brownies, cookies, chocolates, and candy. The brand also offers special occasion boxes for Valentine's Day, anniversaries, graduations, birthdays, 'sorry' messages, and more.
Standard delivery costs $9.99 for recipients in Sydney and Wollongong and $15 for all other major cities in Australia, plus some regional locations. Shipping is free for all orders over $100. However, it currently does not deliver to the Northern Territory. Additionally, the company only offers weekend delivery for Sydney orders. Keep in mind that if you're outside of the Sydney/Wollongong shopping area (i.e. the rest of Australia) product availability and range may vary.
Dessert Boxes scored a sweet victory with five stars for customer service, product accuracy, delivery reliability and timing, ease of site navigation, and range of gifts on offer. It rounded up the review with four stars for value for money.
Is it worth buying gifts online?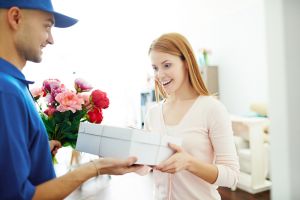 Buying gifts online is certainly worth it, especially if you're looking for an easy way to send someone a special gift, sympathy hamper, or bereavement gift. In fact, convenience is the number one reason people use online delivery websites (49%), according to our survey. The wide range of gifts available (17%) and the lack of physical stores nearby (16%) also drove shoppers to the internet, as did good deals (13%).
With almost half of our survey respondents (42%) using online gift delivery services for birthdays, anniversaries and other special occasions, it's important to make sure you're getting the best bang for your buck to avoid any disappointments (and not to mention embarrassment) so it's a wise move to shop around. And it seems this may be the case for the 34% of respondents who said they've tried more than one gift delivery service.
Which online gift delivery service should I use?
Our latest survey suggests consumers have had fairly good experiences with ordering from Dessert Boxes and Hampers With Bite, both of which saw a mix of five and four-star reviews across the board.
Buying anything online is always risky, even more so if it's a gift for someone special. A good intention can quickly turn into disappointment if the gift you ordered doesn't turn up on time, or looks nothing like its internet description.
If you're looking for a trusted online gift delivery service, start by reading reviews for different websites. Customer reviews aren't gospel but can be a good indication of overall satisfaction. Watch for recurring themes in reviews and common observations about the service provider, but don't get bogged down with the one-off negative review.
There are several online gift delivery services available in Australia, so do your research before handing over your hard-earned money.
Online Flower Delivery Reviews
Picture credits: Evgeny Atamnenko/ Shutterstock.com, Stock-Asso/ Shutterstock.com.