Fact Checked
Fox ahead of competition in motorcycle helmet ratings
When you hop on your motorcycle, there are a few essentials you should always have – your keys, your wallet, your phone, and your helmet. The fact is that riding a motorcycle is as thrilling as it is potentially dangerous, so ensuring you have all the right equipment, at all times, is a no-brainer. Accessories don't come any more important than a good helmet.
But when it comes to protecting your noggin, Aussies have plenty of helmets to choose from, which can give you a few headaches when it comes to narrowing down the options. While it might appear to be an easy decision, helmets are a purchase worth taking your time with, as it may end up being the only thing between you and a nasty injury. To help with the decision-making process, Canstar Blue produces an annual review of motorcycle helmets, rated by those who wear their helmets when they head out on the roads.
Brands are compared on factors including durability, comfort & fit, style & design, value for money and so on. The idea is to give you as much helpful information as possible about the brands compared, so that you can make an informed purchase decision the next time you need a new helmet.
In 2020, Fox claimed the top spot for overall satisfaction and also rated five stars in various key areas.
Best Motorcycle Helmets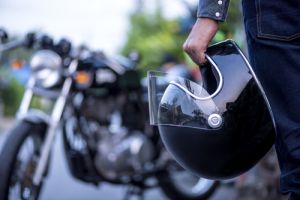 Here are the best brands for motorcycle helmets in Australia, as rated by consumers in Canstar Blue's latest review:
Fox
Shoei
Bell Helmets
Thor
AGV
Fox topped our ratings for motorcycle helmets with five-star reviews for comfort & fit, style & design, additional non-safety features and overall satisfaction.
However, runner-up Shoei managed to beat this year's winner on vision, durability, ease of clean and value for money, with additional full marks for comfort & fit and style & design. It landed on a solid four stars for overall satisfaction, while Bell Helmets, Thor and AGV finished on three stars overall.
Read on for further details about the motorcycle helmets these brands offer, plus helpful tips on what to look for the next time you go shopping.
Types of motorcycle helmets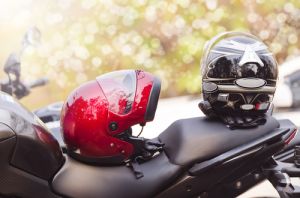 Like motorcycles, there are plenty of varieties and types to choose from when it comes to selecting a helmet. While it's always recommended to go instore to find the best fit, you won't be short on options when it comes to the style, design and features available. Survey respondents were asked about what type of motorcycle helmet they most recently purchased, with results below:
Full-face: 44%
Flip-up: 19%
Open-face: 14%
Dual purpose: 9%
Off-road: 7%
Half shell: 6%
Considering that respondents spent, on average, close to $300 on their new helmets (based on previous survey results) – with 24% also having a spare helmet on hand for passengers – they obviously aren't a cheap purchase. But considering what they're protecting, the price tag may be well worth it, although you still want to get a good deal.
Respondents were also asked about what drew them to their helmet of choice, with their responses below:
Degree of protection/safety: 33%
Comfort/fit: 24%
Style/look: 10%
Brand reputation: 9%
Cheap price: 8%
Came with other protective gear as part of a deal: 6%
Features: 5%
Needed a specific type: 5%
With plenty to consider, you'll also have to ensure your helmet meets safety standards before you can hit the road. Read on to find out what Australian motorcycle laws you should adhere to.
Australian Motorcycle Helmet Laws & Guidelines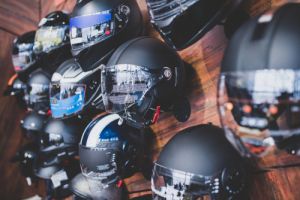 Motorcyclists are required by Australian law to wear helmets at all times when operating a motorcycle, in addition to any passengers who are riding with you. However, laws and legislations vary from state to state, so it's best to read up on any legislation if you're not sure if your helmet meets the required local standards.
Motorcycle helmets are required to meet minimum standards before being made available for purchase, with the safety information sewn onto part of the chin-strap. Riders should look for the 'AS/NZS' symbol – indicating that the helmet meets the Australian and New Zealand standards – and the UNECE22.05 mark, but if you're not sure what you should be looking for, ask the staff at your local motorcycle retailer, as they should be up to date with the most current legislation.
With 8% of survey respondents stating that they have bought a helmet from overseas, plus 13% buying theirs online, it's important that you ensure the helmet you have your eyes set on meets Australian standards, as you could end up spending money on a helmet you can't legally use. Additionally, it's best not to buy second hand, as it may not offer the same level of protection as a new model.
Our latest survey found that just under half (47%) of riders know whether or not their helmet is in line with Australia's safety regulations – with Gen Y riders less likely to know than older generations – meaning many are running the risk of a more serious injury, or a potential run-in with the law.
Motorcycle Helmets Compared
Fox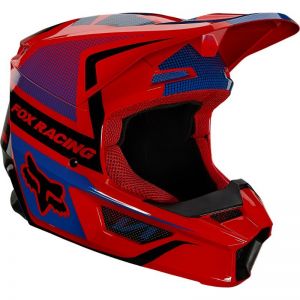 Renowned in the racing industry, American brand Fox primarily manufactures gear for extreme sports and motocross, but offers everything you will need before you set out on the dirt tracks, including protective wear such as gloves, boots and goggles. If off-roading is your thing, then Fox may be the option for you.
Offering three main ranges of helmets – the V1, V2 and V3 – each range offers plenty of variety in terms of style and colour, giving those who like to stand out from the crowd plenty to get excited about. The entry-level V1 includes a new visor design for increased safety, with six sizes to choose from ranging from XS to XXL. The V2 includes a dual-density lining, with increased ventilation to help with those hot days, while the V3 includes the DriLex liner for increased comfort and moisture absorption.
Fox helmets are available at retailers around the country, with Fox listing stores online, plus spare parts and accessories are also available for purchase.
Fox earned five-star reviews for comfort & fit, style & design, additional non-safety features and overall satisfaction. It got four stars for vision, durability, ease of clean and value for money.
Shoei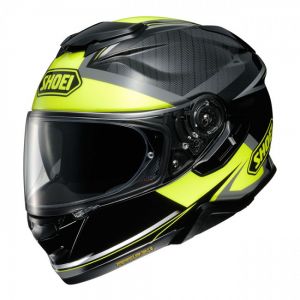 Originally starting out making helmets for construction sites, Japanese brand Shoei transitioned into the world of motorcycle helmets in 1958, with the manufacturer today producing a wide variety of models for both on-road and off-road rides. While one of the more expensive options on the market, Shoei may be well worth the price tag.
The majority of Shoei's range comes in the form of its on-road helmets, with visored helmets available, in addition to open-face helmets. Shoei's 'premium' helmet – the GT-Air – provides an aerodynamic shell design, a washable and replaceable interior system, along with a visor that Shoei claims can block out up to 99% of UV rays, making the ride more comfortable. Other helmets of note include the J-Cruise II, ideal for those looking for a simpler model, and the 'flip-up' Neotec II, for those after a particular style, with plenty more in between.
For those more inclined to go off-road, Shoei has the Hornet and VFX-WR models, each with streamlined designs to help those looking to shave a few seconds of their lap times on the dirt track. With additional mud guards and visors, Shoei also has a wide range of colours and designs for those wanting to make a statement.
Shoei got five stars for vision, durability, ease of clean, comfort & fit, style & design and value for money. It landed on four stars everywhere else.
Bell Helmets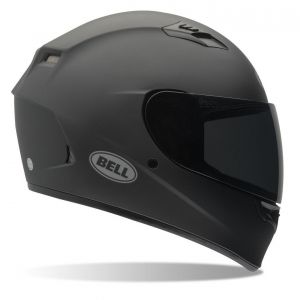 An American brand established in the 1950s, Bell offers helmets for all types of two-wheels, motorised or otherwise. One of the more competitively priced brands in Australia, Bell's helmets are available in multiple types, including open-face, full-face and off-road models.
Bell divides its on-road helmets into the Street and Culture ranges, with open-face and full-face models available in both, giving riders plenty of options to choose from. Bell's introductory model, the Qualifier (pictured), includes features such as an anti-fog face shield, removable liners, and a wind collar, making it ideal for the everyday commute, with the top of the line 'Race Star Flex' ideal for those looking to cut loose on the race track with Raceview orientation and a lightweight design.
Bell Helmets earned a solid four stars for comfort & fit, vision, style & design, additional non-safety features, ease of clean and value for money. It landed on three stars for durability and overall satisfaction.
Thor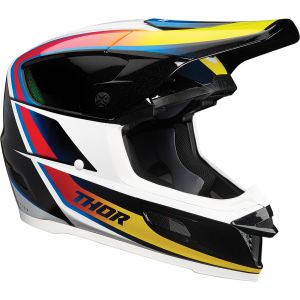 Founded in 1901, Thor is an American manufacturer of motorcycles and motorcycle parts, especially engines. The brand's range of motorcycle helmets includes the Reflex (pictured) which features a fibreglass reinforced composite shell and shock-absorbing welded tubes inside the helmet to minimise impact to your heard in the event of an accident.
There's also the Sector Split and Sector Racer ranges, said to be designed for performance, comfort and coverage, all without denting your budget. Prices for the Sector range start from just under $100 and go up to $159.95. The Sector Split comes with a brain protection system claimed to reduce harmful forces transmitted to the brain for certain impacts, plus a dual-density EPS liner for extra venting.
Thor received four stars for additional non-safety features, and three stars in all other categories, including overall satisfaction.
AGV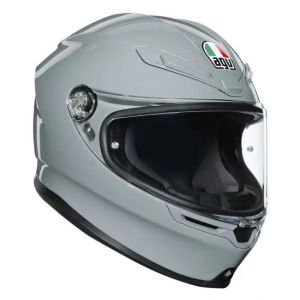 Founded in 1946, AGV is an Italian manufacturer that is well-known on the road, as well as the racetrack, with the brand producing the first fibreglass helmet in 1954.
While more expensive than some of its competitors, AGV may be worth checking out if you're big on style, with plenty of cool finishes and colours available, helping you to stick out from the crowd. Available at retailers around the country, AGV has a dealer locator on its website, making it easier to find, and pick up some headgear.
AGV primarily focuses on its racing series, although has a helmet in its range to suit every rider. From the newly released K6 range to the lightweight Compact ST helmet, as well as the modular or flip-up SportModular helmet, there's no shortage of options if you're in the market for a new helmet. In addition to these specific application helmets, AGV's expansive catalogue also includes everything from scooter helmets to off-road helmets, meaning you should be able to find a suitable option regardless if you're a daily commuter or weekend adventurer.
AGV rounded up the scores with three stars across all categories, including overall satisfaction.
You may also be interested in:
Which motorcycle helmet should I buy?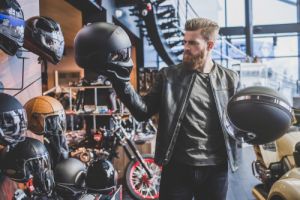 Arguably the most essential piece of safety equipment when it comes to travelling on two wheels, a helmet is more of an investment in your health and safety than just another purchase, although like other investments, there's plenty to consider before breaking out your wallet.
Ultimately which helmet you decide to stick on your melon will come down to personal preference, as well as where you plan on riding, as each helmet type and model will suit different situations. A helmet isn't a purchase you want to do on the fly though, as it can often be the difference between riding another day or meeting with an unfortunate accident or injury. As a result, it's best to do plenty of research before you set your heart on a brand, as a clear head will ensure you end up with the best fit for your next trip.
About the author of this page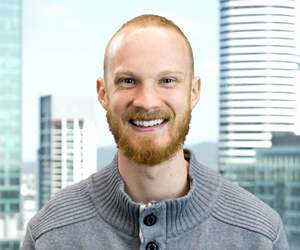 This report was written by Canstar Blue's Site Editor, Dean Heckscher. He's our resident expert on all things automotive, health & fitness, streaming and more. Dean is also one of Canstar Blue's customer research report producers, helping to turn complicated subjects into easily-digestible information for our readers. He's passionate about helping consumers make better-informed purchase decisions on all manner of consumer goods and services.
Photo credits: Virojt Changyencham/Shutterstock.com, nampix/Shutterstock.com, 4 PM production/Shutterstock.com.