Fact Checked
Harley-Davidson riding in hot four years in a row in motorcycle glove ratings
When it comes to staying protected on the roads, motorcycle gloves can be an underappreciated piece of kit. The same goes for helmets, jackets and boots! But gloves can come in handy on all types of rides, giving you respite from the harsh sun, chilling wind, or protecting you from the risk of road rash should you take a tumble. Plus, a good pair of motorcycle gloves will provide extra support and grip, helping to cut down on hand cramps or sore joints after long trips.
To help you feel your way through the market, Canstar Blue has surveyed more than 300 Aussie riders for their feedback on the motorcycle gloves they purchased and used in the last 12 months. Respondents rated brands on style, comfort & fit, protection, durability, functionality, value for money and overall satisfaction. Those which received at least 30 survey responses are compared in our report.
In 2020, Harley-Davidson rode in solo to the top of our ratings, with five-star reviews in all categories. These include protection, durability, comfort & fit, style, functionality, value for money and overall satisfaction.
Best Motorcycle Gloves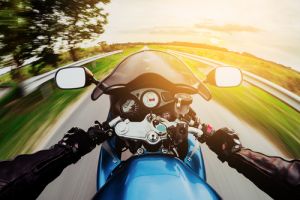 Here are the best brands for motorcycle gloves in Australia, as rated by consumers in Canstar Blue's 2020 review:
Harley-Davidson
Fox
Alpinestars
Bikers Gear
Harley-Davidson has parked in top spot for the fourth year in a row, with five stars for overall customer satisfaction, while Fox and Alpinestars sat on four stars. Bikers Gear rounded up the scores on three stars overall.
It's worth mentioning that Fox also impressed Aussies when it came to comfort & fit, achieving full marks for the category. Alpinestars scored the same result for protection.
What to consider when buying motorcycle gloves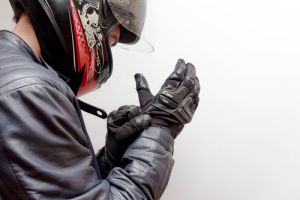 In addition to rating their motorcycle gloves, survey respondents were asked what the main purchasing factor was when deciding which gloves to walk out the door with, with the results listed below:
Comfort & fit: 32%
Protection: 26%
Brand: 10%
Cheap price: 9%
Style & look: 8%
Came as part of a deal with other protective gear: 7%
Needed specific type: 6%
To wear socially, not for bike riding: 2%
The survey found that younger people tend to drive towards cheap prices compared to older generations, who are more likely to buy gloves based on the degree of protection/safety.
Motorcycle Gloves
Harley-Davidson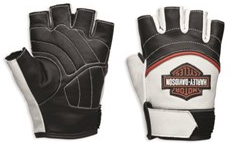 A popular choice for all things motorcycle-related, American brand Harley-Davidson offers a number of motorcycle glove options, such as fingerless, full-finger, waterproof, touchscreen-friendly and leather gloves. There are also gauntlet gloves for riders looking for maximum protection against the elements. The majority of Harley-Davidson's gloves are said to be made from leather to provide a combination of style and user comfort, with most gloves additionally coming with a padded palm for extra comfort on long rides.
Harley-Davidson claims to use pre-curved technology in the fingers, apparently making it easier to grip the handlebars, as well as cut down on forearm cramps. Gloves can be adjusted via wrist straps, with the gauntlets coming with a wrist strap and drawcord to ensure you don't lose them while riding. While one of the more expensive options on the market, Harley-Davidson gloves are readily available from retailers around Australia, with a locator available on the company's website.
Harley-Davidson was rated best across all categories, such as comfort & fit, protection, value for money and overall satisfaction.
Fox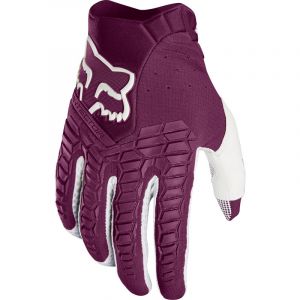 Made for the outdoors, American brand Fox is well-known within the Moto scene. It's also one of the cheaper options available in the market, making it worth considering for people on a budget as well as those who ride off-road. If you're not sure what size gloves you should be going for, Fox provides a sizing guide on its website, along with prices and available retailers.
Fox offers a number of ranges to choose from, including the introductory DirtPaw and Pawtector range, plus the 180 gloves, 360 gloves, Airline gloves, Bomber gloves, Flexair gloves and Legion gloves collections.
The DirtPaw models are made from lightweight polyester and are primarily used for racing, while the Pawtector gloves come with additional knuckle coverage and compression moulding. The more expensive Bomber gloves feature goatskin for comfort, along with moulded plastic along the fingers to ensure that your hands are protected while gripping the handlebars. And if you're serious about your off-roading, the Attack Pro models feature a three-layer softshell fabric for protection, plus silicone grip on the fingers.
Fox achieved a five-star review for comfort & fit and four stars for most of the remaining categories, including overall satisfaction. The only exception was durability, where it got three stars.
Alpinestars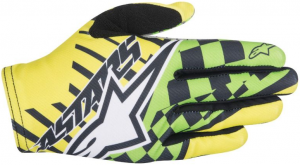 Founded in 1963 in Italy, Alpinestars is a well-known brand within the motorsports industry, producing a range of protective gear and sportswear, including jackets and gloves. While the majority of the brand's range will be more suited for those who enjoy going off-road, Alpinestars does offer options for on-road riders as well, in addition to having plenty of colours and styles available.
Alpinestars' on-road gloves include the Windstopper and Drystar ranges, each with features to make the ride more comfortable. Windstopper models include a knitted wrist cuff to stop wind sneaking its way up your arms, along with a touchscreen compatible fingertip for use with GPS and smartphones. The Drystar range has a waterproof membrane insert for additional comfort for when you get caught out by the rain, and is made with leather accordions to stretch and fit properly to your fingers and wrist.
The off-road range is where Alpinestars really shines, with riders offered plenty of options, regardless of if they occasionally enjoy an outdoor adventure, or live for the dirt track. From the light and breathable F-Lite glove all the way to the SP leather range, Alpinestars offers gloves with additional wrist support, knuckle protection and limited-edition models for those who really want to stand out from the crowd.
Alpinestars received a five-star rating for protection and four stars in the majority of the remaining categories. It scored three stars for value for money and functionality.
Bikers Gear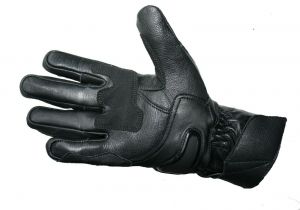 Bikers Gear Australia is a family-owned and run company supplying a variety of motorcycle gear for nearly 20 years. Its product line includes Kevlar jeans, leather and Cordura motorcycle clothing, plus saddle bags, boots, helmets and gloves. While Bikers Gear's glove range is more concise than most other brands, it's by the same token noticeably more affordable.
Bikers Gear's cheapest motorcycle gloves are the thermal inner motorcycle gloves for $19. There are also motorcycle cruiser gloves available from $25. On the other end of the price spectrum, there's the Viper All Season waterproof leather gloves, which retail for $79. These come with hard knuckles as well as added padding throughout. They're also said to be lined with Hipora to protect your hands from the elements.
Bikers Gear achieved four-star reviews for protection and value for money, and three stars for overall satisfaction and everywhere else.
Other brands
The four brands featured in this year's ratings aren't the only ones worth considering. Here are a couple more popular options you might want to check out.
ALDI
While you may not be able to buy a pair of gloves every time you head out for your grocery shop, German supermarket giant ALDI does occasionally provide a cheaper option to keep you safe on the road if you're strapped for cash, or aren't after a big-name brand. Its Motorcycle Gear Special Buys event generally takes place once a year.
ALDI typically offers two sets of gloves during its sales period, each made from leather with different protective extras. One primarily uses padded leather on the knuckles, while the other utilises carbon fibre for additional protection. Both pairs include reinforced rubber padding and palm protection, with the carbon fibre ALDI gloves also including pre-curved fingers for increase comfort on those longer rides.
DriRider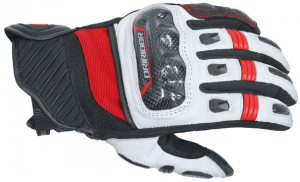 DriRider is an Aussie brand offering plenty of protective options for bikers, regardless of where you do most of your riding. With helmets, jackets, gloves and accessories, such as luggage bags, available, DriRider has plenty to offer for consumers on two wheels.
For on-road riders, DriRider offers all types of gloves, including fingerless, standard, as well as gauntlets for all riding types and styles. Most DriRider gloves include features like carbon fibre knuckle protectors, pre-curved fingers for additional comfort, and reflective patches for improved night safety. Models are primarily made from premium cowhide with abrasion-resistant mesh, providing a good balance between style and practicality.
While its range primarily focuses on on-road riding, DriRider hasn't forgotten about the off-road riders, with a number of models available, including the Rapid range, which includes elasticised leather panels for enhanced flexibility and a rubber wrist protector for those rough terrains. Other gloves include the Vortex model, which includes reinforced palm and little finger protection, as well as Velcro wrist straps for easy use.
You may also be interested in:
Which motorcycle gloves should I buy?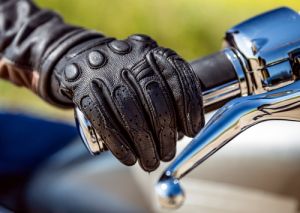 Gripping the handlebars on long road trips or bumpy off-road tracks can quickly turn an exciting ride into a painful experience, so investing in a good pair of gloves may be a worthwhile option for many riders, as well as give you extra peace of mind in the event of an accident.
Compared to our survey in 2019, it seems fewer Aussies are getting hands-on when it comes to wearing motorcycle gloves. The number of people who said they feel safer wearing the accessory fell from 62% to 53%. The portion of respondents who said they wear motorcycle gloves every time they ride also decreased from 55% to 49%.
Ultimately, which brand you decide to strap on will come down to personal preferences, as well as your individual circumstances. Some brands focus primarily on off-road riding, while others might be better suited for those likely to stick to the bitumen, with extra support and protection where you're likely to need it. To avoid ending up empty-handed, doing a bit of research before you head instore will not only ensure you're getting a good deal at the checkout, but also keeping safe on the roads.
About the author of this page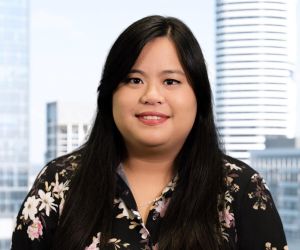 This report was written by Canstar Blue's home & lifestyle journalist, Tahnee-Jae Lopez-Vito. She's an expert on household appliances, grooming products and all things grocery and shopping. In addition to translating our expert research into consumer-friendly ratings reports, Tahnee spends her time helping consumers make better-informed purchase decisions on all manner of consumer goods and services, while highlighting the best deals and anything you need to be aware of.
Picture credits: Marcell Faber/Shutterstock.com, Tony Prisovsky/Shutterstock.com, Andrey Armyagov/Shutterstock.com.