Harley-Davidson rides in style to lead motorcycle pants review
Riding a bike is more than just getting from one location to another, it's a lifestyle. But no matter how or what bike you ride, safety is the priority – and this includes wearing the right gear. With so many options on offer, it can be a tough choice to make when trying to find the perfect fit – not only when it comes to protection, but also comfort, style and practicality. So, if you're looking to complete your getup with the best motorcycle pants in town, you've come to the right place.
To give you a helping hand when it comes to your legs, Canstar Blue has produced its inaugural review of motorcycle pants, having surveyed hundreds of bike riders across the country to find out which brand is proving the best fit for Aussie conditions. This adds to our other ratings for key motorcycle accessories – namely gloves, jackets and boots. The idea is that, by learning about the experiences of people just like you, you can make a better-informed purchase decision the next time you hit the stores.
In our first ever motorcycle pants review, three brands have received the minimum sample size to be included, but just one scored five stars for overall satisfaction – Harley-Davidson, with the well-known motorcycle brand rated five stars with respect to durability, style, protection and functionality, making its pants the ideal fit for plenty of Aussie motorcyclists.
Best-Rated Motorcycle Pants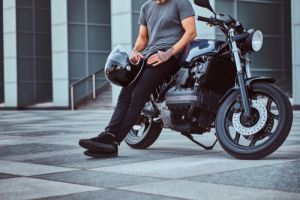 Canstar Blue's 2019 motorcycle pants review saw three major brands compared and rated in the following order for overall satisfaction:
1st Harley-Davidson
2nd DriRider
3rd ALDI
DriRider received four stars for overall satisfaction, with ALDI left on three stars overall. Aside from the top marks this year's winner received, DriRider was the only brand to achieve five stars on comfort and fit, while both DriRider and ALDI got top marks on value for money, which is good to know if you're on a tight budget.
Read on for further details on the brands compared, as well as some tips on what to look for when it comes to buying motorcycle pants.
Types of Motorcycle Pants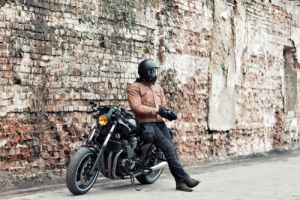 When it comes to motorcycle pants, there are three main types of material you'll find. The majority of our survey respondents said they purchased leather pants, with the results listed below:
Leather: 37%
Textile/Synthetic: 30%
Denim: 29%
Aside from material, you also have the option of the type of pants you choose. Here's a list of the most common types, according to our survey:
Riding jeans: 31%
Cruiser: 20%
Overpants: 14%
Racing: 13%
Adventure touring: 8%
Liners: 7%
Chaps: 4%
Let's now dive into each brand in more detail to see exactly what they offer and the prices you can expect.
Motorcycle Pants
Harley-Davidson

A popular choice for many things motorcycle-related, American brand Harley-Davidson features a fairly concise range of motorcycle pants. It includes H-D men's and women's motorcycle boot cut, traditional fit and relaxed denim jeans, designed specifically to allow you to move freely while you ride.
Harley-Davidson's Brookside Riding Jeans retail for around $340 and are reinforced at the seat and knees. Plus, these are equipped with an interior heat shield on lower legs, Boxy armour pockets at the knees and rivets on the pockets. When the mud-slapped jeans are in need of a wash, Harley-Davidson also offers Straight Leg Fit Men's Cargo Pants which can be had for around $100.
Harley-Davidson was rated five stars for overall satisfaction, as well as durability, style, protection and functionality, with four stars on comfort and fit, plus value for money.
DriRider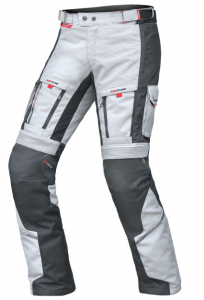 For 35 years, DriRider has offered Australian riders a range of apparel and accessories, including thermals, boots, gloves, luggage and helmets. Its line-up of motorcycle pants is said to be designed specifically for Aussies and our weather conditions.
The Vortex Adventure 2 pants are the most expensive in the DriRider line-up, priced at $349.95, and include a three-layer system, as well as lower leg adjustments and an over the boot cut for style and comfort. Motorcycle jeans are also available with designs featuring heavy duty stretch denim lined with DuPont Kevlar fibre-based fabric in all major crash zones. For waterproof and windproof rainwear, you'll also find its Thunderwear 2 Pant for just $44.95, constructed of light but strong Nylon material with PVC coating on the inner side, ideal to keep you dry, as well as safe, out on the roads.
DriRider received four stars for overall satisfaction and in most other categories, but achieved five stars on comfort and fit, as well as value for money.
ALDI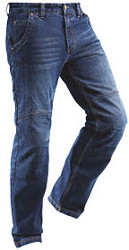 While you might not be able to go into an ALDI store on any given day and buy some motorcycle pants, the supermarket does occasionally stock a few budget friendly options within its motorcycle range. Its motorcycle jeans retail for $69.99 and are stated to be designed with safety in mind. Sizes range from S to XXL and are fitted with CE EN 1621-1 knee protectors. Plus, there's a YKK original front zipper and Original Coats thread used for stitching.
The jeans have a casual five pocket design, with a distressed effect and a high raised back. You can also expect reinforced lining, made from high tenacity aramid fibre at critical areas such as the seat, hips and knees, ideal for style and comfort when on the road.
Rounding out the results this year, ALDI received three for overall satisfaction and all other rated variables, except value for money where it achieved five stars.
Other Brands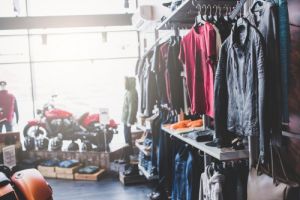 In addition to the three brands that made it into this year's ratings with a minimum sample size of 30, there are plenty of others to consider, including:
BMW: offers a concise range of motorcycle pants costing between $350 and $1,200. The brand features an all-weather touring pant made of water repellent nubuck, as well as simple textile pants, available in a jean-style with the full functionality of a regular set of motorcycle pants.
Draggin: claims to be the pioneer of motorcycle jeans, revolutionising the freedom of riding. The full range costs around $250 to $350, with its cargo pants said to be tough and lightweight with breathable material, ideal for summer and adventure riding.
Alpinestars: motorcycle pants from Alpinestars cost $50 to $700 depending on which ones you put your legs through. The Big Sur Gore-Tex Pro Pants are its most expensive and are claimed to incorporate an innovative bonded three-layer construction, offering water and wind proofing, as well as durability and breathability, ideal for all-weather riding.
You may also be interested in:
Which motorcycle pants should I buy?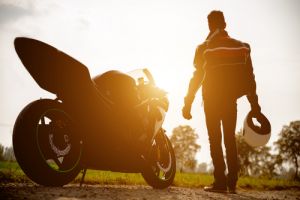 You never know what could happen out on the road, so investing in a good pair of motorcycle pants is simply a smart move. More than half (53%) of survey respondents told us they feel safer when they're wearing motorcycle pants, but only 49% always wear them!
When asked what was the main factor in choosing the brand they purchased, survey respondents told us:
Degree of protection/safety: 29%
Comfort/fit: 25%
Style/look: 11%
Cheap price: 11%
Brand reputation: 10%
Functionality: 5%
Needed a specific type: 4%
Came as part of a deal with other protective gear: 3%
To wear socially, not for bike riding: 2%
Ultimately, which brand you decide to go with will depend on your personal preferences and budget. The average spend on new motorcycle pants reported from our survey was $263, with most people owning their old pair for around five years. Only 17% of respondents wish they had spent more on a better pair of pants, meaning most seem to have found a pair that fit their needs, and their legs.
It would be wise to do your research before jumping into any purchase decision, and more importantly, it's wise to invest in your safety, so going with a well-designed pair of motorcycle pants that ticks all the boxes is the best move, with style an added bonus.
About the author of this page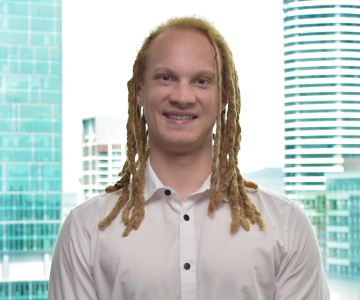 This report was written by Canstar Blue's Content Projects Lead, Dean Heckscher. He's our resident expert on all things automotive, health & fitness, streaming and more. Dean is also one of Canstar Blue's customer research report producers, helping to turn complicated subjects into easily-digestible information for our readers. He's passionate about helping consumers make better-informed purchase decisions on all manner of consumer goods and services.
Picture credits: FXQuadro/shutterstock.com, Fusionstudio/shutterstock.com, 4 PM production/shutterstock.com, oneinchpunch/shutterstock.com