Types of Motorcycles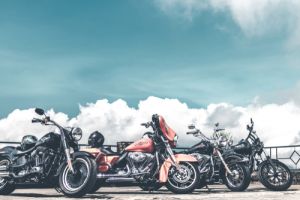 If you haven't spent much time around motorcycles, chances are you're not sure where to start when it comes to choosing one to ride out the door with. While plenty of brands offer sleek looking models and eye-catching colour schemes, each motorcycle type provides a different riding experience, and are made for different situations. Below is a quick guide to different motorcycle types, to give you an idea of which to take a closer look at.
Standard motorcycles: Also known as naked bikes or 'roadsters', standard motorcycles are commonly found on the road and are mostly used for shorter rides. These models may be better suited for those looking at a starter model, or are after something to get them from A to B.
Sports motorcycles: Made for speed and acceleration, sports models often have bigger engines and lighter frames, making them ideal for those after plenty of thrills.
Touring motorcycles: Primarily used for long-distance riding, touring models often have bigger fuel tanks, luggage space and a passenger seat. Touring models can be further classified into sports touring and adventure touring models, which are usually lighter and typically used for windy roads.
Cruiser motorcycles: One of the largest motorcycle types, cruisers are generally used for longer trips, with the design built with comfort in mind, with cornering and acceleration taking somewhat of a back seat as a result. If you're looking to recreate scenes from 'Easy Rider', a cruiser may be the option for you.
Adventure motorcycles: Also known as a Dual-Sport motorcycle, an adventure model can be used for both on and off-road, making it a handy middle-ground option for riders. With increased suspension and a lighter frame, an adventure motorcycle will deliver plenty of excitement, regardless of where you're going.
Off-road: Off-road models usually have a light frame and increased suspension, and are primarily used for dirt tracks or for those out on a property. The range includes sub-types such as Motocross, Enduro and Trail bikes.
Most motorcycle dealerships will allow you to test ride your prospective new wheels, so be sure to make the most of the opportunity and test out all types of bikes to ensure you find the best fit for your riding style and intentions.
Most popular motorcycle type
With so many motorcycle types to choose from, which one is the most popular among new buyers and owners? In Canstar Blue's latest survey, the following motorcycle types were the most popular:
Dirt bike – 21%
Cruiser – 20%
Sportsbike – 19%
Adventure Touring – 7%
Naked – 7%
Sports-tourer – 7%
Dual sport – 6%
Touring – 5%
Supermoto – 3%
Other – 3%
2% of survey respondents were also unsure of what type of bike their most recent purchase was, and given how many subcategories of motorcycles are, it can be forgiven as to which camp you fall into.
How much do motorbikes cost?
Despite generally being cheaper than buying a car, a motorbike can still dent your budget, with survey respondents having spent more than $10,000 on average on their latest motorcycle purchase.
Similar to how cars require regular servicing and maintenance checks, it's important to remember that there are still extra costs associated with owning a bike. However, over a third of those we surveyed believe that riding a motorcycle is still cheaper than driving a car (39%), which may also be the final factor for those looking to decide between four wheels and two.
Photo Credits: Pixfly/Shutterstock.com