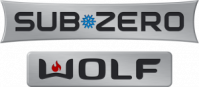 Sub-Zero Refrigerators Review

Fact Checked
Since featuring in what was described as the "best kitchen ever" on popular television show, The Block, Sub-Zero's luxury refrigerators are now one of the most lust over appliances in Australian homes. They are some of the most expensive fridges you'll find, but are they really that cool? Canstar Blue offers the following guide.
When it comes to the brand's product range, you're spoilt for choice. The collection includes a variety of built-in fridges, integrated fridges, undercounter fridges, and wine cabinets. Sub-Zero's PRO 48 series is also available for people looking for seriously big storage. But these products come with a chillingly high price tag, and the costs of some are only made available upon request! To help you get a taste of what Sub-Zero has to offer, we've listed some of the models currently available.

Built-In Sub-Zero Refrigerators
Sub-Zero 804L Built-In Side By Side Fridge (ICBBI48SDO)

From fresh food to fresh water, the Sub-Zero Built-in Side By Side Fridge (ICBBI48SDO) features a water dispenser which gives up to 1L of chilled filtered water. For an apparently fresh and clean taste, the fridge contains a water-filtration system claimed to lower the amount of contaminants, as well as minimise any chlorine taste and unwanted odours when filtering the water needed to dispense ice. The system is claimed to be low-maintenance and requires replacing once a year or every 2840L.
Other features include:
Panel ready design
Frost Free
Adjustable shelves.
The built-in model has an 804L capacity and 3-star energy rating.

Sub-Zero Built-In French Door Refrigerator and Freezer with Internal Dispenser (ICCBI-36UFDID/S)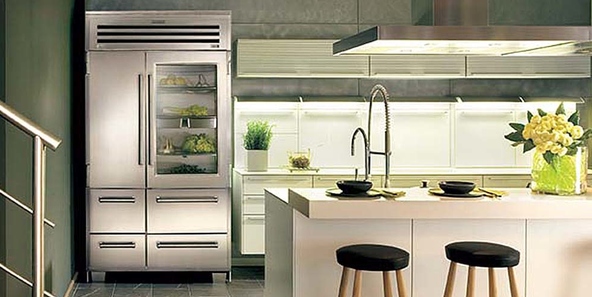 Some people believe bigger is always better when designing their ideal kitchen. But if you're short on space, Sub-Zero claims you can fake the ultimate room renovation with models like the Built-in French Door Refrigerator and Freezer with Internal Dispenser (ICCBI-36UFDID/S). The half door design is said to make the space seem larger and more open, especially if you have a galley kitchen.
Some of the features include:
Water filtration system and interior water dispenser
Adjustable shelves
Over-and-under fridge and freezer storage
'Max ice' feature.
The unit comes with low-temperature and high-humidity storage zones, which contain crispers and deli drawers near the evaporator to keep the temperature a few degrees cooler than the rest of the unit. Drawers are also sealed to lock in humidity and ensure freshness. There is similarly a microprocessor that apparently adjusts the temperature of each specific section to ensure the food is maintained at the temperature set by you.
The 91cm French door model offers 486L fridge capacity and 162L worth of freezer space.

Sub-Zero Built-In Refrigerator (ICCB-36R/O)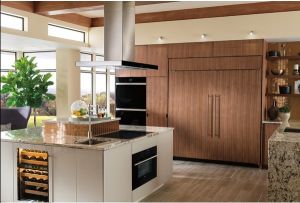 If you're not looking for a unit which has refrigerator and freezer storage, models like the Sub-Zero Built-in Refrigerator might be something to consider. The 91cm model still provides 714L fridge space, despite being among one of the smaller units and lacking dual refrigeration functionality.
Some of the features include:
Air purification system
Adjustable shelves
LED lighting
Low-temperature and high-humidity storage zones
Magnetic door seal system
Microprocessor control.
The Sub-Zero 91cm Built-in Freezer is similarly available.

Integrated Sub-Zero Refrigerators
Sub-Zero Integrated Column Fridge with Internal Dispenser (ICBIC30RIDLH)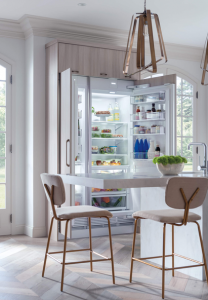 Looking for large fridge space to suit a big family? The Sub-Zero Integrated 76cm All Refrigerator Column offers 531L of storage and is claimed to use a 'NASA-inspired' air purification system technology to help preserve food, as well as avoid spoilage and bad smells. When times get messy, the fridge is apparently easy to clean due to the nano-coated spill-proof shelves. Key features include:
Smart-touch controls
Internal water dispenser
Water-filtration system
Ready to be fitted with custom panels and handles
The 'ICBIC30RIDLH' model comes with a 531L capacity and has a 3-star energy rating.
Sub-Zero ICBIC-24FI Integrated Column Freezer with Ice Maker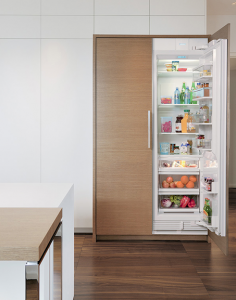 Whether you have plenty of mouths to feed, or prefer to buy groceries in bulk, refrigerators like the 61cm Sub-Zero Integrated Column Freezer with Ice Maker have got you covered. This model offers 394L worth of freezer space and can be used alongside all-refrigerator units like the Sub-Zero Integrated All Refrigerator Column.
Some of the features include:
Two storage drawers
Five adjustable door shelves
Ice drawer
Nano-coated spill-proof shelves
Automatic 'max ice' function
Water-filtration system for ice and automatic ice maker.
The Sub-Zero 'ICBIC-24FI' model has a 2.5-star energy rating.

Sub-Zero Pro 48
Are you hungry for a refrigerator with a cool design? The Sub-Zero Pro 48 fridge might be the new kitchen appliance you've been craving for. The 'ICB648PROG' mode takes on the brand's classic PRO 48 unit by adding modern features like a clear-view glass door and dual refrigeration functionalities, with a third evaporator also included specifically for the crisper drawers.
Some of the features include:
Automatic ice maker
Exterior temperature display
Stainless steel sliding bins
Adjustable shelves and customisable interior drawers.
The stainless-steel unit has a 2.5-star energy rating and offers 900L of storage, with apparently 558L of fridge capacity and 298L freezer storage space.

Undercounter Sub-Zero Refrigerators
Sub-Zero 61cm Indoor/Outdoor Refrigerator Drawers (ICBID-24RO)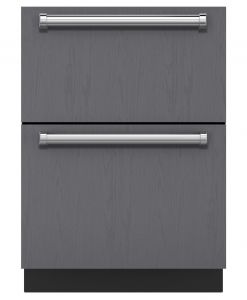 Want to add a mini bar in your bedroom for midnight snacks and that luxury hotel feel? Need a convenient way to store mineral water and sports drink in the home gym? The Sub-Zero 61cm Undercounter All Refrigerator can be placed in any part of the house and can accommodate a variety of food and beverages.
Some of the key features include:
Soft-close doors and drawers
Crispers and deli drawers featuring low-temperature and high-humidity zones
Smart-touch controls.
Suitable for both indoors and outdoors, this unit has a 4-star energy rating and can hold approximately 113L of food. It contains adjustable spill-proof glass shelves, a utility bin for small items and 2L worth of bottle storage.

Sub-Zero Wine Storage
Sub-Zero 61cm Bottles Wine Storage Cabinet (ICBUW-24/O)
Love to entertain? Keep the party going with well-preserved wine and store up to 46 bottles in one of Sub-Zero's wine cabinets.
The 61cm refrigerator features dual evaporators to prevent corks drying out by apparently maintaining moderate humidity. This unit is also said to contain UV-resistant glass doors to avoid premature wine aging, as well as a two temperature zones to ensure reds and whites are at proper serving temperature.
Other features include:
Panel ready design
Textured roller-glide shelves to allow access without agitating wine
Control panel which ensures the settings do not change beyond one degree of the temperature set.
If the stainless-steel panel ready design isn't for you, the Sub-Zero ICBUW-24/S 61cm Undercounter Wine Storage and Sub-Zero ICBUW-24FS/S 61cm Freestanding Wine Storage are alternatively available.
Sub-Zero 76cm Integrated Wine Storage with Refrigerator Drawers (ICBIW-30R)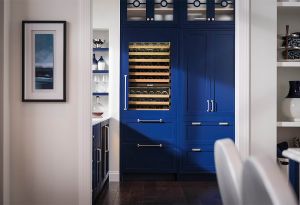 Is there a better duo than wine and cheese? Sub-Zero doesn't think so. That's why models like the 76cm ICBIW-30R are designed to include enough room for cheese, limes, beer, water and other tasty goodies. The top section of the over-and-under unit can hold up to 86 wine bottles of different sizes, while the lower compartment is said to offer 113L worth of space for a variety of items.
The panel-ready model has a 3.5-star energy rating and includes several features, such as:
Dual evaporators
Intuitive touch control
UV-resistant glass
Interior lighting and illuminated display shelf.
If you're looking for a larger wine storage capacity, the Sub-Zero ICBIW-30 is alternatively available to fit up to 146 bottles.
How much do Sub-Zero fridges cost?
Sub-Zero fridges cost between $14,000 and $50,000, making them one – if not the most – expensive brand available on the market. While potentially not the brand for those on a budget, the models come packed with plenty of features and space for those who need to seriously deck out the kitchen.
Where can you buy Sub-Zero fridges from?
Sub-Zero fridges are available to purchase through Winning Appliances, with the Sub-Zero website also providing a store locator to help you find a showroom near you.
Does Sub-Zero have the best fridge for me?
So, does Sub-Zero have the cool refrigerator you're hungry for? Or will you give the American brand the cold shoulder?
When it comes to space, products like the Sub-Zero ICBIC30RIDLH Integrated Column Fridge with Internal Dispenser and the Sub-Zero ICBIC-24FI Integrated Column Freezer with Ice Maker make ideal solutions. But if easy accessibility and customisation is important to you, many of the options feature adjustable shelves and sliding bins. The brand also offers panel ready design alternatives for people who want to match their fridge with the rest of their cabinetry.
Can't decide if Sub-Zero has the right fridge for you? Check out the Canstar Blue fridge ratings via the link below to compare a range of fridges and other kitchen appliances to suit you. Kelvinator, Fisher & Paykel, Haier and Hisense appear to be the most popular brands amongst Australian shoppers. These brands have received respectable results in categories such as overall satisfaction, reliability, value for money and food freshness.
About the author of this page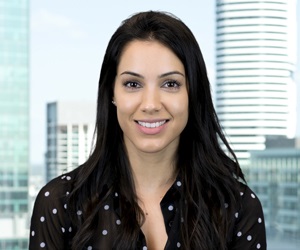 This report was written by Canstar Blue's Home & Lifestyle Content Lead, Megan Birot. She's an expert on household appliances, health & beauty products, as well as all things grocery and shopping. When she's not writing up our research-based ratings reports, Megan spends her time helping consumers make better purchase decisions, whether it's at the supermarket, other retailers, or online, highlighting the best deals and flagging anything you need to be aware of.