Cordless handsticks are the latest trend in the vacuuming space. With their slim and lightweight designs, they're easy to use and store away. You can also forget all about re-plugging the vacuum from room to room or tripping over the power cord. The main downfall, however, is their battery life, with some only lasting up to 20 minutes before the battery runs empty. So, which vacuums boasts the longest runtime? Read on to find out.
Cordless Stick Vacuum Runtimes
When cordless handsticks first arrived, they typically ran for around 20 to 30 minutes depending on the price of the vacuum – whether it was a big-name brand, or budget friendly. However, battery times are improving as models become more advanced. Here's an overview of a few models we've found, ranked in order of the runtimes published by their manufacturers:
| | |
| --- | --- |
| Brand & Model | Runtime |
| Bosch Athlet RuntimePlus | Up to 75 min |
| Dyson Cyclone V10 Absolute+ | Up to 60 min |
| VAX Cordless Blade 2 Max | Up to 45 min |
| LG CordZero A9 Master | Up to 40 min |
| Samsung POWERstick Pro | Up to 40 min |
| Kmart Cordless Stick Vacuum | Up to 25 min |
| Hoover Fusion Max Cordless Vacuum | Up to 22 min |
| Shark IONFlex DuoClean | Up to 22 min |
Source: Respective retailers, February 2019
Bosch Athlet RuntimePlus

Bosch is leading the pack with the longest runtime of up to 75 minutes, as claimed by the brand itself. However, this time decreases significantly when used on other settings. In particular, Bosch's Athlet unit has thee performance levels and you can expect the following runtimes depending on what you select:
Level 1: maximum runtime of up to 75 min for normal cleaning jobs
Level 2: medium runtime of up to 37 min for difficult cleaning jobs
Level 3: shorter runtime of up to 12 min for stubborn cleaning jobs
The vacuum uses Bosch's Lithium-Ion Technology, which you can also find in its power tools and E-Bike ranges, claimed to offer short charging times and long battery life. The 25.2 V rechargeable batteries are said to have a three-stage electronic protection system to prevent any overcharging, overheating and deep discharge of the batteries, plus are stated to not experience any memory effect (i.e. the battery becomes weaker over time).
Dyson Cyclone V10 Absolute+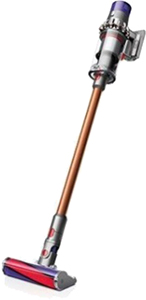 The Dyson V10 has a total runtime of up to 60 minutes, according to Dyson. However, this applies only to the suction mode with the non-motorised tool attached. If you use the motorised tool, expect that time to decrease. The three power modes available will offer these runtimes:
Low: up to 60 min (without motorised head), 35 min (with motorised head)
Medium: up to 30 min (without motorised head), 20 min (with motorised head)
High: up to 5 min (with and without motorised head)
The vacuum is boasted for a seven-cell, nickel-cobalt-aluminium battery to provide "fade-free power", allowing you to clean all around the home. In addition, the motor, bin and cyclone are aligned, so that the air can be drawn into the cyclones in a straight line, which is stated to create 20% more suction power compared to its predecessor – the Dyson V8.
Vax Cordless Blade 2 Max

Powered by a lithium-ion battery, this Blade 2 Max cordless handstick from Vax is stated to last up to 45 minutes on normal mode. It also features a boost mode for those times when you need extra power but this will decrease the runtime. The exact time on boost mode isn't specified on the website.
The 36.5V battery apparently takes around three hours to recharge, which is standard for most brands. It's boasted for a new Vax Core Processor that monitors power up to 1000 times a second to help you vacuum on both carpets and hard floors.
LG CordZero A9 Master
The LG A9 comes with a dual power pack – two 25.55V lithium ion batteries. In normal mode without the power drive nozzle, it's stated to run for up to 40 minutes per battery. Once the first battery runs flat, you can replace it with a second one, giving you around 80 minutes of vacuuming time, according to LG. With the power drive nozzle on, it decreases the runtime to around 30 minutes of suction. If using the vacuum on power mode, however, it will only last you up to nine minutes and up to six minutes on turbo mode per battery.
Normal mode: 40 min (without power drive nozzle), 30 min (with power drive nozzle)
Power mode: 9 min
Turbo mode: 6 min
The charging time required for each battery is 3.5 hours. In terms of switching batteries, the vacuum is stated to have a quick slip out design where you simply push two buttons on both sides and release the battery.
Samsung POWERstick PRO

Samsung's POWERstick PRO is claimed to give up to 40 minutes of battery life. It runs on a 32.4V lithium-ion removable power pack that offers 450W of maximum suction power, according to Samsung. On the boost mode, the runtime does decrease as with all brands.
Maximum runtime: 40 min
Minimum runtime: 7 min
It takes approximately 270 min to recharge, which is around 4.5 hours. Additional batteries can be purchased separately, allowing you to continue vacuuming without waiting for a battery to recharge.
Kmart Cordless Stick Vacuum

The cheap and cheerful retail store Kmart offers a $99 cordless stick vacuum, which is by far one of the cheapest compared to others mentioned in this guide. Its 22.2V rechargeable lithium battery is stated to offer 25 minutes of runtime, with a five-hour re-charge time. In addition, it has a 100W motor.
You may also be interested in
Hoover Fusion Max Cordless Vacuum

The Hoover Fusion Max Cordless Vacuum (BH53110) is the latest addition to the Hoover pack. This unit is stated to provide up to 22 minutes of vacuuming with three hours of charging time. There are two speed modes available, which will hinder the overall runtime when you increase the power.
The removable lithium battery has 24V capacity. You can purchase additional batteries that will set you back $79.99/battery, which can double the runtime.
Shark IONFlex DuoClean

This unit from Shark (IF250) is boasted for a total runtime of up to 44 minutes, however this is with a set of two batteries (i.e. you'll have to stop and switch batteries). So, on a single 25.2V lithium ion battery it delivers up to 22 minutes of vacuuming time. Most brands don't come equipped with two batteries, but Shark includes two in the price.
In terms or recharge time, expect a standard time of around three hours. The battery features three indicator lights to show its charge status. It also provides 300W of suction power.
Handheld Vacuums Battery Life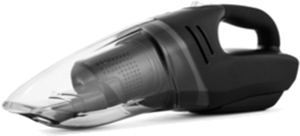 Handhelds are usually very light and easy to take out to vacuum areas such as inside the car or couches filled with pet hair, or perhaps the kids bumped over their box of cereal onto the kitchen bench. While most of the handstick vacuums mentioned above are 2-in-1, meaning they can also turn into a handheld vacuum for the smaller tasks when required, we also list a few specific brands of handheld vacuums and their runtimes:
| | | | |
| --- | --- | --- | --- |
| Brand & Model | Runtime | Charge time | RRP |
| Electrolux Rapido Handheld Vacuum (ZB6118) | Up to 33 min (16 minutes in regular mode) | 4 hrs | $179 |
| Bissell Stain Eraser Pet Handheld Vacuum (2006F) | Up to 30 min | 8 hrs | $149 |
| Dyson V6 Trigger | Up to 20 min (17 minutes with motorised tool) | 3.5 hrs | $249 |
| Kmart Rechargeable Hand Vacuum | 15 min | – | $39 |
Source: Respective retailers, February 2019
Handheld vacuums are designed for cleaning up quick messes around the home, which typically don't take long to vacuum up. In turn, you'll find the above runtimes shorter compared to some of the 2-in-1 stick vacuums. However, they tend to have much cheaper retail prices to counteract this. Whether you're looking for a handheld or stick vacuum, or both, there's certainly plenty of choice out there.
The bottom line on cordless vacuums
Cordless handsticks are dominating the vacuum space, with their compact and lightweight designs. But battery life is vitally important for cordless vacuums, as is their ease of use. As with any battery-powered appliance, the batteries will wear out and lose their capacity over time. Some brands offer replacement batteries, saving you the need to fork out hundreds of dollars on a new unit each time.
With many brands embracing this trend, we might see lengthened runtimes on newer models, giving you the ability to vacuum not just small living spaces, but larger homes as well. But for now, we hope you've found this guide helpful for your next vacuum purchase decision.
Original Author: Veronika Hleborodova