There's great news for vegans to start the year, with supermarket giants Woolworths and Coles both revealing plans to expand their product ranges in light of increasing demand.
Both supermarket chains are also set to focus on offering shoppers even more fresh convenience foods and healthy drinks.
Woolworths predicts that this year's biggest food trends are all about plant-based eating and even greater convenience, introducing more vegan-friendly meals, protein snacks, and "odd" shaped fruits and vegetables to its Aussie stores.
Coles has also seen a significant increase in demand for vegan and vegetarian products, with more customers shopping in its health food category, digging into its salad pots and food-to-go options.
According to market researcher Euromonitor International, Australia is the third-fastest growing vegan market in the world. And Australia's major supermarkets aren't about to miss a trick.
Woolworths Senior Nutritionist, Natalie Chong, said: "We are seeing a trend where more of our customers are embracing meat alternatives and introducing vegetarian and vegan-friendly options into their weekly diets, including adding plant based foods that don't compromise on taste, quality or price.
"We have seen a double digit increase in demand for vegan products in the past year, and are working to create even more choice and variety for our customers.
"This is not to say that customers are becoming strictly vegan or vegetarian, but they are more conscious of adding more vegetables and plant based foods into their diet as an additional source of nutrients when they can."
Woolworths Vegan range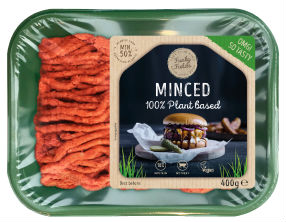 Woolworths recently introduced Funky Fields Plant Based Mince (pictured) and more than 15 other vegan-friendly food products under its Macro brand, including:
Macro Textured Vegetable Protein
Macro Chickpea Veggiburger
Macro Moroccan Veggeburger
Macro Silken Tofu
Woolworths Flexitarian range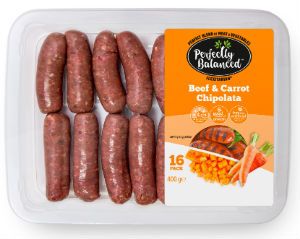 The Flexitarian diet has also been deemed a popular trend for 2019, which encourages vegan foods along with incorporating meat and other animal products in moderation. Australian business Perfectly Balanced has launched its range at Woolies, offering innovative meat products that incorporate a mix of vegetables, including:
Perfectly Balanced Beef & Carrot Chipolata (pictured)
Perfectly Balanced Beef, Carrot & Lentil Sausages
Perfectly Balanced Beef, Sweet Potato & Kale Meatballs
Coles Vegan range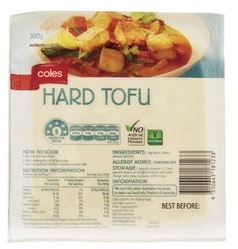 Coles' chilled health range has seen double digit growth, the supermarket chain says, with the most popular products including:
Falafel Balls
Kale Burgers
Tofu
Pesto Broccoli Veggie Pot
Superfood Veggie Mix
Cauliflower Rice and Carrot & Pumpkin Noodles
Coles has also started selling what it claims to be the world's first plant-based vegan burger in its NSW stores. The Beyond Meat Burger is exclusive to Coles supermarkets and is available in the frozen health food section. Coles noted that it will look to roll out the product nationally if there is sufficient customer demand.
"As our customers' preferences and tastes change, we will continue to look at new and exciting products to meet their needs across all of our ranges," a Coles spokesperson said.
ALDI Vegan/Vegetarian range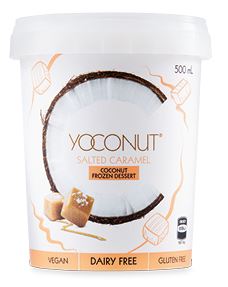 ALDI has also reported that it anticipates an increased demand for food products developed to cater to specific diets, with alternative meat and dairy products leading this trend.
"Meat substitutes will continue to be popular this year, such as our Simply Vegetarian Burgers and Sausages. We also anticipate vegetarian options such as our Simply Vegetarian Chickpea, Sweet Potato and Quinoa Bites will continue to be appealing to customers," an ALDI Australia spokesperson said.
"Products containing coconut will continue to be popular with food and beauty essentials embracing this trend. Some of our coconut products include Yoconut Dairy Free Dessert and Yoconut Coconut Natural Yogurt, which are already popular among our customers."
Health Drinks of 2019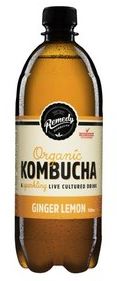 In addition to its vegan range, Coles says it has seen tremendous growth in the health drinks category, with Kombucha one of the most popular products.
"Customers have taken to these products, as they look to lower their sugar intake while still enjoying a 'fizzy drink'," a Coles spokesperson said.
ALDI has seen the popularity of milk alternative drinks grow exponentially and to cater to this, it offers rice milk, oat milk, almond milk, soy milk, plus coconut milk.
Woolworths also predicts that customers will continue to focus on gut health in 2019.
Ms Chong added: "We are seeing customers become more focused on digestive wellness. Kombucha exploded on the scene last year and now has a mainstream following.
"This year we predict that functional products such as green banana flour, cereals with prebiotic fibre and fermented foods with probiotics like Kefir will become increasingly popular with customers."
Time conscious consumers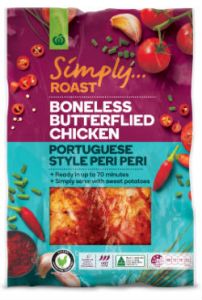 Besides the ease of online shopping and the availability of flexible payment methods, convenience is also taking centre stage when it comes to meal preparation.
Woolworths has launched a range of new salad kits and part-prepared meats for busy households, including:
Woolworths Simply Roast Portuguese Style Peri Peri Boneless Butterflied Chicken (pictured)
Woolworths Simply Cook Chicken Kebabs with Hoisin sauce
Woolworths has also recently introduced a range of protein bistro boxes and snack packs to its Metro stores. In addition, its 'Good To Go' range includes a Ham & Egg Protein Bistro Box, a Falafel Protein Bistro Box, or a variety of small vegetable or fruit Snack Packs.
Coles further noted: "We know our customers love convenience and the popular Coles Fresh Kitchen range is all about making life easier for customers who are looking for food they can eat on the go."
Coles' exclusive range includes a selection of cut fruit, vegetables, platters and ready-made salads.
Other food trends in 2019 will include a variety of organic options as well as healthy snacks and meal options for different dietary needs, according to ALDI.
"Customers can already enjoy our Lower Carb Higher Protein Bread, wholefood balls, organic cacao powder and green powders, gluten free and paleo bars, and fruit and nut mixes such as our Paleo Mix," an ALDI Australia spokesperson added.
Food waste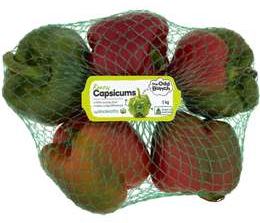 In 2018, Australia saw a further rise of ethically-minded and sustainably-conscious consumers, in particular after the ban of single use plastic bags.
Woolworths has seen customers embracing more sustainable options such as the Odd Bunch range, which is a collection of imperfect shaped fresh fruit and veggies that are available at reduced prices.
Ms Chong said: "We have sold over 115 million kilograms of these wonky looking fruit and veg since we launched the range in 2014.
"Not only do customers love that they are saving money, but it's also helping our local Aussie growers reduce food waste at the same time."