Masport BBQs Review
You may know the company best for its lawn mowers and other outdoor equipment, but Masport also produces an extensive range of barbecues for you to enjoy after the hard work is done. Whether you're looking for a standout backyard BBQ or a compact BBQ to fit on the balcony, Masport has most lifestyles and budgets catered for. Read on for all the specs and features of each range to see which Masport BBQ design can help make the most of your exquisite barbecuing skills.
Masport Home Barbecues
Deluxe CP
This is a 6 burner model with 304 grade stainless steel construction, UV resistant cover and integrated ignition. It uses a 'Fat Away Drainage System' (FADS) as demonstrated in the video below, which you will find across a number of Masport BBQ models. An interchangeable insert cooking system enables you to make pizzas as well as providing you with other cooking options. It is equipped with a kebab rack and skewers as well as utensil hooks and a cooking timer. Its standard features include castor wheels, a warming rack and temperature gauge.
Mighty
The Mighty BBQ model is another 6 burner BBQ with the same construction as the Deluxe CP. It has been designed with a vitreous enamel coloured hood and die cast end caps. Similarly to the Deluxe CP barbecue, the Mighty model is equipped with a side burner, warming rack and a UV resistant cover.
The Mighty BBQ also features the FAD system to direct away excess fats and oils, a timer and a viewing window to not overcook your food. There is an integrated bottle opener and kebab racks for additional backyard entertainment. There is a 5 year grill body warranty on this model and you can choose from a grey, red or navy colour variation.
Equip
For an additional price, the Equip 6 burner BBQ has a larger viewing window hood compared to the other models, a new integrated smoker to add flavour when roasting and under hood grill lights for when you barbecue at night. There are side and rear burners as well as interchangeable insert cooking system with kebab racks, the FAD system and UV protection.
For the ultimate BBQ experience, the Equip also provides you with a rotisserie kit and a USB port to charge your phone so that you can keep the playlist going all night long. Some other features include a warming rack, timer and an integrated bottle opener. It also includes an 18 piece stainless steel barbecue set. There is a 5 year grill body warranty and two colour variants – navy and graphite.
Maestro Series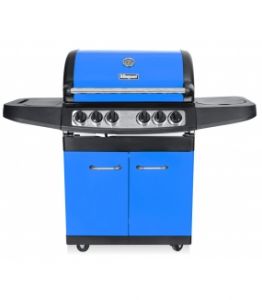 For something in the mid-price category, the Maestro is a popular range for its pop of colour, coming in a number of vibrant options including:
"Kool" Blue
Flash Green
Graphite
Sunset Orange
What you will find with this series is 4 stainless steel burners, 50/50 vitreous enamel cast iron grill and hotplate. It has a black powder coated design with an aluminised flame diffuser, including a side burner and an infrared rear burner with an integrated ignition.
For storage it is equipped with twin doors and for saving space, it is designed with a roll-back hood. This may be especially handy when you are limited to a small backyard or balcony. There are 4 castor wheels for movability, a UV resistant cover for durability and also a 2 year warranty for a piece of mind. Enjoy preparing your favourite meal with a temperature gauge and roasting rack for additional cooking space.
Lifestyle Series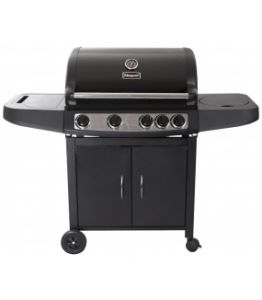 Similar to the Maestro range, the Masport Lifestyle BBQs use 50/50 vitreous enamel cast iron grill and hotplate. There are two models in the range; one with 3 burners and the other with 4. Both have roll-back hoods, a side burner, temperature gauge and warming rack. The main difference is that the Lifestyle 3 burner BBQ uses 430 grade stainless steel while the Lifestyle 4 burner BBQ uses 304 stainless steel, which is more durable than 430.
RRP: $529 (Lifestyle 3 burner BBQ) and $599 (Lifestyle 4 burner BBQ)
You may also be interested in:
Elite Series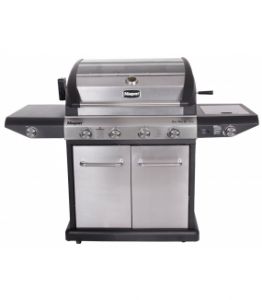 The additional features in this range from the Lifestyle range are kebab racks and skewers, the FAD plate and grill for easy cleaning, as well as utensil hooks. You may like to consider this series as a possible addition to the backyard as it's in the mid-price category while gaining an improvement in quality from the Lifestyle series using 304 grade stainless steel over 430 grade.
Elite 210 – uses vitreous enamel with aluminium dire cast ends and black powder coated twin doors (RRP: $749)
Elite W 210 – similar to the previous model along with an additional viewing window on the hood (RRP: $849)
Elite Plus W 210 – features a viewing window, cooking timer and a rotisserie, which is a great feature to impress the mates. It has a slight improved hood material, being constructed with stainless steel and aluminium die cast ends as well as 304 grade stainless steel twin doors (RRP: $1,029)
MB Series
MB4000 – 4 burner BBQ in grey or red (RRP: $699)
MB4400 – 4 burner BBQ in black of white (RRP: $749)
MB5000 – 6 burner BBQ in stainless steel (RRP: $799)
MB6000 – 6 burner BBQ in grey or red (RRP: $949)
MB6600 – 6 burner BBQ in black or white (RRP: $949)
The full range is equipped with a roll-back hood and viewing window, designed for space efficiency and to aid roasting and retain heat. These BBQs are also equipped with a removable chopping board and twin door storage. Standard features include a temperature gauge, roasting rack and an integrated bottle opener. Similarly to other Masport BBQs, the MB series uses vitreous enamel cast iron grill and hotplate with integrated ignition.
Except for the MB400 model, all others in the range have an additional removable stainless steel bin, LED lights on the control knobs and a roasting rack for extra cooking space. With the MB6600 BBQ you will also find a USB port, enabling you to charge your device while barbecuing so you won't even need to leave your BBQ if one of your mates gives you ring before dinner.
Supreme Series
Supreme W 210 – 6 burner BBQ (RRP: $999)
Supreme Plus RBW 210 – 6 burner BBQ (RRP: $1,249)
Besides adding additional burners, the Supreme series is equipped with all features that you will find in the Elite range including the FAD hotplate system. It has a convection style hood with a viewing window, UV resistant cover, kebab racks and a temperature gauge with a cooking timer.
The difference between the two Supreme models is that the Supreme BBQ has a black powder coated look while the Supreme Plus BBQ uses stainless steel twin doors. The Supreme Plus model also has an additional electric ignition for the rear burner, a cast iron deep dish and utensil hooks.

Inbuilt BBQs Range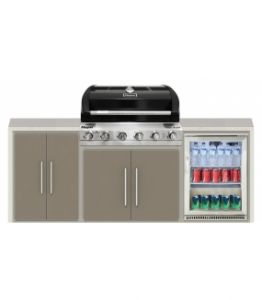 The full Masport inbuilt range has 304 grade stainless steel construction and a vitreous enamel grill body. Both models below feature 6 burners:
Deluxe Inbuilt 210 – a standard model without a viewing window, rear burner or sider burner but does feature kebab racks and rotisserie unit (RRP: $829)
Super Grande RBW Inbuilt 210 – includes an additional viewing window, deep dish and pizza stone and grill insert (RRP: $1,199)
Ambassador Series
The inbuilt Ambassador range is in the high-end price category. Both of the Ambassador BBQs use 304 grade stainless steel for the grill body instead of the vitreous enamel build that you would find with the above Masport models. The features include rear infrared burners for rotisserie cooking, electric ignition viewing window and an LED hood light. But it doesn't include kebab racks. The Ambassador Deluxe BBQ provides additional cooking area and has bright LED control knobs, side burner and infrared rear burner.
Ambassador – 4 burner BBQ (RRP: $1,499)
Ambassador Deluxe – 6 burner BBQ (RRP: $1,999)
Outdoor Kitchen Range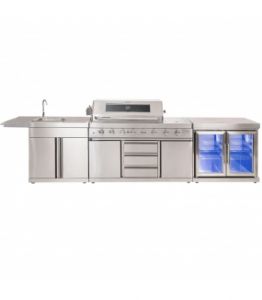 The Ambassador BBQ series can also be integrated into a full outdoor kitchen as a 3 piece unit. It includes a coordinating twin fridge and sink modules as well as fold down side trays for additional space. It is equipped with castor wheels so even if you move home, you can re-install the unit to suit the new outdoor area. It features 6 stainless steel burners so if you are serious about your outdoor barbecuing, this may be an option for you.
Portable BBQs Range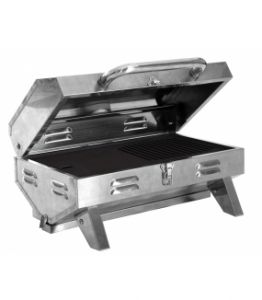 A popular model for its size and portability, the Masport Raglan BBQ is a compact, featuring foldable legs. It uses a gas cylinder or small gas canister with a manual light ignition. It's equipped with a cast iron plate and grill with a stainless steel 'U' burner. Some other features include a flame tamer plate and a slide out drip tray for easy cleaning. It weighs 13kg and has a 10 year warranty on the grill body.
Pizza Oven
A pizza oven isn't technically a barbecue but it can add to your backyard entertainment. Masport has one pizza oven model – the Grange Pizza Oven – with lockable castor wheels for movability. It is designed with 304 grade stainless steel construction and a stainless steel burner with integrated ignition. It includes a temperature gauge for controlled cooking and a smoker box to help create extra flavour.
Should I go home with a Masport BBQ?
Masport aims to bring quality and durability across its range. It provides additional features such as a barbecue cover to help keep your BBQ looking its best. There are a number of options to consider from portable BBQs to 6 burner models, suited for serious BBQ chefs. If you are after a BBQ with the lot you may like to consider the Deluxe CP model, which integrates an interchangeable insert cooking system to cook your stake or a pizza as well as other cooking options. To impress your friends next time you host a backyard BBQ, you may like to opt for the Equip series as it features a rotisserie kit and an integrated smoker to add flavour. Whatever your BBQ needs are, Masport may have a backyard buddy for you.
About the author of this page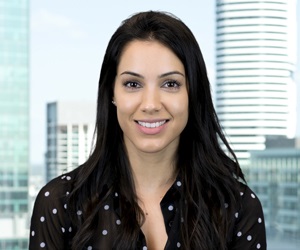 This report was written by Canstar Blue's Home & Lifestyle Content Lead, Megan Birot. She's an expert on household appliances, health & beauty products, as well as all things grocery and shopping. When she's not writing up our research-based ratings reports, Megan spends her time helping consumers make better purchase decisions, whether it's at the supermarket, other retailers, or online, highlighting the best deals and flagging anything you need to be aware of.