Challenger brand Realme is back at it with the release of its first 5G phone, the Realme 7 5G. As with all the phones released by this brand, Realme packs a lot of value in for a super-cheap price point. With the release of its first 5G phone, Realme is hoping to bring 5G technology to more Aussies, especially if you've ever felt the price of a 5G phone was a little out of your reach.
The most appealing part of the Realme 7 5G is its price point — for $499 AUD RRP, this makes the 7 5G, along with Motorola's Moto G 5G Plus, one of the cheapest 5G phones around. While the 7 5G is packed with some great features for a cheap mid-range smartphone, how this translates into using the device is another thing altogether. In this review, we'll give you a hands-on look at how the Realme 7 5G stacks up, so you can decide whether this is the new 5G phone for you.
(Note: Since publishing this review, OPPO has released two cheap 5G phones, which are now the cheapest 5G phones currently on the Australian market — the A54 5G priced at $399 AUD RRP and the A74 5G priced at $449 AUD RRP)
Realme 7 5G features and specs
Here's a look at some of the features and specs of the Realme 7 5G phone:
$499 AUD RRP
5G connectivity
6.5 inch, 120Hz FHD+ display with 90.5% screen-to-body ratio
Available in Mist Blue and Flash Silver
5,000mAh battery with 30W Dart charge
Quad rear-camera setup — 48MP high-resolution, 8MP ultra-wide, 2MP macro & 2MP portrait lenses
16MP front-facing camera
128GB internal storage + up to 256GB expandable storage
8GB RAM
Realme 7 5G pros:
Really nice quality screen – vibrant and clear
Cameras offer a pretty decent photo taking experience
Good size and lightweight to hold/use
Fast charging
Realme 7 5G cons:
Unlocking functions a little hit and miss
Temperamental auto brightness
Scrolling was a bit jumpy when scrolling up and down
Screen wasn't as sensitive to touch when navigating in some apps
Design and functionality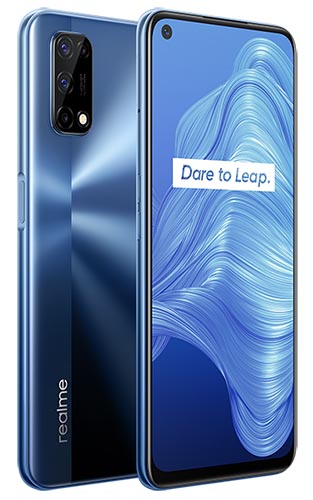 One interesting choice with the Realme 7 5G is the decision to offer two different styles of the device beyond just colour. While you'll be able to choose from Mist Blue and Flash Silver, it's not just the colour which is different. The Mist Blue, which is what I was given, is a nice grey-ish blue with the 'Realme' logo in small font and with the almost 'signature' line down the back of the phone, which serves to amplify the sort of holographic finish. It's matte but shiny at the same time. The silver version, however, features the Realme logo in large font down one side. It's a bold statement and it very much fits the Realme brand, which does tend to be a little more adventurous when it comes to design.
It's a good sized phone, at 6.5 inches, and I found that even with my small hands, it felt quite nice and comfortable to use — it's thin and lightweight and easy to hold in one hand when watching videos. The 120Hz FHD+ display has a 90.5% screen-to-body ratio, which provides a great viewing experience. I found videos were really clear and sharp, and the colours are really nice and vibrant. The auto-brightness was at times a little temperamental; I found on occasions that the screen would auto-darken from the slightest movement of the phone or shift in light, although it wasn't too frustrating or frequent.
As for the unlocking features, the Realme 7 5G offers both facial and fingerprint for unlocking, with the fingerprint scanner on the lock button. Both security functions are mostly fine, but I did find there were times where it was a little slow to unlock with the face scanning, and my finger would need to be repositioned a couple times. The fingerprint scanner, while conveniently placed, can be a bit annoying if you just want to press the lock button but instead the phone reacts as it's trying to scan your finger. This is a personal preference though, and you don't have to use the scanner if you don't want to.
Overall, the Realme 7 5G is a great looking phone which is easy and comfortable to use. The screen is really nice to look at and gives you a great viewing experience, although it shines more with colour than white backgrounds. Realme does make phones with vibrant screens in general, and when you consider the price point, it's even more impressive.
Performance
With the Realme 7 5G, you'll get a Dimensity 800U octa-core processor, 8GB of RAM, 128GB of internal storage plus up to 256GB expandable storage and a 5,000mAh battery with 30W Dart charge, plus, of course, 5G compatibility. For the price, you get a very fast and relatively seamless performance with day-to-day usage. You'll also get a clear case and 30W Dart charger included.
Whether you're watching videos or scrolling through social media, the Realme 7 5G provides a rather quick and seamless experience. I found scrolling and loading to be quite quick, although when reading text-heavy articles, the scrolling up and down could be a little jumpy. I had some issues with the screen not recognising my finger as I tried to navigate the settings of an app on a couple of occasions, however it wasn't frequent enough to be an issue.
The screen for me was one of the standouts. Realme does, in general, provide a nice viewing experience with its screens, and the 7 5G certainly met this expectation. Watching HD videos was a great experience — the display is clear and the colours are vibrant. Likewise pictures look really nice, so your Instagram scrolling shows images at their best.
The built-in speaker did provide some nice depth to the sound, especially when listening to music, although it wasn't the most immersive sound performance (not like the dual stereo speakers of the Realme 7 Pro). As with most phones that come with the single speaker, it's fine for occasional use, but for the most part, you'll probably be using headphones anyway – and the good news is that there is a headphone jack!
Of course, you can't talk about a 5G phone without mentioning 5G. I tested this device using the Optus 5G network and recorded speeds up to 279.35Mbps. For a 5G phone, you will get good 5G connectivity, and considering the device is already a great performer, the Realme 7 5G is a quick and seamless 5G phone.
The 5,000mAh battery provides a solid battery performance. After moderate usage throughout the day, I found that there was still just over 50% of battery remaining the next morning without an additional charge. The 30W charging is a great addition — Realme states that you only need 65 minutes for a full 0% to 100% charge, and in my tests, I could charge from around 20% battery to 100% in just over an hour. At this price point, having such a quick charging experience is a real plus, especially if you're a heavy phone user.
While 5G usage typically is known to drain more battery than 4G or WiFi, I did some tests to see if this were true of the Realme 7 5G. Watching around 15 minutes of HD video drained around 2% of the battery using 5G and WiFi. After two hours and 15 minutes of moderate usage (watching video, checking social media and some rest time) using 5G and using WiFi, both instances saw around 11% of battery drained. Heavier phone users might find that 5G drains their battery more, however in my tests, moderate usage didn't show much of a difference when comparing use on 5G versus use on WiFi.
All in all, the Realme 7 5G provides a really solid experience. Whether you're aiming to use 5G or not, you get a pretty great battery (and the bonus of fast charging), quick and seamless performance and a really nice screen to boot.
Cameras
When it comes to cameras, the Realme 7 5G includes a quad rear-camera setup with a 48MP high-resolution lens, a 8MP ultra-wide lens, 2MP macro and 2MP portrait lens, plus a 16MP front-facing camera. Overall, the camera setup and the features included do provide a solid phone photography and video experience that you would expect of a device at this price point.
Outdoor photography and indoor photography is great, with the 48MP setting producing some sharp results. The ultra-wide lens does a good job of getting that extra detail in, and there's panorama for those sweeping nature shots. The zoom function is also pretty good at picking up details in the distance, but of course as with most digital zooms, you get blurry results when you go all in.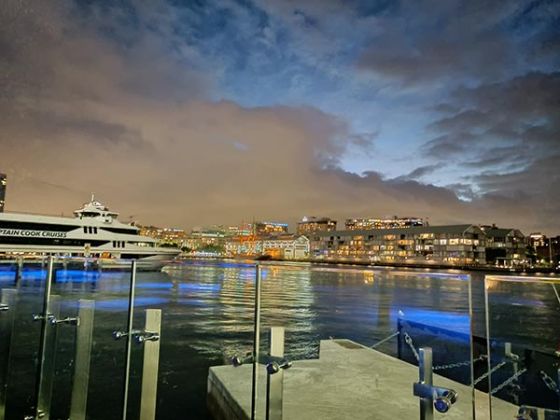 Night mode produced some good results in low light and night time situations, although I found the processing of photos to be quite long. This is often the trouble with night mode features, as  usually you'll have to hold the device stable for a long time while it processes. In general though, you get some great shots and it does a really good job at lightening up your photos, and zooming in with night mode on still produces some decent results.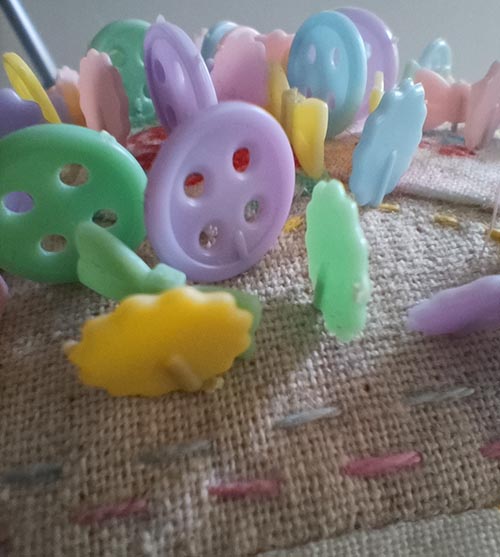 When going into ultra macro mode, the macro lens picks up on details and does get in nice and close, and is rather impressive. However, at times, the lens was a bit hit and miss, with the macro photos taken indoors a bit better than shots taken outdoors.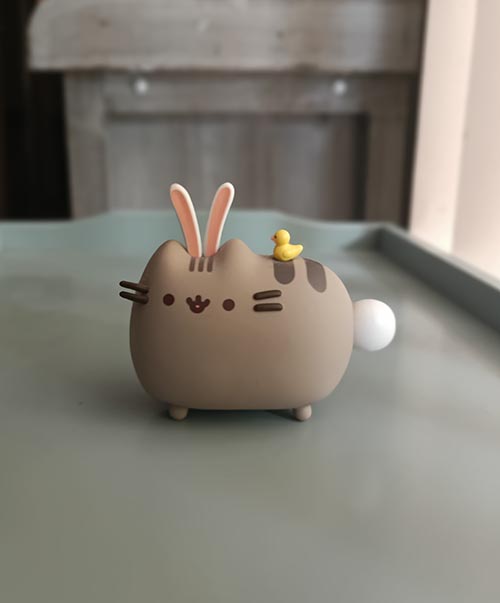 Portrait mode was also a little uneven. Overall, it does a great job at that nice background blur, although I found it struggled to focus on the portrait subject at times and there would be a bit of a blurry patch over what you were trying to focus on. One downside to these portrait modes is that they are prone to blurring the edge of your subject's features, such as hair, depending on the angle, but a little repositioning and readjusting the focus on screen does fix this.
There are also built-in beautification editing tools, which do more than just smooth your complexion. You can adjust the size and shape of your face, your eyes — you name it. But, you can easily switch this off by choosing the 'natural' option. If you take a lot of selfies or portraits, you might enjoy playing around with these tools.
Video does the trick in terms of the basics, and you can pause and resume the recording, which is a great feature if you need to make small adjustments while filming, without the complexity of multiple recordings. There aren't any professional features though — it does the trick for the average user.
Overall, you'll get a decent camera experience from the Realme 7 5G. There isn't anything too high-end or flashy, and that's not really something you expect at this price point.
SIM-only plans for the Realme 7 5G
The Realme 7 5G is currently available to buy outright from retailers including the Realme online store, JB Hi Fi, Bing Lee, Amazon, Kogan, The Good Guys and more. You'll need to pair your device with a SIM-only plan, whether that's prepaid or postpaid.
Keep in mind, if you want 5G network coverage, you'll need to sign up to a plan with 5G network access. 5G phone plans are available from Telstra, Optus and Vodafone, which are all expanding their 5G networks. SpinTel is the only MVNO to offer 5G phone plans using the Optus 5G network, however if you don't care about 5G network access, there are plenty of SIM-only plans to choose from.
Here is a selection of postpaid plans from Canstar Blue's database with a minimum of 10GB of data, listed in order of standard cost, lowest to highest, then by data allowance, largest to smallest. Try using our mobile phone plan comparison tool to see a wide range of plans from other providers. This table includes products with links to referral partners.
Here is a selection of prepaid plans from Canstar Blue's database with a minimum of 10GB of data each month, listed in order of standard cost, lowest to highest, then by data allowance, largest to smallest. If you want to compare a larger range of offers from other providers, use our phone plan comparison tool. This table includes products with links to referral partners.
Is the Realme 7 5G phone the right phone for me?
While Realme is still a relatively unknown player in the smartphone space, routinely this brand has shown that it can pull off great quality devices at very affordable price points. As for its first 5G phone, you can expect that same effort put into this device. There were no major issues that hindered my experience using the device, and overall, the Realme 7 5G is a great phone.
Mid-level devices at this price point can be a bit tricky to navigate at times. They're usually basic enough to warrant a cheaper price, but with more features and improved specs to justify that mid-range price point. With the inclusion of 5G compatibility on this device, it does make the Realme 7 5G one of the cheapest 5G phones around. If you've been keen to hop on the 5G bandwagon but have been put off by the price of some of the 5G devices available, this might be the phone you've been waiting for.
Overall, you'll get a really solid performance from the Realme 7 5G. It looks and feels nice to use, has a really great screen for watching videos, the cameras produce some decent photos and the performance is quick and seamless. For a phone under $500, you can expect good value for money with the Realme 7 5G.
Consider the Realme 7 5G if: You want a solid phone performance with 5G compatibility for under $500.
Related articles
Product used for review/testing was a free sample provided by Realme.