Fact Checked
Vodafone rated best for business phone plans three years in a row
A business is only as good as its communications. So, when it comes to picking a new phone and mobile plan for your business, you can't afford to take any chances – the last thing you'll want is clients hanging up on you! But how do you know which mobile service provider and plan best meets your specific business needs? Canstar Blue's 2020 review of business phone plans and providers can offer some guidance.
For our 2020 ratings, we surveyed more than 1,200 small business owners and key decision-makers across Australia, asking them to rate their mobile phone provider based on factors such as network coverage, plan flexibility, customer service and value for money. We do this to make the decision-making process a little easier the next time you're shopping around for a new phone deal. So, what did we find?
Once again, our highest-rated small business mobile provider is Vodafone, scoring an overall satisfaction rating of five stars for the third year in a row. Having taken out the top spot in our 2019 ratings, and sharing the 2018 title with Optus, Vodafone has shown its consistently high scores are no fluke, and also received five-star ratings for value for money, customer service, billing and for plan flexibility. 
In second place this year is Optus, with an overall satisfaction score of four stars. Telstra took home the bronze in 2020, followed by new entrant TPG, with both telcos awarded three stars for overall satisfaction. 
Best Phone Plans for Business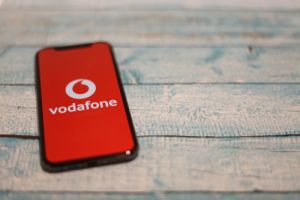 The four business phone plan providers in Canstar Blue's 2020 review were compared and rated in the following order for overall satisfaction:
Vodafone
Optus
Telstra
TPG
Dropping down a spot since 2019, Telstra finished in third place this year, scoring an overall three-star rating, but bringing home five stars for network coverage – the only provider in our 2020 review to do so. Optus jumped up to claim second place with four-star reviews across the board, while newbie TPG was awarded four stars for value for money.
Read on to see what the four plan providers in our 2020 review have to offer business customers.
Business Phone Plans
Vodafone


Vodafone offers a range of SIM-only and phone-on-a-plan mobile options for businesses, offering connections for small, medium, and large workplaces. Plans can be bundled to save up to 20% on fees, and businesses with 10 or more connections will receive their own Australian-based Personal Account Manager.
If you're looking for a phone package, Vodafone's Red Plus plans begin from $40 per month, and include unlimited standard talk and text in Australia, plus monthly full-speed data. These plans also include unlimited data capped at 1.5Mbps, plus an allocated number of high-speed gigabytes, eliminating unexpected data overages. Prices max out at $80 per month, with selected plans also including international calls and data allowances available up to 150GB per month.
Vodafone's selection of business-plan phones includes high-end devices such as the iPhone 11 series, the Samsung Galaxy S20 range, and Huawei P30 Pro. All new phones are now available on Vodafone's 12, 24, or 36-month payment plans, with Loyalty Discounts also offered on selected handsets.
For businesses with a BYO phone approach to their mobiles, SIM-only plans are also available, again beginning at $40 per month for unlimited talk and text and included fast data. These plans are available on a month-to-month contract term only, but customers can earn Loyalty Discounts for staying connected over 12 months. 
If your business requires overseas travel, then Vodafone $5 per day roaming is also activated on all business mobile plans. This allows you to use your plan's talk, text, and data inclusions outside of Australia for just $5 per day in 80 countries. 
Tablet data plans are also available to Vodafone business customers on both a device-on-a-plan and SIM-only basis. Popular tablets, including models by Samsung and Apple, are available on 12, 24, or 36-month payment plans, with data plans beginning at $15 per month for 5GB.
Vodafone achieved an impressive five-star result for overall satisfaction in 2020, along with five stars for customer service, value for money, plan flexibility and billing. It got four stars for network coverage.
Optus


Optus provides a great selection of business mobile phone plans, whether you operate as a sole trader or have a whole workforce behind you. Plans are available for small, medium and enterprise-size businesses, with phone-on-a-plan and SIM-only postpaid options offered.
Prices will vary depending on the number of employees you need to connect, but Optus' SIM only Choice plans begin at $39 per month. All plans include unlimited standard talk and text in Australia, plus generous data allowances (up to 120GB monthly gigabytes on the top-tier options, and 500GB on the exclusive Optus One plan). Customers may also receive unlimited international calls to selected destinations, depending on your plan.
If you're looking to pair your plan with a new handset, available devices include the Samsung Galaxy S20 and Note 20 range, iPhone 11 series, and OPPO, Huawei, and Google smartphones. All phones can be paid off over 12, 24, or 36-month plans, and can be added to any Optus SIM-only business postpaid plan: while your handset is bought on a contract, you're free to switch between mobile plans month-to-month.
Business customers can also pick up tablets and SIM-only data plans from Optus. Like smartphones, tablets are offered on 12, 24, or 36-month contracts, with devices from Samsung and Apple available. Optus also offers smartwatches, including the Apple Watch and Galaxy Watch series.
Optus allows business customers to mix and match up to 300 different mobile plans with its Business Builder tools, and provides customised support through a team of business specialists. Business customers can both bring their own devices, or add new phones on Optus plans, offering flexible options to support small and large teams. 
Optus scored four stars for overall satisfaction in our 2020 ratings, plus four stars across all other categories including value for money, customer service and network coverage.
Telstra


Coming in third place for business customer satisfaction in 2020, Telstra has traditionally been a go-to provider for those who value a strong and reliable network, particularly in regional areas. The telco giant provides a small business range similar in pricing and value to its personal mobile options, including phone-on-a-plan and SIM-only solutions and access to its new 5G network.
Telstra now offers just four flexible monthly plans, with no lock-in contracts. Prices begin at $55 per month for a generous 40GB of data, up to $115 for 180GB, and all plans include unlimited standard talk and text in Australia. Plans also feature unlimited slowed data capped at 1.5Mbps, in addition to a full-speed data allowance.
These plans can be combined with a variety of handsets, with phones offered on 24-month repayment periods. Available devices include the new Samsung Galaxy Note 20 range, the Samsung Galaxy S20 series, iPhone 11, and Google Pixel 4 XL, as well as more affordable models from a variety of brands. Telstra postpaid plans are also available on a SIM-only basis, again with no lock-in contract and the flexibility to switch options month-to-month.
Telstra offers convenient 24/7 support and account management, and a range of add-on extras to customise your service. Additionally, all mobile plans include free Telstra Air, plus data sharing across eligible plans on the same account. 
If you're looking for a total business package, Telstra also provides a range of hand-picked apps and programs, including Telstra Digital Marketing, Microsoft 365, DocuSign, and secure online storage. Telstra also offers tablets on 12 or 24-month plans, with data prices beginning at $15 per month for 5GB.
TPG

TPG provides a range of voice products for businesses of all sizes, from home offices to companies with hundreds of employees. Unlike the other telcos in our 2020 review, TPG's business phone plans are vastly different from the personal/residential mobile options on offer; instead of providing similar business mobile services, TPG offers specialised products, including the customer service-focused BizPhone.
BizPhone includes unlimited calls to Australian mobiles and landlines, and is suited for offices requiring a simple solution to manage incoming calls. Plans begin at $24.95 per month for a handset-free desktop app, and from $29.95 per month per standard or cordless phone. All plans are available on month-to-month, 12-month, and 24-month contracts, but a $10 handset delivery charge may apply.
To qualify for BizPhone, you'll need to be on a fixed-line broadband plan with at least 100Kbps of upstream and downstream bandwidth. TPG users can bundle BizPhone into their existing TPG fibre broadband plan, or add it as a stand-alone product and use it over a non-TPG internet connection. 
While not a traditional business mobile plan provider, TPG scored three stars for overall satisfaction in our 2020 review, with four stars for value for money and three stars in all other categories.
What do business phone customers want?
This year's survey featured 1,248 participants. 53% of individuals surveyed have a phone and plan bundled on a contract, and 67% are solely responsible for paying their business' phone bill. Our 2020 report shows that Australian businesses are nothing if not loyal: over two-thirds of respondents (69%) have stuck with a single mobile provider long-term.
When asked why they have always been with the same provider, 35% of respondents who have never switched said they wanted to keep their current provider's network coverage, with 37% stating that they believe their plan offers good value for money. However, 16% admitted they just don't have the time to look around for a better deal, while 6% say they are always convinced to stay! 
Still, with survey respondents splashing out an average of $178 a month on their business phone plans, it pays to give a little more thought to where you're spending your company's money. 62% of business customers agree they could probably find a better deal by shopping around – so taking a quick 20 minutes to look through the deals available to your business could save you hundreds or even thousands of dollars every year.
Which phone provider should I choose for my business?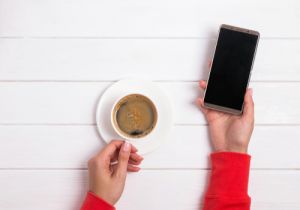 Choosing a phone plan to suit your business needs can be a challenge. Add into the mix factors like where you're located, how many staff you have, or how important technology is to your workforce, and sorting through phone plans can seem daunting. But the good news is it's not only the big three telcos competing for your dollars, but also a growing number of small providers offering good deals and promotions, so you'll have plenty of choice.
Many small businesses simply 'set and forget' with their current provider, but this may prove a costly mistake in the long-run. Like you would with your personal mobile plan, shopping around is always the key to finding a better deal. With 62% of survey respondents in 2020 admitting they could probably get a better deal by comparing providers, it seems many businesses know they could be doing better. The only way to do this is to be proactive and compare your options.
MYOB Accounting Software
Looking to make dollars and cents of your personal or small business finances? MYOB's accounting software includes options for invoicing, payroll, expenses and more. For more information on the featured plans below, click the button below to be referred to MYOB's site or see how MYOB compares to other accounting software.
Payroll software for small businesses with up to 4 employees

Single Touch Payroll (STP) reporting
Pay your employees

from $10/month
min. cost $10.00 over 1 month
Go to site
Online accounting software great for new and smaller businesses

Single Touch Payroll (STP) reporting
Pay your employees
Send quotes & invoices
Manage bills & expenses
30-day free trial available
50% off for first 3 months. New customers only. T&Cs Apply.

from $24.00/month
min. cost $48.00 $24.00 over 1 month
Go to site
Online or offline accounting software with job tracking and inventory

Single Touch Payroll (STP) reporting
Pay your employees
Send quotes & invoices
Manage bills & expenses
Bill by time & track jobs
Manage inventory
30-day free trial available
50% off for first 3 months. New customers only. T&Cs Apply.

from $54.50/month
min. cost $109.00 $54.50 over 1 month
Go to site
About the author of this page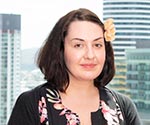 This page was written and is regularly updated by Canstar Blue's Telco Editor, Tara Donnelly. Having spent over seven years writing for and editing telco comparison websites, she's an expert in all things phone & internet, including phone plans and how to find the best deal for your family. She loves to highlight the next best phone deals, while also flagging the things you need to be aware of. Tara also acts as a spokesperson for Canstar Blue.
Compare Business Broadband Plans
Image credits: Dedy Pramu/Shutterstock.com, Antonio Guillem/Shutterstock.com, Chiociolla/Shutterstock.com