Considering all the costly things that can go wrong with a car, you'd be excused if a routine trip to the mechanic makes you sweat, especially if you're an owner of an electric vehicle (EV). With a market still in its infancy, EVs are a bit of a pandora's box when it comes to general upkeep and, yes, servicing. In this article, Canstar Blue highlights everything you need to know about keeping an electric vehicle's logbook up to date, and lists a few maintenance costs associated with EVs.
How much does it cost to service an electric car?
You may have heard about the benefits of owning an electric vehicle, like energy efficiency, reducing carbon emissions and long-term savings on operating costs, yet the price of servicing tends to be a bit of a grey area. The cost of servicing your electric vehicle will depend on a variety of factors, including:
Which make and model your car is
The auto mechanic or service dealership you go to
If it's a routine logbook service or requires major work (i.e. battery pack replacement)
The terms and conditions of your car's warranty (e.g. capped servicing)
Here are the average service costs from a couple of leading electric car manufacturers in Australia:
| EV make and model | Average maintenance costs* |
| --- | --- |
| BMW i3 | $950 over five years |
| Hyundai Kona 1.6L | $1,405 over five years |
| Mitsubishi Outlander PHEV | $1,095 over three years |
| Tesla Model S Rear Wheel Drive | $2,025 over three years |
*The above service price information is sourced from Carsguide.com.au and should be used as a guide only. Always read the new car warranty and capped servicing details of the respective car manufacturer before purchasing a car.
Are electric cars cheaper to service?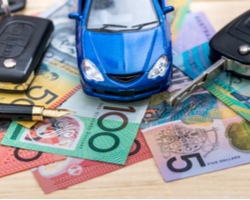 As electric cars have fewer moving parts than conventional vehicles, they are generally cheaper to service. Unlike with fuel-powered cars, electric vehicles do not need emission checks, fuel filters, oil changes or spark plug replacements. Although an electric car will usually come with a higher price tag, the potential savings over a longer period could make EVs a solid investment.
Despite cheaper service costs overall, you should factor in other expenses that could make or break your decision to go electric. Think about additional electricity costs for recharging your EV's battery, along with installation costs of charging systems which can set you back between $2,000 and $3,000 depending on your individual circumstances. Remember, charging an EV will likely inflate your household energy bills, especially if you're not already on a competitive electricity plan.

Shopping for tyres? Check out JAX Tyres & Auto
Electric Car Battery Costs
EV batteries are designed to last much longer than standard batteries in conventional vehicles, with most vehicle manufacturers offering lengthy warranties on their batteries. However, an electric car battery will need replacing eventually, and depending on the size (kWh), they're not exactly cheap!
If the EV battery needs replacing and it's outside of warranty, expect to fork out anywhere between $2,000 and $12,000. Given that there are so many variables, from battery size to labour charges, you will need to contact the manufacturer to get an exact quote. But to give you an indication on price, Nissan lists new batteries as:
24kWh: $7,950
30kWh: $9,780
40kWh: $10,020
While the prices above may have you shaking your head, it's worth noting that as the EV market diversifies, battery replacement costs may decrease in the coming years.
Electric Vehicles: Maintenance Checklist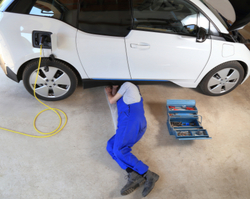 Look after the battery and don't overcharge (Nissan recommends charging to 80%)
Take care of the brakes and get them serviced as per the logbook
Make sure your tyres are aligned and balanced by your mechanic during servicing
Check and top up engine fluids like coolant and brake fluid
Double check your manufacturer's warranty and understand the servicing fine print
Speak to the dealership or manufacturer about battery replacement costs
Always use a certified mechanic who has experience with electric cars
You may also be interested in:
Is an electric car worth it?
While choosing a greener way to 'fill up' may lower those maintenance bills, you'll still need to think about battery charging costs, driving range and EV charging infrastructure. It may be a case of asking yourself the question; do long-term savings on maintenance justify or outweigh the other costs of owning an electric car? Well, the answer to that question still seems to be up for debate right now.
As more manufacturers invest, EVs are likely to become more affordable, but it may take some time until they're a viable alternative to traditional cars. That being said, if your heart is set on an electric vehicle, make sure you weigh up all of the costs involved, including maintenance and servicing before entering a dealership. Lastly, don't forget to compare energy plans, as you'll be relying on household electricity to 'refuel' your car, and if you're already paying too much, it could add further strain to your budget.

Image credits: Romaset/Shutterstock.com, RomanR/Shutterstock.com, riopatuca/Shutterstock.com