Alpinestars sure-footed in motorcycle boots review
While many of us literally go with the 'head-over-heels' approach when it comes to protective equipment, riding boots aren't something to be scuffed, especially considering that our feet are the closest body part to the road. But when it comes time to lace up, consumers are met with plenty of brands and boot types to pick from, causing many to kick up a fuss when it comes to making a decision.
But it's not a decision to take lightly, as a good pair of boots can not only look and feel great to wear, but may even provide superior protection in the event of an accident. To help you decide which brand could be best for your needs and budget, Canstar Blue produces an annual review of motorcycle boots, asking everyday riders about their personal experiences to give you a good idea of what to expect should you go for one of the brands included in our ratings.
This year, more than 350 adults have taken part in our review, with five major brands rated in the following order for overall customer satisfaction:
1st Alpinestars
2nd Harley-Davidson
3rd DriRider
4th Fox
5th BMW
Alpinestars has kicked the rest into touch for the second time in three years, replacing Harley-Davidson at the top of the pile from last year. Alpinestars has been a consistently strong-performer in our motorcycle accessory reviews over the years, but it has enjoyed the most success in the boots department.
This year's motorcycle boots research identified durability, functionality and comfort & fit as the greatest drivers of customer satisfaction for motorcyclists, which is something worth keeping in mind the next time you set foot inside a store. Meanwhile here are some of the key findings from our 2018 survey of riders, and read on four details about what you can get from the five brands included in this comparison.
Best foot forward
While there's plenty to consider when it comes to which brand and type of boot you walk out of the door with, when asked about the main purchasing factor behind their newest boots, respondents to our survey answered with:
Degree of protection/safety: 31%
Comfort/fit: 28%
Brand reputation: 11%
Style/look: 9%
Cheap price: 8%
Came as part of deal with other protective gear: 5%
Needed a specific type: 4%
To wear socially, not for bike riding: 3%
Gen Y riders were more likely to make their decision based on price, while Gen X and Baby Boomers were more likely to decide on the boots with the best protection and safety features, as well as boots that are comfortable.
Out of all survey respondents, one in three (34%) researched boots beforehand, while 38% tried out boots in-store before deciding on a pair. And with Aussie motorcyclists spending $239 on average on their boots, taking your time in store may help you score a deal as well as some comfy boots.
You may also be interested in:
Best-Rated Motorcycle Boots
Alpinestars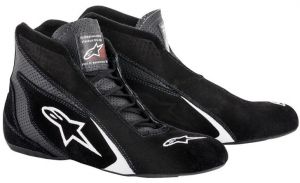 Known for a wide range of protective gear, Alpinestars offers a number of boots for riders to choose from, regardless of whether you like to ride on the bitumen or to carve up the dirt tracks. With a variety of full length boots, short boots and even casual riding shoes, Alpinestars offers each type in a number of colours and styles, helping you look fly while keeping safe. Priced between $200 and $600, Alpinestars has a boot for every budget type.
If you're looking for a full-length boot, Alpinestars will have you covered, with a range of models available for either the off-road rider, or those looking to stick to paved surfaces. These boots include the SMX and Supertech R models, both for on-road and track riders, with Alpinestars additionally providing the Andes waterproof boots to help keep your feet dry. Designed with microfibers for abrasion resistance and foot flexibility, the full-length boots also contain protective measures for every part of your foot and lower leg, giving riders peace of mind should you come off your bike.
If short boots are more your style, Alpinestars offers a number to choose from, including the lightweight Faster models, with the SMX additionally available in a short boot. The Faster range includes features such as adjustable hooks and straps apparently for better grip and comfort, with abrasion-resistant microfiber and breathable mesh lining for the ideal balance between safety and comfort.
Scoring consistently across the board, Alpinestars was the only brand to score a five-star rating in any category, cleaning up in all research areas.
Harley-Davidson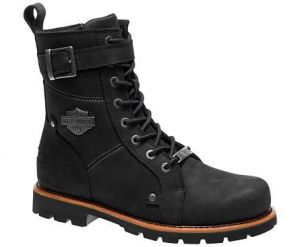 Offering a number of full length and combat boot models, Harley-Davidson may not be the brand you turn to if you do most of your riding off-road, but may be a good choice for those keen on long road trips. Most models are made with leather, making them equally a fashion statement as they are a piece of protective equipment. Harley-Davidson motorcycle boots are also made with rubber outsoles for additional comfort and protection.
If you're prone to getting caught in the rain, Harley-Davidson has waterproof boots such as the Thurmond and Clancy ranges, which include a breathable membrane to seemingly help with ventilation for when the rain comes and things get soggy. If you're looking for the top-of-the-line, the FXRG boot could be the best fit for you with waterproof lining, shock absorbing comfort technology and reflective material included to keep you safer on night time rides.
Harley-Davidson additionally offers a number of casual boots for those looking to hit the town, including canvas sneakers. Priced between $100 and $300, Harley-Davidson boots are reasonably priced within the market, with riders able to pick up a pair at independent retailers and showrooms around Australia.
In addition to a four-star rating for overall satisfaction, Harley-Davidson was rated four stars for durability, functionality, comfort & fit, style and protection, while also scoring a three-star rating for value for money.
DriRider
Covering all areas when it comes to protective gear for riders, Australian brand DriRider offers a number of boots to help complete your outfit, as well as ensure that you're protected against the elements. Priced between $100 and $300, DriRider's boots are reasonably priced within the market, making them an ideal option for those looking to stick to a budget.
Regardless of what you ride, DriRider has you covered, whether you like to stick to the streets or get away for a long weekend. Popular ranges include the Adventure models for off-roading, as well as the Air-Tech and Climate boots for rider comfort on longer touring journeys. Both Air-Tech and Climate models contain a breathable waterproof lining for improved ventilation, as well as a moulded nylon shin and ankle guard for increased protection. With other features such as an anti-slip sole and reflective patches, either model may be a handy option to have for your next ride.
Other DriRider boots include the likes of the Stealth boot if you're after a full-length model, as well as the shorter Street boot range, ideally suited for those who usually stick to the busy city streets for their riding. If you're looking for something a bit more on the casual side, the IRide or Urban boots may be more your speed, each with lightweight material for those nights out, as well as a bit of protection in case you need to hop on your bike.
With four stars in the majority of survey categories, including functionality, protection and overall satisfaction, DriRider was additionally rated three stars for style.
Fox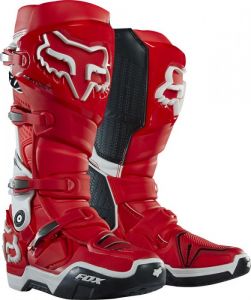 While it might not be the brand to turn to if you're after something for your regular commute to work, or for those looking to cut loose on the asphalt, Fox is made primarily with the off-roader in mind, offering a number of full length and shorter boots for Motocross and dirt tracks. One of the more expensive options on the market, Fox may be well worth the $300-$700 price tag, if you're looking for a specialised off-road brand.
Primarily available in the Instinct line, Fox provides a number of colour schemes for riders to choose from, helping you stand out on the track. Features include the Hinge Lockout system, which stops motion before hyperextension, as well as a new Duratec compound to improve grip and durability. Replaceable soles are also available in the Instinct range, making it handy for when you're after new grip, but aren't keen to fork out for a whole new boot.
If a full-length boot isn't your style, Fox additionally offers the Bomber short boot, made from full synthetic leather and TPU plating to ensure critical impact zones such as the toe and heel are protected. The Bomber boot contains a single ball-and-socket buckle, apparently making it easier to slip off after a hard day's ride, with the boot also lace-free to ensure your boots don't get tangled in any part of the bike or track.
Rated four stars for overall satisfaction, Fox also scored a four-star rating for durability, value for money and style, with three stars in all remaining categories.
BMW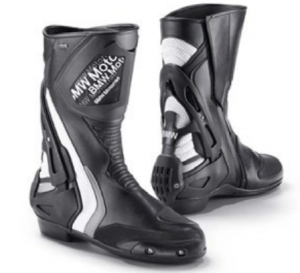 Suited mainly to road riders, BMW's boot range complements its cruiser-styled motorcycle range, helping riders make the most of long journeys and road trips. Priced between $200 and $500, BMW's boost are – perhaps surprisingly – competitively priced in the market, making them a viable option for those on a tight budget.
Predominantly offering full-length boots, the BMW range includes the Sport Dry, Double R, Venture Grip and AllRound boots, meaning there is something for everyone. As the name implies, the Sport Dry range is better-suited to those who ride a sports bike, with heel protectors and removable plastic sides featuring in the range, as is rigid ankle protection for extra safety. The Double R is better-suited for the race track, while the Venture Grip and AllRound boots are best-suited for touring riders, with windproof, waterproof and breathable GORE-TEX membrane included in each boot, with additional features such as quick-release fasteners and clamps and reflective material available on select boots.
For the style-savvy rider, BMW has casual sneakers, including the Ride and Dry ranges to help complement your outfit on a night out. The Ride sneaker is made from leather, with moulded protection on the heel, while the Dry sneaker includes air mesh for ventilation as well as BMW's OutDry technology to help keep your feet from getting wet when the weather turns… or when someone spills a drink.
Rounding out the results in this year's survey, BMW scored three stars in almost every category, including durability, comfort & fit and overall satisfaction, with four stars on value for money.
Which motorcycle boots should I buy?
While shoes might be one of the first things we decide on when choosing an outfit, boots often aren't the first thing that Aussie motorcyclists reach for when it comes time to hit the road. However, with plenty of brands offering protective equipment, riders are starting to come around when it comes to keeping their feet protected, although deciding on the right boots can still cause many to get cold feet.
Ultimately, which pair of motorcycle boots you decide to strap on will come down to personal preference, as well as where you plan on riding, as each surface and bike could require a different level of protection for your feet and toes. As a result, it's best to do your research and try out several boots before deciding which to buy. If you spend lots of time on the road, comfort is crucial. But so is your safety.