Fact Checked
Dunlop skids into first place in motorcycle tyre ratings
While there's plenty of protective gear available to keep motorcyclists safe while in the saddle, there's not much point investing in the full kit if your tyres aren't up to scratch. Essentially the only thing that stands between you and the bitumen or dirt road, investing in a good set of motorcycle tyres can make your next commute or weekend bash more enjoyable, and safer.
But if you're not a tyre expert, or you're looking to explore what tyres are available for your bike, you may be left spinning your wheels when it comes to narrowing down the options, with the tyre market home to plenty of brands and tyre varieties. Thankfully, Canstar Blue produces an annual review of motorcycle tyres to find out which brands are the right fit for Aussie riders.
More than 200 Australian riders took part in this year's survey, with motorcycle tyre brands reviewed on factors including both wet and dry weather handling, stopping ability, tyre life, style and value for money. It's all about getting you up to speed with the options available to you, so you can make a better-informed purchase decision the next time you need to buy new tyres.
In 2020, Dunlop bumped consecutive winner Pirelli off the top spot, rating best for overall customer satisfaction and in majority of other categories.
Best Motorcycle Tyres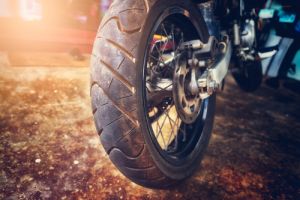 Here are the best motorcycle tyre brands in Australia, as rated by consumers in Canstar Blue's latest review:
Dunlop
Bridgestone
Michelin
Dunlop topped our ratings for motorcycle tyres with five-star reviews for tyre life, wet handling, dry weather handling, stopping ability, style and overall satisfaction. Bridgestone managed to score full marks for value for money, before ending on four stars overall, while Michelin rounded out the results with three stars for overall satisfaction.
Read on for details on exactly what these brands have to offer in the motorcycle tyre department.
Treading a fine line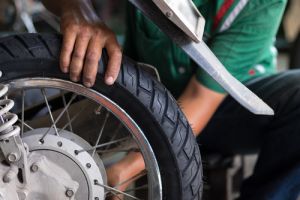 Australian guidelines recommend that motorcyclists regularly inspect their tyres before rides, to avoid the possibility of an accident, with low tread levels and bald tyres additionally enforceable offences. Our 2020 survey of motorcycle owners found that:
36% know what the legal tread depth of motorcycle tyres is
26% know the load rating of their tyres
17% have ridden on tyres they suspected were below legal standards
Despite the fact that only a few of us know the finer details of our tyres, 54% of survey respondents told us they regularly check their tyre pressure, with half of all respondents (45%) regularly inspecting their tyres for leaks or damage. Considering that 24% also stated that they have had a flat tyre while riding, it's worth keeping an eye on your wheels to ensure that you're keeping safe while out on the roads.
Respondents to a previous survey reported spending an average of more than $230 on their latest motorcycle tyres, after hanging onto their previous set of tyres for just over three years, meaning that while it may leave your bank balance feeling sorry for itself, it's a small price to pay to stay safe while riding.
Motorcycle Tyres
Dunlop
Owned by Goodyear, the Dunlop brand was founded in England back in 1889, and is now a mainstay within the motorsports industry for both two-wheel and four-wheel events. For two-wheel enthusiasts, Dunlop has you covered for both on-road and off-road adventures, offering plenty of sizes and features on all tyre types.
For those who prefer to stick to the road, Dunlop provides a number of tyres to suit all motorcycle types, whether you ride a sports model or prefer a cruiser. The D402 and Elite III models may be your best bet if you're after something to suit your touring motorcycle, while those who ride a sports model may be better suited looking into the GPR 100 or K591 tyres, with Dunlop also offering tyres for everything in between.
The D606 range is ideally suited for adventure and off-road motorcycles, with the D707 range suitable for those into their Motocross. Each model contains strong shock-resistant casing to absorb the rough terrain and any jumps you might encounter, with additional heat resistance apparently to ensure that your tyres stay healthy throughout the race.
Dunlop lists the available sizes for each tyre online, helping ensure that you pick up the right tyre for your motorcycle, as well as tips and advice articles to ensure you keep safe while riding. Distributors and a store locator are similarly available on the website, allowing riders to find their closest store.
Dunlop was rated best for tyre life, wet handling, dry weather handling, stopping ability, style and overall satisfaction. It got four stars for value for money.
Bridgestone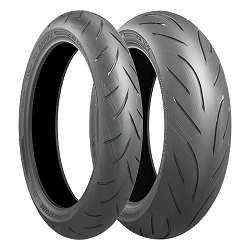 This Japanese brand is a popular option for many, regardless of whether you travel on two wheels or four. Bridgestone offers tyres for adventures both on and off the road, as well as tyres for custom bikes to help you complete your dream project.
On-road riders have plenty of options, if you prefer a sports motorcycle or are at home on a touring model. The 'Battlax' range is Bridgestone's flagship product line, including the Battlax Racing, the Battlax Hypersport and the Battlax Sport Touring for Aussie riders to choose from.
Off-road options include the Battlecross E50 and Battlecross X10, X20, X30 and X40 models, each with specialised treads to help with Motocross races or rough terrains. Bridgestone offers a variety of sizes to help suit your ride, helping you remain in control, as well as keep comfortable.
In addition to the wide variety of tyres available, Bridgestone's website also provides a number of articles and tips to ensure you stay safe behind the handlebars, as well as ensure your tyres stay within Australian guidelines. A dealer locator is also available, making it easier to get back on your bike.
Bridgestone was rated best for value for money with five stars and received four stars in the remaining categories.
Michelin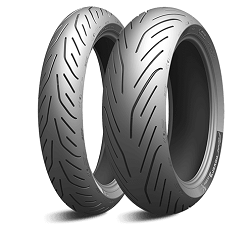 French manufacturer Michelin is a popular option for two-wheel enthusiasts, whether you're looking to head off-road or stick to the streets, with plenty of options available for Aussie riders to choose from.
For those big on their racing, or who just prefer to stick to smooth surfaces, Michelin provides the Supermoto range, which includes the Power series available in a number of sizes and treads to suit all bikes. Those looking to keep fully in control may be swayed more towards the Power range, with the tyres coming with Michelin's Adaptive Casing Technology, which apparently helps improve cornering ability, as well as straight-line stability.
Off-road adventurers may be more inclined to go with the Trail or Enduro range, each featuring specialised treads to ensure you keep in control while on those bumpy surfaces. The Enduro range also includes tyres for Motocross riders, featuring a maximised contact patch to adapt and take the form of obstacles on the track, helping to absorb shock and cut down on flat tyres.
Michelin additionally offers a dealer locator on its website to help you find your closest retailer, while also offering advice articles on all things tyres for those looking for their first set, or switch up what they ride.
Michelin rounded up the scores on four stars for style, stopping ability and wet and dry weather handling. It got three stars for tyre life, value for money and overall satisfaction.
Other brands
While three brands reached the minimum sample size (30 responses) to qualify for our ratings, there are still plenty of options for riders to consider when it comes to equipping their bike with a new set of wheels. Here are some of the more popular brands available on the market.
Pirelli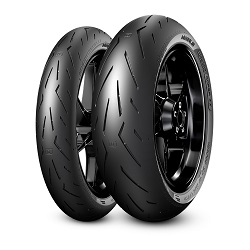 Previous rating's winner Pirelli is well-known within the tyre industry. Regardless of whether it's two wheels, four wheels, or more, Pirelli has you covered. With its motorcycle tyre range including both on-road and off-road options, Pirelli may be worth investigating, whether you're looking for something for the morning commute or a weekend adventure.
For those looking to stick to the bitumen, Pirelli provides a number of tyres to suit all bike types, including sports, cruisers and touring models, with a tyre range that includes the Diablo and Angel series, each with multiple tyre types and sizes available. Including a new tread pattern design and bicompound solution on the front tyre, Pirelli looks to keep you in control regardless of where you're going. Additionally, Pirelli has a number of racing tyres for those who like to push their bikes to the limits on the racetrack.
If off-road is more your speed, Pirelli has tyre options for both Motocross enthusiasts as well as those who simply enjoy adventuring on their time off. Buyers can choose from the Scorpion range and the MT range, for those who ride adventure motorcycles.
If you've got your heart set on Pirelli tyres, the company provides a distributor finder on its website, with sizes also listed for each tyre, helping to narrow down the options before you walk into your local store.
Continental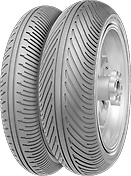 Producing a variety of parts for all things automotive, German manufacturer Continental might not be as well-known in Australia as other brands, but offers enough variety for consumers to take notice if you're thinking of getting a new set of tyres, whether you do most of your riding on-road or off-road.
Continental's primary motorcycle tyre, the ContiRoad, is available in a number of models for both a daily ride as well as for when you cut loose on the weekend racetracks, with a customised pattern design and additional allowance for narrow rims to apparently help improve cornering and stability. Available in the SM model for Supermoto motorcycles, as well as the Attack range for touring bikes, Continental additionally offers the ContiTwist and the ContiMotion for those partial to sports motorcycles.
While it may not have the options for off-roaders as other brands, Continental does offer a number of models for those who like to get dirty on the weekend. For Enduro riders, Continental has the ContiTrail model, while the ContiEscape will suit those who don't mind which type of surface they ride on, with the TKC models also suitable for those who enjoy riding both on and off-road.
In addition to its range of tyres, Continental has tubes and rim tapes to help with proper tyre maintenance and care, along with a dealer locator to see where you can pick up your next set of tyres from. An FAQs page is also available online if you're not sure on how to properly look after your tyres.
Metzeler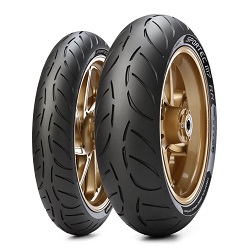 Another German brand, Metzeler has been operating in the automotive industry for over 100 years, with the company currently operating under Pirelli. With plenty of tyres on offer, Metzeler could be worthwhile looking into regardless of whether you're looking to stick to the bitumen or explore the dirt trails.
Racers will be excited by the range of Racetec tyres, which includes wet weather models, while those who ride sports motorcycles will be better suited with the Sportec line, each with a variety of treads and sizes available to suit your individual ride. If you prefer a touring or cruiser motorcycle, Metzeler offers the ME series, as well as the Roadtec line to suit all bikes in between. Each line of tyres includes water drainage technology to better help with grip on wet roads, as well as a dual compound solution on some models to improve tyre mileage.
If off-roading is more your style, Metzeler offers a number of tyres for Motocross enthusiasts, as well as tyres for those who ride adventure motorcycles. Riders have the choice between the Tourance, Karoo and MC ranges, each suited to different environments and available in a variety of sizes. Metzeler also provides a 'Find Your Tyre' feature on its website, allowing you to find the best fit for your ride, with a dealer locator and articles also available online.
You may also be interested in:
Which motorcycle tyres should you buy?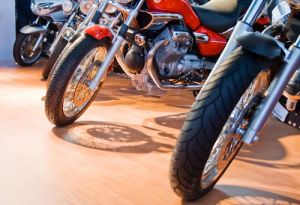 You wouldn't get far without them, but figuring out which tyres to put on your motorcycle can prove a tough decision for riders, especially when there is plenty to consider. While they may all appear to do the same thing, each tyre type could impact how your motorcycle handles and responds while on the road, making it an important decision to make.
Ultimately, whichever tyres you decide to ride with will come down to your personal preferences, as well as what type of bike you have, and how often you ride it. Additionally, how much you have in your budget will impact your final decision, so it's best to do your research before you head into your local dealership, as you may be able to not only find the best fit for your motorcycle but the best fit for your wallet too.
Just make sure you take your tyres seriously – regularly check them for any damage and don't delay should they need replacing!
About the author of this page
This report was written by Canstar Blue's home & lifestyle journalist, Tahnee-Jae Lopez-Vito. She's an expert on household appliances, grooming products and all things grocery and shopping. In addition to translating our expert research into consumer-friendly ratings reports, Tahnee spends her time helping consumers make better-informed purchase decisions on all manner of consumer goods and services, while highlighting the best deals and anything you need to be aware of.
Photo Credit: SantiPhotoSS/Shutterstock.com, structuresxx/Shutterstock.com, Dundanim/Shutterstock.com.