Not all motorcycle gloves are created equal; in fact, that is the whole point of having different types of gloves. One glove is not necessarily suitable for every type of riding, so it is necessary to have variety. And when it comes to price it appears that Aussie motorcyclists are prepared to pay for quality; according to Canstar Blue's recent survey of more than 400 motorbike riders, 75% shun the cheapest on offer, with an average spend of $168 for a pair of gloves. You can check out our Canstar Blue customer satisfaction – motorcycle gloves results here.
Off-road Motorcycle Gloves
Synonymous with motocross and trailbikes, these gloves are generally a combination of textile and either leather or fake leather.
They provide breathability, as motocross is a sweaty sport; however, the thin fabric also means that there is less protection. In saying that, a motocross rider is falling on dirt, and that is generally a lot softer than the pavement.
Off-road gloves are made for grip more than anything else, due to all of the pulling and manoeuvring of a dirt bike in an off-road setting.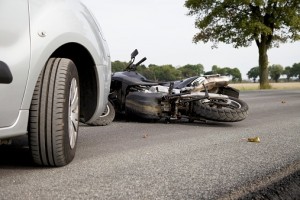 Most common injuries from motorbike accidents
Street Gloves
As the name suggests, these gloves are used for riding on the road, and are there to protect your hands in case of a fall onto said road.
Often they are made of leather, but they can be made of fake leather or a thick textile.
As long as these gloves protect their wearer from road rash, and keep the skin on their fingers, then their purpose has been served.
These thicker gloves are ideal for keeping warm on a cold ride, and some brands also make waterproof gloves – which are great to have if there is any unexpected showers while you're out.
Fingerless Gloves
While some prefer them over street gloves for their superior breathability, fingerless gloves don't necessarily have any other special features.
While they may look cool, they provide little protection if you hit the deck.  Also, there is little in the way of protection from the elements, so you might end up with some cold fingers once you're out on the road.
Ultimately it is up to you to make decisions on the safety of your appendages – or good looks while out riding.