Which bank offers the most to their customers? Our latest ratings compare major bank brands to help you make the most out of your savings. You can also visit the CANSTAR website to compare banking products.
Compare major banks with our customer satisfaction ratings.
Two in five prefer communicating online with their banks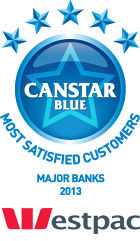 Which is preferable: heading down to your local bank branch to sort out your finances … or tackling the task from your home computer?
For 43% of banking customers who responded to our recent survey, using their bank's website was the preferred method to communicate, while 36% would rather visit their local branch.
Generation X respondents were most likely (47%) to be in favour of using online banking for this purpose, while this figure was slightly lower for Baby Boomers at 40%.
When it came to looking at how people are actually communicating with their bank, branch service was the channel most used by our respondents, demonstrating that the personal touch is still important. Sixty two percent of those people who completed our survey had visited a branch while 59% used their institution's website.
Call centres ranked third as the communication channel most used, with 32% of respondents taking up this option. Other channels such as email and personal banking managers are being used less often, at eleven and seven percent respectively.
The results also showed more Australian men were comfortable with their financial management skills than women:
Half of our female survey respondents considered financial management as "stressful and overwhelming", compared to 35% of males.
Fifty three percent of women felt uncomfortable discussing or thinking about their long-term financial future, compared to 43% of men.
Thinking about money can be stressful … but it doesn't have to be. For some consumers, the size and stability of a major bank can make them the best choice for helping you manage your money better. This year, Westpac received our Most Satisfied Customers Award for Major Banks – 2013 when rated alongside National Australia Bank (NAB), Commonwealth Bank and ANZ.
Our banking survey also rated customer satisfaction with challenger bank brands.