Which bank offers the most to their customers? Our latest ratings compare major bank brands to help you make the most out of your savings. You can also visit the CANSTAR website to compare banking products.
Compare major banks with our customer satisfaction ratings.



Brand

Overall
satisfaction*
Branch
service
Call centre
service
Internet
banking
Product
range
Enquiry &
problem
handling
Fees/
charges
Interest
rates
NAB
ANZ
Commonwealth Bank
Westpac
Click the above brand names to view details and their home loans on canstar.com.au
NAB secures our award for most satisfied customers in 2015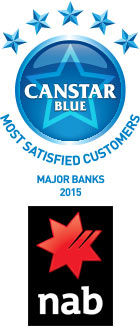 The ease of which a typical Aussie household manages its money would stagger somebody born a century ago. We can transfer money, receive payment and pay bills with ease using online banking, as well as managing mortgage payments and budgets more transparently than ever before.
None of these modern conveniences would exist without the innovations of Australia's major banks, which have consistently pushed the boundaries in recent years when it comes to offering new and improved services to customers. A whopping 88% of Aussies who responded to our recent survey told us they were generally happy with their bank.
But with Australia's big four all competing to secure your account, how can you find out which banks people prefer the most?
At Canstar Blue, we endeavour to track customer satisfaction in regards to products Aussies use every day. Banking is a key service used by virtually every adult Australian, so naturally we knew that people would appreciate knowing which institutions have the most satisfied customers. Having queried customers on what they think of their bank's product range, fees, interest rates and customer service; we're happy to announce that we've found an overall winner.
National Australia Bank (NAB) has secured our maximum five-star rating for overall satisfaction, having the most satisfied customers in 2015.
While NAB was victorious overall, the other rated institutions also performed well: Commonwealth Bank, Westpac and ANZ all secured four-star ratings overall. Three of the four banks secured five star ratings for multiple criteria, suggesting that Aussies really are spoiled for choice when it comes to banking products. Read on for a more detailed breakdown of how each bank fared.
Branch Service
You can never beat old-fashioned, in-person customer service, as it remains the most effective way to get information from your bank. It seems our surveyed companies had the same thoughts, for both Westpac and Commonwealth Bank achieved five-star ratings for the customer service they provided at their branches, with NAB and ANZ securing four-star ratings – a strong overall performance which reflects just how much customer service is a core aspect of their business.
Call centre service
If you can't make it into a branch, the next best option for talking to someone in person is, of course, giving them a call, and the banks we surveyed were no slouches in this department either. Commonwealth Bank was the star in this regard, securing a five-star rating for its call centre service; the remaining three banks all achieved four-star ratings.
Internet banking service
Internet banking is one of the most useful developments in everyday banking from the past decade, and is now used by a whopping 90% of Aussie customers. Unsurprisingly, internet banking was nearly ubiquitous amongst young adults (18-24 year olds) at 97%, but even amongst people over 70 there were still three-quarters of those we surveyed who did their banking online. Commonwealth Bank was once again the winner in this area, securing a five-star satisfaction rating for its internet banking offering, having provided an intuitive and highly functional interface for customers to use. Behind them came ANZ, Westpac and NAB, all of which secured four-star ratings.
Product Range
Another fairly similar category in terms of performance, all four major banks offer a comprehensive range of accounts, loans, credit cards, insurance and more. NAB was the winner when it came to its range of products, being rated five stars to edge out Commonwealth Bank, Westpac and ANZ (all of whom secured four-star ratings).
Inquiry and problem handing
The way each bank dealt with inquiries, complaints and problems from its customers was by far the highest contributor to overall satisfaction. The commitment of Australia's major banks to ensuring problems are effectively dealt with was reflected in their satisfaction ratings, with three brands securing the maximum five-star satisfaction rating: NAB, Commonwealth Bank and Westpac. ANZ also put in a strong showing with four stars for its problem handling.
Fees and charges
More than a third of the people we surveyed have been hit with unexpected bank fees or charges in the past. Major banks now offer many types of account with low fees – or none at all! The clear winner in terms of fee satisfaction was NAB, scoring five stars, who was followed by Westpac and ANZ on three stars as well as Commonwealth Bank on two stars.
Interest rates
Rates tend not to vary much between the big four, and tend to be a bit of a sore point with customers – rates often seem to be too high when you take out a loan, and too low when you're trying to save. Perhaps unsurprisingly, satisfaction wasn't high when it came to interest rates, with highest-scoring bank NAB scoring only four stars, and the remaining banks all achieving two-star ratings.
–
How we rated major banks
Canstar Blue commissions Colmar Brunton to regularly survey 3,000 Australian consumers across a range of categories to measure and track customer satisfaction; with banks being one of our largest categories, the sample size in this case was 6,000. The outcomes reported are the results from customers within the survey group who have one or more accounts or products with a major bank, such as a transactions account, savings account, home loan and so on – in this case, 3,525 Australians.
Brands must have received at least 30 responses to be included. Results are comparative and it should be noted that brands receiving three stars have still achieved a satisfaction measure of at least six out of 10. The ratings table is first sorted by star ratings and then alphabetically. A rated brand may receive a 'N/A' (Not Applicable) rating if it does not receive the minimum number of responses for that criteria.
Past Ratings
Major Banks (2014)
Major Banks (2013)
Major Banks (2012)
Major Banks (2011)
Major Banks (2010)