Namaste, Aussie yogis. If there's one thing that doesn't bring inner peace, it's the rush hour traffic on the way home from a yoga class. Plus, there's deadlines and dinner to think about. Thankfully, we've got a guide laying down some of the most popular yoga apps to help mute the chatter anywhere, anytime. Ranked in order of price, here are a few of the top-rated yoga apps on the Apple App Store and Google Play Store.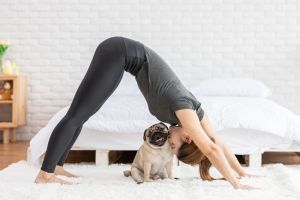 Types of Yoga
From improving flexibility and increasing blood flow, to losing weight and relaxing the nerve system, yoga is known to have many benefits for the mind and body. What you can expect from each app partly depends on the style of yoga it focusses on, so keep in mind that you may be exposed to a range of different classes and types depending on which app you download. Here are a few common styles you might come across.
Hatha
Hatha yoga intends to help stretch and release tension, as well as help the mind relax. It's an introductory style of yoga which teaches students about the various poses, although is more challenging than a Yin or restorative class.
Vinyasa
Vinyasa classes are known for their flow, with sequences containing a smooth transition between each pose. It can be an intense class and may be better suited for those looking for something more challenging than Hatha yoga.
Ashtanga
If losing weight is one of your motivations for taking up yoga, Ashtanga can be an intense and physically demanding style of yoga that works up a serious sweat. It follows a certain sequence of postures and links each movement to breath.
Bikram
Bikram works through a sequence of 26 specific poses in an artificially heated room. This is different to hot yoga, which is similarly done in a heated room but involves a slightly different sequence.
Iyengar
Iyengar is where props like blocks, blankets, straps, bolsters and chairs shine. It can be a difficult style of yoga to practice due to the emphasis on proper alignment. Yoga brand Gaiam says this style of yoga might be especially helpful for people with an injury or chronic condition because it involves having a teacher giving you the knowledgeable instruction you need.
Restorative
Restorative yoga is all about unwinding and taking the time to slow down. It only involves a few postures and there's usually minimal movement compared to other styles of yoga.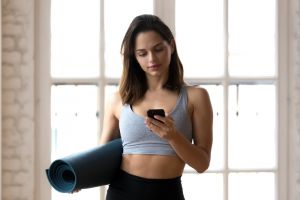 Best free yoga apps
Keep Yoga – Yoga & Meditation, Yoga Daily Fitness
What's motivating you to take up yoga? Weight loss? Pain relief? Stress management? A better night's sleep? Or perhaps you're just looking for a way to finally make the long-term commitment to the practice, and not just the odd Yin & Gin class a couple of times a year.
Keep Yoga — Yoga & Meditation, Yoga Daily Fitness is designed to help you create a convenient at-home yoga studio in order to encourage regular practice. It's claimed to work your mind and body by offering more than 400 asanas, over 10 yoga session plans, and seven meditation courses. Whether you're just a beginner, intermediate, or advanced yogi, the Keep Yoga app has detailed voice and video guidance to suit all levels. Plus, it apparently only takes 15 minutes of meditation a day to experience the benefits of learning how to focus, breathe, and train your mind and body.
The app also allows you to add your friends and family on the app, so you can check on their progress as well as stay accountable. There's also a section to log your training results and create a workout plan.
Get the app here on iOS and Android.
Lotus: Yoga and Workout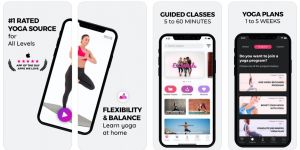 Bloom into a more confident yogi with apps like Lotus, which provides a guide designed to help you "feel better, healthier and sexier" through a variety of yoga classes stated to suit all levels. If you're looking for something less 'Savasana' and more calorie-burning like Chaturanga Dandasana, the Lotus app can even be used as a fitness plan incorporating a mixture of yoga and Pilates. It also features meditation classes so you can "learn to explore or heal yourself".
The poses are categorised by difficulty level or main focus, with a description of the benefits as well as any caution notes for beginners or those with potential injuries. The different areas targeted include weight loss, fat burn, back pain, balance and flexibility. For those who prefer to go with their own flow, this yoga app allows you to select your favourite poses to create your own sequence. Otherwise, you can choose from several ready-made programs.
Lotus is free to download, although you can sign up for pro features with a monthly subscription of $18.99, or a yearly subscription costing $36.99. There's even a 'Forever Unlock' package valued at $69.99 which gives you access to the pro features without a time limit.
Price: Free, with in-app purchases
Get the app here on iOS and Android.
Simply Yoga — Free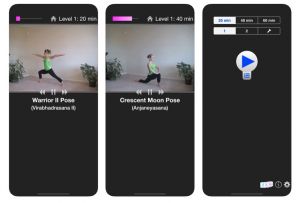 Are you new to yoga and worried about getting into a sticky situation while trying to become a human pretzel? Thankfully apps like Simply Yoga offer videos and walkthroughs to get you over the hump when it comes to getting in (and more importantly, out) of poses, which may be particularly handy for those who may not know the difference between each yoga style.
Teaching more than 30 poses, this free app offers three full classes ranging between 20, 40 and 60-minute 'level one' workouts. Although if you want something more advanced or need more than three classes, the full paid version costs $20.99 to download. Simply Yoga also has provided other types of workouts targeting areas like abs, arms, butt, cardio, and full body.
Price: Free, with in-app purchases.
Get the app here on iOS and Android.
Daily Yoga — Workout & Fitness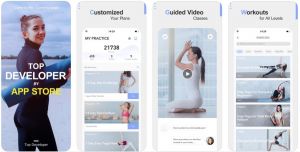 Commit to nourishing your mind and body daily with apps like Daily Yoga, which are designed to encourage regular practice for all levels. If you're just starting out, there are multiple guided classes to help you learn the basics and progress to more advanced levels as your skills continue to grow, helping you to transform from beginner to expert in no time.
Get the app here on iOS and Android.
Best paid yoga apps
Find What Feels Good: Yoga with Adriene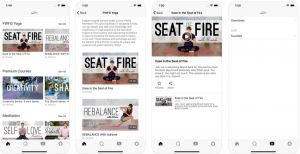 One thing you'll quickly learn when you start yoga is the importance of leaving any ego or expectations you might have at the door. This means avoiding making comparisons between yourself and others, or your current practice with previous ones.
Created by Adriene Mishler, host of Yoga with Adriene on YouTube, Find What Feels Good aims to encourage "everyone to be authentic, do their best and find what feels good". There's more than 100 hours of yoga videos and a variety of focus areas like LIGHT, EMPOWER, PRENATAL YOGA, YOGA RITUAL and BOOST & CHILL. If you're on holiday, videos can also be watched offline so you can sync the videos at home before leaving. The app is free to download, but there's an option to sign up for a monthly auto-renewing subscription.
Price: $9.99 USD per month (approximately $14.70 AUD)
Get the app here on iOS and Android.
Pocket Yoga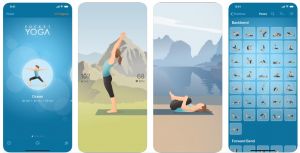 Can't wrap your head around the difference between Cobra pose and Upward-Facing Dog? Need an 'emergency button' which allows you to press pause during the day? Pocket Yoga provides a guide containing 27 different sessions of varying duration and difficulty. There are more than 300 pose images which show the correct posture and alignment, as well as dictionary listing descriptions and benefits of the various poses, handy for those who are more visual learners.
Price: $4.49 (iOS) or $4.89 (Android)
Get the app here on iOS and Android.
Down Dog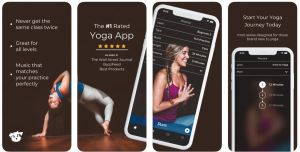 Named after one of the most classic poses in yoga, Down Dog is considered to be a yogi's best friend according to number of iOS and Android users. The three-day Intro to Yoga series apparently makes the app beginner friendly, while the Boost feature on the app supposedly targets back strength or low back opening to relieve back pain and strengthen muscles. And if you're someone who prefers to practice a different workout each day, the company claims you're barking up the right tree with this app since there's more than 30,000 configurations — so you won't get bored repeating the same pre-recorded videos.
Price: Memberships cost $7.99 each month or $49.99 per year.
Get the app here on iOS and Android.
Glo — Yoga and Meditation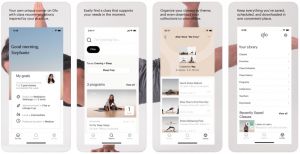 It only takes a few minutes to make sure you're ready to conquer life's challenges, with Warrior I and other chakra-balancing poses available on several of the guided series on Glo. The app provides a variety of guided yoga, meditation and Pilates classes said to suit different skill levels, life stages and concerns. And if time is one of your main worries, there are workouts ranging between five and 90 minutes. Plus, the yoga app offers offline access so there's no excuse!
Don't know which class to do? Just like Netflix, Glo has the 'For You' section, designed to show tailored recommendations based on your interests. The rest of the Glo library contains classes you have saved, favorited and have scheduled. It also includes collections you've created and liked, as well as programs you've joined and teachers you follow. The app is free to download and has a free trial, although you'll have to sign up to a subscription to get the most out of it, with the app unfortunately only available on iOS.
Price: $22.99 USD per month (approximately $33.90 AUD)
Get the app here on iOS.
Which yoga app should I use?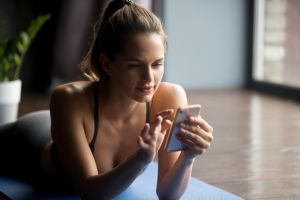 Turn your home — or even your workspace or the local park — into a studio and bow down to the benefits of yoga. Most apps are designed to be flexible, offering sequences suitable from beginners, experts and everyone in between.
For new starters who want to complement their real-world class with extra practice, an app can follow a person's progress as they build their skills over time. Experienced yogis can similarly benefit from these pocket-sized teachers by learning the ins and outs of different postures to create individual routines. And if you're not ready to sign up for a regular membership at your local studio, you can always stretch your mind and body without pulling out your wallet with the free apps.
Here is a selection of postpaid plans from Canstar Blue's database with a minimum of 10GB of data, listed in order of standard cost, lowest to highest, then by data allowance, largest to smallest. Use Canstar Blue's phone plan comparison tool to see a wide range of plans on offer from mobile providers. This table includes products with links to referral partners.
Here is a selection of prepaid plans from Canstar Blue's database with a minimum of 10GB of data, listed in order of standard cost, lowest to highest, then by data allowance, largest to smallest. Use our comparison tool to see a wide range of plans from other providers. This table includes products with links to referral partners.
Picture credits: fizkes/shutterstock.com, Yuttana Jaowattana/shutterstock.com, antoniodiaz/shutterstock.com