Australians are some of the world's greatest lovers of coffee. But when you're passionate about something – and have high expectations – there is a tendency to become critical. And nothing gets Aussies complaining more than bad coffee.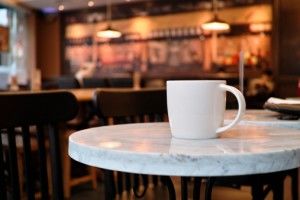 Our latest coffee shop chains customer satisfaction survey has revealed what really gets our back up about the black bean – and everything associated with enjoying it in a public setting.
Many Aussies have come to expect nothing short of perfection – from the quality and price of the coffee itself, to the appearance and attitude of the barista who made it, and the general environment in which they sit to enjoy it. Once you include the kind of additional extras you'll find in most good coffee shops – the hot meals, muffins and other snacks – the average coffee snob might find quite a lot to be critical of, if they are that way inclined. And it seems many are.
For the record, some 20% of survey respondents admitted to being the aforementioned coffee snob!
Don't mess with an Aussie and their coffee
Respondents to our latest coffee shops survey were invited to tell us about the positive and negative experiences of their coffee shop outings. Many were keen to applaud their local barista for doing a great job and generally making the store a pleasant place to spend time, while others took the opportunity to point out the criticisms and frustrations that have been bubbling away at them.
Some comments are fascinating, some seem ridiculous, while others you can't help but chuckle about. Whatever the case, they have all come from normal consumers and should be taken seriously by the industry. However unreasonable a complaint may appear, the customer's satisfaction is the most important thing – and they will be only too happy to take their money elsewhere if they don't like what's on offer.
What are our coffee shop complaints?
Below is a list of verbatim comments from our survey. The majority of complaints related to the price and quality of coffee, as well as service and noise levels in store. But here are some of the more unique ones…
It was kids making the food, I don't trust kids – they probably spat in my coffee.
The milk in my flat white coffee was headed way too high – it burned my mouth and left an awful burnt milk taste.
Sometimes my Thai Soya has lumps in it, which they say comes from the soy milk.
The coffee smell can be overpowering, as I don't like coffee.
They took my favourite breakfast off the menu and replaced it with an unsatisfying (small) option.
Their bread is very ordinary and I think the sauces come out of a bottle.
The meals are too large – they should provide smaller meals, but not just snacks or children's options.
I don't like the salad dressing. It should be separate so I don't have to use it.
Prices are ridiculous. I have soy so I'm charged extra, which is ridiculous – soy milk is no more expensive than normal milk. God forbid I make the coffee Decaf too.
I don't like the chain-like feel – not boutique enough. The terrible old logo needs a facelift.
The coffee was much too strong – I can still taste it now.
My doughnut was stale, coffee unpleasant and there were spills all over the place.
The tables and chairs were old, wobbly and soiled.
I don't like the brand of sweetener they provide.
The ambience was poor – it was very busy and noisy.
The cakes are a bit floury.
The coffee is too oily, bitter and the milk is scolded.
There are too many tables crowded around a small place.
There are no vegan options.
It's too noisy and I don't like the culture.
If any of the above comments resonate with you, or something entirely different gets your back up, tell us about it in the comments box below.