It's official. We're low on loo rolls. As most supermarkets have been wiped of toilet paper in the midst of coronavirus panic buying, you may be wondering where to get your next lot.
Toilet paper remains limited to one pack per customer at all major supermarkets, but even that hasn't stopped retailers and some online stores selling out. So, besides the big four supermarkets like Woolies, Coles, ALDI and Costco, where can you find toilet paper?
Fret not, we've tracked down some surprising places you could buy TP (subject to availability) in Australia.
Where to buy toilet paper
Big W
Big W offers a great range of products for women, men, kids and babies as well as toys, homewares and appliances. It also sells hygiene products, including toilet paper.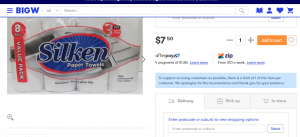 Free home delivery on orders over $50 (select items)
Click and collect available
Pre-orders available on select items
Bunnings Warehouse
Bunnings may be Australia's favourite DIY, garden and hardware store, but it also sells commercial cleaning and hygiene products like 'jumbo' loo rolls for industrial toilet paper dispensers. Bingo!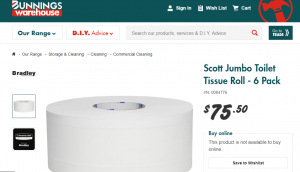 Click and collect available
Order before 4pm for next day pick up
Free catalogue delivery and new promotions available each week
The Reject Shop
The discount variety store offers a wide range of a novelty and everyday products at low prices, including toilet paper; available in bulk and value packs.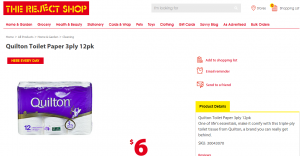 Click and collect available
Buy bulk and save
5% discount on orders over $300
Chemist Warehouse
Chemist Warehouse is one Australia's cheapest pharmacies, which sells a wide range of chemist products, including medicines, vitamins, skin care products and home essentials, including toilet paper (available in small and value packs).
Free shipping on orders over $50
Click and collect available
Save on best sellers with special offers available each week
You could also try various other pharmacies and discount stores like:
Priceline
Amcal
Good Price Pharmacy Warehouse
Terry White Chemmart
7 Eleven
With more than 690 stores across Australia, you're sure to find a 7-Eleven near you. Besides, it's $1 Slurpees and coffee, 7-Eleven is also the go-to place for household top-ups like loo rolls.
Shop with the 7-Eleven's Mobile Checkout App
New promotions and special offers available every day
Send parcels with 7-Eleven ParcelMate
Officeworks
Officeworks doesn't just sell office supplies. It also stocks everyday essentials like milk, dishwashing liquid and you guessed it… toilet paper! Officeworks has individual toilet paper rolls or bulk packs.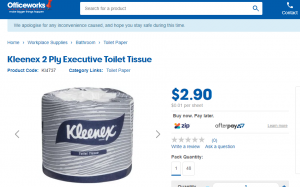 Free shipping on orders over $55
Afterpay available on orders over $55
Click and collect available
eBay
eBay offers the largest online selection of essential items from millions of sellers worldwide, and this of course includes loo rolls! The online marketplace makes it easy to compare prices from different product listings to find the best deal on your next lot.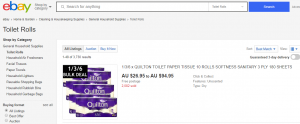 Exclusive deals and free shipping on select items available with eBay Plus
Wide product range available
New deals added daily
Amazon Australia
Amazon is one of the largest online retailers with millions of products being sold through third-party sellers every day, including toilet paper which is available in single and bulk pack options.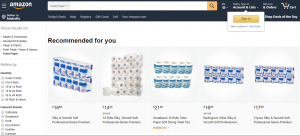 Free delivery on select items with Amazon Prime
Compare prices for the best deal
Hundreds of special offers available every day
Washroom Accessories
Washroom Accessories is a wholesale and retail supplier of toilet and bathroom supplies. It of course sells toilet paper, available in single rolls, jumbo rolls and bulk packs.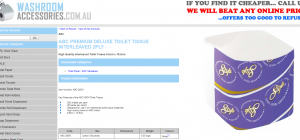 Free delivery on orders over $175
Promo code available for repeat customers
Price beat guarantee
Picture credits: Douglas Cliff / Shutterstock.com.