Working from home is becoming increasingly popular (and necessary) across the globe, with many home offices being transformed into equal parts convenience and comfort. But what do you need to take your home office to the next level? In this article, Canstar Blue outlines 10 essentials to help you become even more productive, while keeping sane, in your home office.
Home Office Essentials
Here is a list of must-haves for your home office:
Wi-Fi
Computer
Desk
Printer
Filing cabinet
Monitor
Office chair
Writing materials & stationery
Bluetooth headphones
Cord organiser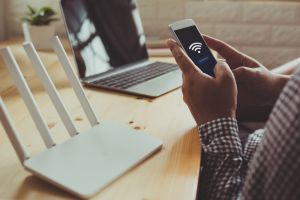 Wi-Fi
An obvious essential, Wi-Fi is crucial if you need to go online, whether it's to make a video call, access your work office via VPN or chill out on your lunch break, Wi-Fi is considered an integral part of any effective home office. But it's not enough to simply have Wi-Fi, you'll have to check it actually reaches your home office from the router and that it's fast enough for your needs! If you're not sure your Wi-Fi is up to the task, compare NBN providers with our comparison tool.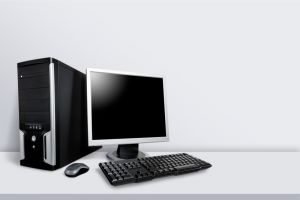 Computer
Another obvious inclusion to this list, a computer is considered another essential for any home office, as alongside your home Wi-Fi, you'll need it to access work documents and keep up to date with tasks and work chats. Make sure you have a computer that can handle the workload though, as a slow computer will be a killer for your productivity. Note that we specifically talk about computers here rather than laptops. While your work laptop may be fine for a few days, you'll probably be better off with a proper desktop computer in the long-term.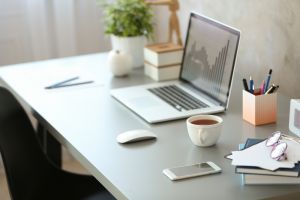 Desk
While the couch may seem like a more comfortable option, a desk is still a basic fundamental of any home office – whether it's at work or at home – as it provides the core of your setup. With thousands of different models and colours to choose from, you should try and select a desk that encompasses all the needed features to help you perform your home office tasks comfortably, such as adjustable height, sturdy legs and drawers if you need them.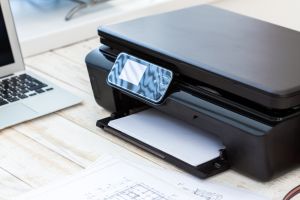 Printer
Any great home office has a printer, as just like the office, you'll still need a printer that can perform well with multiple tasks. A printer in your home office enables you to create physical reports, or one with additional features – such as a scanner – can also help you cut down on clutter, or keeping the workflow going.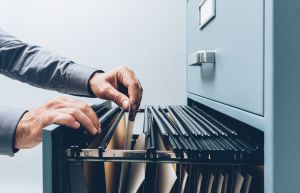 Filing cabinet
With printing unfortunately comes a lot of paper, with a filing cabinet the perfect addition to any home office when looking at organising important documents, clutter and more (especially if you didn't opt for a desk with drawers). Thankfully filing cabinets come in all shapes and sizes, giving you plenty of options to suit your room size and filing needs. Trust us, after a few days of working at home, you'll be glad you bought a filing cabinet.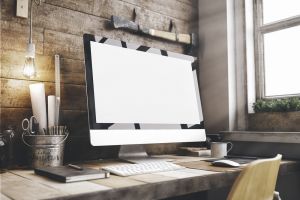 Monitor
Monitors are great for your home office when you have a small laptop display that just isn't cutting it, as good quality monitors provide a high-level resolution and make working at home a lot easier. And with monitors coming in a variety of shapes, sizes and brands, there's plenty to choose from to help you stay on task. Maybe you're used to working with a couple of monitors at work? In this case, cutting back to just a laptop screen will be hard to take. Go and get yourself a quality monitor.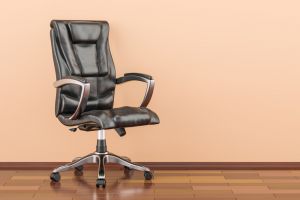 Office chair
The office chair is a necessity in any home office, and it's not something you'll want to skimp on, as you'll be spending a fair bit of time in it! Picking the right chair for your home office is quite a big decision, with more expensive options coming equipped with additional comforts, such as lumbar supports and a headrest. You'll also have to choose if you want wheels on your chair as well, with a floor mat protector also a good option if you go with the wheeled option – you don't want to ruin your carpet!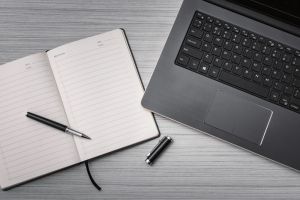 Writing material & stationery
While the world has primarily become digital, most workers are still using writing materials for convenience and accessibility. Notepads, journals and basic stationery such as pens and pencils are key to a good home office, as there will undoubtedly be times when you'll need to scribble in a notepad. And in the event of a power outage, you can always turn to your trusty pen and paper to still get work done.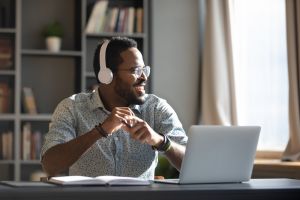 Bluetooth headphones
Bluetooth headphones are a great addition to the home office, as you minimise cord clutter, as well as block out distractions. Headphones have varying features as some include microphones, bass boost and more, meaning you can take that conference call, and enjoy some tunes when next door decides to do the mowing in the afternoon.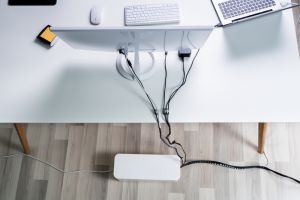 Cord Organiser
While Bluetooth headphones take away one set of annoying cords, unfortunately the rest of the electronics in your home office can sometimes give you a cable nightmare. That's when a cord organiser comes into play, as it tidies up all the cords in your office to leave you with a more organised and aesthetically pleasing working space.

What makes a good home office?
While all of the items mentioned can be great for home office setups, what you equip yourself with essentially comes down to what you are trying to get out of your space, as with differing job needs and responsibilities comes varying office needs. To maximise your home office and boost work productivity, it's recommended you choose based on what your job entails, and your budget, and don't be afraid to personalise it to make working at home more enjoyable.
What can you claim on tax when working from home? Find out.

Photo credits: Digital Genetics/shutterstock.com, Casezy idea/shutterstock.com, Billion Photos/shutterstock.com, Africa Studio/shutterstock.com, FabrikaSimf/shutterstock.com, Stokkete/shutterstock.com, best pixels/shutterstock.com, AlexLMX/shutterstock.com, ninepeera/shutterstock.com, fizkes/shutterstock.com, Andrey_Popov/shutterstock.com