ANZ back on top for merchant services
For many Australians, paying by card is second nature, with the thought of paying in cash or by cheque a distant memory. For businesses, the increase in card and other touch payment methods has resulted in an increased need for good merchant services such as EFTPOS machines and online payment systems in order to ensure that revenue keeps rolling in.
While essential, deciding which type of merchant services to use might be a daunting task to tackle, with plenty of options available to choose from, adding to the often very long list of 'to-dos' when starting or running a business. That's why Canstar Blue produces an annual review of the big banks and the services they provide Australian business. More than 700 business owners and decision makers took part in our latest review, with banks rated on a number of categories relating to factors including customer support, costs, transaction speed, reliability and reporting.
The big banks were rated in the following order for overall business customer satisfaction with merchant services:
ANZ
Commonwealth Bank
Westpac
NAB
It is the third time in four years that ANZ has topped the table for overall satisfaction, climbing back to the top after being displaced by Commonwealth Bank in 2017.
With more than three quarters (78%) of businesses always sticking with the same service provider – and spending nearly $400 a month on merchant services, the survey found – shopping around will surely be a wise move. Even if you're happy with the service as a whole, it doesn't hurt to consider what else is on offer, it could just save your business some time, effort and money.
Here is a quick guide to merchant services, what drives customer satisfaction, and some of the other key findings from our latest survey:
Merchant Services Fees & Charges
Merchant service fees are made up of several fixed and variable components. The fees are usually based on the number of transactions that are made over the month and can vary between types of businesses. As an example, CBA publishes the following fees that may apply to your business:
Merchant Services Fee: The base percentage fee charged by the bank simply for providing the merchant services.
Interchange Fees: Fees paid by the acquiring bank to the issuing bank when you process a new transaction. These fees are set by Visa and MasterCard.
Credit Card Authorisation Fees: These are fees charged when you validate that there are funds available on a card before you process a transaction.
Equipment Fees: These are fees covering the physical equipment supplied.
Stationery Fees: Covering the cost of stationery items, such as printer rolls and vouchers.
Facility Maintenance Fees: General fees covering the cost of maintaining your facility.
Chargeback Fees: These occur when a cardholder disputes a credit card transaction. The issuing bank initiates a chargeback fee against the merchant account.
Debit Card Fees: These are fees for debit card transaction. When you process a transaction with a debit card, the amount is deducted from the cardholder's account and debited by the issuer.
With plenty of fees to watch out for, be sure to read the fine print before you sign on the dotted line for a new system or terminal.
Here is a guide to the services offered by the big banks:
Merchant Services
ANZ

A popular option for many businesses, ANZ has returned to the winner's circle, offering plenty of options, regardless of your type of business. As ANZ is a major bank, its merchant services are compatible with a wide range of cards, including VISA, MasterCard and American Express.
For those after EFTPOS and Point of Sale (POS) Systems, ANZ offers a number of machines and terminals that can keep you up to date with customers. Categorised into Standalone and Integrated systems, ANZ can help regardless of how you operate.
Standalone models include the ANZ FastPay for tap and go payments, the POS Turbo 2 for counters and the wireless POS Mobile 2 for those on their feet all day, while the Integrated product range consists of the BladePay, POS Turbo Plus and Mobile Plus. ANZ lists the cards accepted with each system, as well as whether each system is compatible with Wi-Fi and 4G systems, ensuring that you choose the right model for your business.
ANZ merchant services include 24/7 support and Business Insights for those looking to dive into real-time data.
For those looking to operate via online payments, ANZ also offers a number of options, including Secure Gateway, eGate and PayID. ANZ's Secure Gateway provides a way for consumers to safely pay online, or through the ANZ app, with options for scheduled payments for regular customers. The Gateway can also be purchased in a packaged deal, with a Phone package and Phone & Web package available for those who also take phone orders.
eGate offers an option for businesses which offer a shopping cart setup on their online business, with ANZ also hosting online payments so that you don't have to worry about storing sensitive customer card data, giving both parties peace of mind.
ANZ scored the only five-star ratings for both reliability and online reporting, with five-star ratings for device functionality, customer service and overall satisfaction.
Commonwealth Bank

Commonwealth Bank offers businesses a number of ways to keep the money rolling in, with a number of EFTPOS and eCommerce options to suit all business types and industries. For brick and mortar businesses, CBA has four EFTPOS options, all available on a fixed rate monthly plan to ensure there aren't any surprises when it comes to the bill.
The bank's first option is Albert, a plan that includes a 7inch Android tablet. Compatible with MasterCard, Visa, American Express, as well as Apple Pay and Android Pay, Albert includes additional features such as bill-splitting, making it helpful for those in hospitality and dining. Albert provides 3G and Wi-Fi capabilities, meaning you can take the tablet with you as you move around the shopfloor, as well as connection ports for your current POS system.
CBA also offers Leo, a plan suitable for those who predominantly deal with smartphone tap payments. It features a barcode reader for those with coupons or QR codes and also supports both iOS and Android systems, making it accessible for the majority of consumers. Card holders aren't forgotten however, with Leo also similarly built to handle the traditional PIN and card insertion transactions.
Commonwealth offers the DailyIQ feature to help businesses track trends, profitability and other information to help gauge the market.
For those after something more compact, Emmy may be the option for you. Emmy uses Bluetooth to pair with the CommBank Small Business app to turn your smartphone into a handy payment tool. Through the pairing, customers can pay in a variety of ways, including bank transfer, BPAY, as well as card.
If you're after something for online transactions, CBA offers a number of exclusive products in addition to the traditional BPAY and PayID options. Each option can be customised to suit your personal preferences or business type, with an application process available via the bank's website.
Rated the only five-star rating for speed of service, CBA also scored five stars for customer service and device functionality, but scored three stars for fees/charges.
Westpac

Westpac similarly offers both physical and online merchant services, including EFTPOS and POS options for small businesses.
Westpac's sole trader option, Genie, is a mobile payment terminal that allows consumers to pay either through the Westpac Genie App or from a physical card reader. With no monthly account fee, or minimum term contract, businesses only pay for the transactions they take. If you're new to Westpac, you'll be set up with a transaction account, along with online banking capabilities to help you manage your financials.
Westpac offers EFTPOS terminals, including the EFTPOS 1 and Presto Smart for all those card transactions. Similar to Genie, the bank's EFTPOS terminals have no minimum contract term, with a number of options available to suit your transaction amount. For those looking for something a bit extra, Westpac also offers the EFTPOS 1i, with the package more suitable for PC EFTPOS services.
The Presto Smart is Westpac's integrated option, with the EFTPOS terminal helping businesses to connect their POSS to payment terminals. It comes with a selection of terminals to suit your type of business. The full list of capabilities and compatible services are listed on Westpac's website, so be sure to read through the fine print if you're not sure what will suit your business best.
Most of Westpac's EFTPOS terminals and plans offer instant settlement, meaning payments show up as soon as the transaction occurs.
For online businesses, or businesses that simply support online transactions, Westpac offers PayWay and BPAY options, including Virtual Terminals for more established enterprises. PayWay is available through a number of options, including Net and Phone, allowing businesses to be able to take orders and payments over the phone and online, in addition to opening up a number of accepted card and payment types.
While scoring three stars for speed of service, online reporting and overall satisfaction, Westpac scored four stars for customer service, fees/charges, reliability and device functionality.
NAB

NAB may not offer the widest range of merchant services for businesses compared to some of the other big banks, but still has enough to make sure that you don't miss out on making sales. Available in a variety of plans, NAB's EFTPOS Mobile terminal accepts all of the major credit cards, including Visa, MasterCard, UnionPay and American Express.
Each NAB terminal can be used for either mobile or counter use, with 3G and Wi-Fi capabilities, making it easy for both customers and businesses. Additional payment terminals can be added to your plan, but it will cost you, so be sure to check the fine print before you line up a package. All plans also incur a monthly NAB Connect fee, allowing businesses to utilise NAB's online banking.
For online options, NAB offers NAB Transact, which allows businesses to process online, phone and mail order payments, making it a worthwhile option regardless of whether you operate out of your own home, or out of an office. The NAB Transact option also includes 12 months of reporting, scheduled payment options as well as added security for consumer peace of mind.
NAB also offers the eCommerce Merchant Account, giving businesses freedom with a choice of gateway provider and overnight settlement. The choice will come down to your personal preference and how much turnover you expect your business to bring in on a monthly basis.
While rated three stars for overall satisfaction, NAB was rated four stars for customer service and device functionality.
Which merchant services should I use for my business?
With plenty of options available, merchant services will be as unique to a business as the business itself, with monthly transactions, business size and budget all factors to consider before lining up the products best for your enterprise.
With 66% of surveyed businesses stating that the majority of transactions go through EFTPOS facilities, researching into merchant service types and providers can not only help your revenue stream but also customer experience as well.
About the author of this page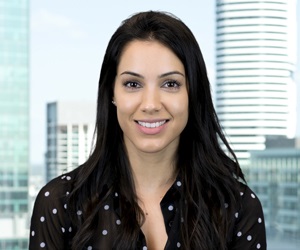 This report was written by Canstar Blue's Home & Lifestyle Content Lead, Megan Birot. She's an expert on household appliances, health & beauty products, as well as all things grocery and shopping. When she's not writing up our research-based ratings reports, Megan spends her time helping consumers make better purchase decisions, whether it's at the supermarket, other retailers, or online, highlighting the best deals and flagging anything you need to be aware of.