Fact Checked
Canon loads tray one for Aussie businesses in Printer and Photocopier ratings
The business world has made leaps and bounds over recent years, with technology bolstering offices and mobile workers alike. But despite this, we're not completely done with hardcopies, meaning ensuring you have a printer or photocopier that's up to the task can be an important area for many businesses. Even if you don't have much of an inkling about printers or copiers, you'll quickly know if they aren't working properly, as work can often stall as a result of a lacklustre unit.
But when it comes to picking out a model for your office and business, after an initial scan of what's on offer, you'll quickly realise that there's no shortage of options out there. As a result, you'll have to put a bit of thought into it all, but where exactly should you start?
To help small businesses ensure they don't get into a (paper) jam, our annual ratings provide a guide as to which brand may prove the best fit with your business practices and workload. This year, Canstar Blue surveyed over 200 business owners and key decision makers that have recently purchased technology or electronics – such as printers and photocopiers – for business purposes, so we could turn their feedback into the ratings table you see above, with brands compared on important factors like customer service, design, user friendliness, value for money and so on. Those which received the minimum survey sample size of 30 responses are featured in our results. So, did we find anything scan-dalous?
Canon took out top spot in our inaugural Small Business Printer and Photocopier ratings, claiming five stars across multiple categories, including value for money, customer service, user friendliness, reliability and overall satisfaction.
Best Business Printers & Photocopiers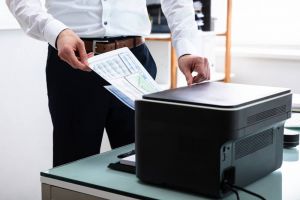 Here are the best small business printer and photocopier brands in Australia, as rated by consumers in Canstar Blue's inaugural review:
Canon
Brother
HP
Canon came out on top in our 2021 ratings, scoring five stars across most ratings categories, including value for money, customer service, user friendliness, reliability, and overall satisfaction. However, both Brother and HP also claimed five star results, with Brother scoring five stars for value for money, while HP was rated five stars for customer service, user friendliness and design. Brother was rated four stars for overall satisfaction, while HP finished on three stars.
Top Small Business Printer and Photocopier Brands
Canon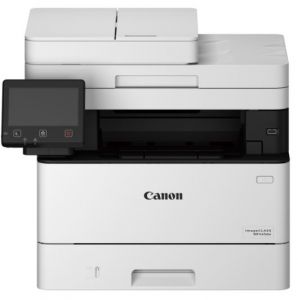 First founded in 1937, Japanese brand Canon covers a wide variety of consumer products, including cameras, medical equipment as well as scanners, printers and photocopiers. Splitting its range of products into Home, Small-to-Medium businesses and Professional Services, Canon may be worth checking out regardless of your office size and industry, with a number of models included within each range.
Canon's small business printer range includes the imageCLASS range – ideal for those who don't need all the bells and whistles – alongside the high-tech multifunction imageRUNNER series, which packs a bit more into each model, ideal for when you need to do a bit more than simple black and white printing or scanning. The Canon imageRUNNER ADVANCE DX C478i features cloud storage and Filing Assist to help with the admin of scanning, alongside a 10.1inch colour touchscreen to help you find what you need. It also includes 1200×1200 dpi resolution, automatic colour adjustments and workflow automation to free up your work day, with a 47page-per-minute (ppm) print speed to get the job done.
One of the more well-known printer brands available, Canon products are available to purchase directly through the Canon website, as well as through various electronics store retailers and office supply stores.
Canon was rated five stars across most categories, including value for money, customer service, user friendliness, reliability and overall satisfaction, with four stars for design.
Brother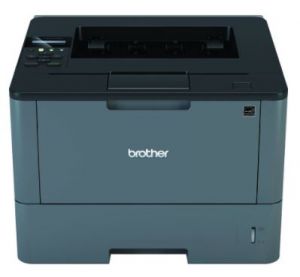 Founded over 100 years ago, Japanese brand Brother has been a mainstay within the printer market, having also ventured into computers, sewing machines, power tools, typewriters, fax machines and other computer-related electronics. Manufacturing printers since the 1960s, Brother today offers a wide variety of printers and multi-function products, with its range split into Home and Work line-ups to help you find the best fit for your workload.
Towards the more basic end of the range, the Brother HL-L5200DW printer features mono-laser printing, wireless and ethernet connection types, up to 40ppm as well as a 1,360 maximum sheet capacity and duplex printing to help take care of any day-to-day printing activities your office may need. If you need something a bit more substantial, the Multi-Function MFC-L6900DW may be more your speed, offering printing, copying, scanning and faxing functions, in addition to 50ppm, USB hosting, gigabit wired connection, automatic duplex printing and scanning, with additional trays available for up to a 2,560-sheet capacity.
One of the stalwarts of the printing game, Brother products are available to purchase directly through the Brother website, as well as through electronic retailers, general stores and office supply stores.
Rated five stars for value for money, Brother was also rated three stars for design, with four stars in all remaining categories, including user friendliness and overall satisfaction.
HP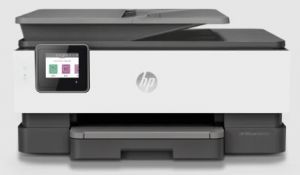 An American info-tech company, HP – otherwise known as Hewlett-Packard – was founded in 1939 and has diversified into multiple industries, including computers, data storage, digital software as well as printers and imagine products. HP's printer range is split into Home and Business ranges, with the Business range offering multiple models, including OfficeJet, LaserJet, DesignJet in addition to scanners and A3 printers.
The base OfficeJet 8010e All-In-One printer offers a print speed of up 28ppm, print, copy and scan functionality, a 2.2inch touchscreen display as well as automatic two-sided printing and mobile printing from a compatible smartphone. Those after something a bit more serious – or need a workhorse to handle a larger office – the HP LaserJet Enterprise Flow multi-function printer may be worth investigating. Featuring print, copy, scan and fax functionality, A3 colour printing, a print speed of up to 46ppm, USB and ethernet ports, an automatic document feeder as well as two-sided printing and scanning, the Enterprise Flow can help make short work of that stack of paperwork you need to get out the door.
HP products are available to purchase directly through the HP website, as well as through various retailers, such as electronics stores or office supply retailers.
The only brand to score five stars for design, HP was also rated five stars for customer service and user friendliness, with four stars for value for money and reliability, and three stars for overall satisfaction.
Other printer and photocopier brands for small businesses
In addition to the three brands in our ratings, it may prove worthwhile looking into other options that are available, including those listed below.
Epson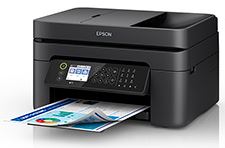 Another well-known brand for all-things printing, Japanese brand Epson has been operating for almost 80 years, with ventures into home theatre sets, robotics, industrial automation as well as a variety of printing and scanning products. Epson's range of products is split into Home and Business models, and can be purchased through Epson directly, or through third-parties such as electronic retailers or office supply stores.
The Epson business printer range includes A4 Mono, A4 Colour and A3 Multi-Function models, with the Mono range beginning with the EcoTank ET-M1100 model, which has a 150-sheet capacity, 15ppm speed, space-saving design as well as cartridge free printing for lower costs. On the other end of the scale is the WorkForce Pro Multi-Function model, which can hold 1,900 sheets with additional trays, and has auto two-sided printing, copy, scan and fax capabilities. It also includes hard-drive support for server-less printing, as well as ethernet and smartphone compatibility for when you need to print while out and about.

Which printer and photocopier brand should I use for my business?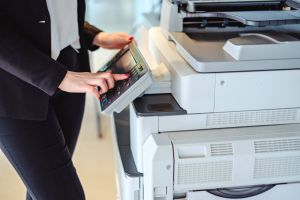 It may not add much sex appeal to the office space, but the printer and photocopier can often be the lifeblood for a business, and can be a pain to deal with if it ever breaks down. As a result, spending a bit of time looking into what's available and what you need for your office, such as whether you simply need to print the occasional document, or if your office lives and breathes paper (ala Dunder Mifflin), will ensure that you find a good fit for your business, and don't have to print money down the line to constantly replace it.
If all this talk of new printers and photocopiers has got you in the mood to revamp your office, why not check out our guides on the best computers for businesses, or if you're after something a bit more portable, see which brand came out on top of our best smartphones and tablets for businesses. After all, you already work hard during office hours, so there's no point making it harder with old or faulty equipment.
MYOB Accounting Software
Looking to make dollars and cents of your personal or small business finances? MYOB's accounting software includes options for invoicing, payroll, expenses and more. For more information on the featured plans below, click the button below to be referred to MYOB's site.
About the author of this page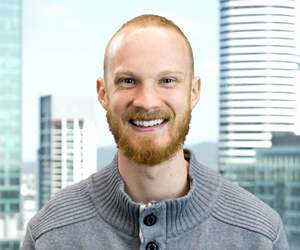 This report was written by Canstar Blue's Content Projects Lead, Dean Heckscher. He's our resident expert on all things automotive, health & fitness, streaming and more. Dean is also one of Canstar Blue's customer research report producers, helping to turn complicated subjects into easily-digestible information for our readers. He's passionate about helping consumers make better-informed purchase decisions on all manner of consumer goods and services.
Photo Credit: Andrey_Popov/shutterstock.com, Sjale/shutterstock.com