Over the last few years, drones have carved out an increasingly established niche in the consumer technology market, with new drone technology, available at a range of price points, having found its way onto retailers' shelves at a steady rate.
In turn, drones, which are commonly paired with cameras, are now taking to the skies around the country, with recreational users seeking out a bird's eye view of their surroundings.
Earlier this year, information technology research and advisory company Gartner forecast that globally almost three million drones will be produced in 2017 (of which 2.82 million are forecast to be personal), representing a 39 per cent rise from last year.
"Personal drones will continue to increase in popularity as an affordable extension of consumers' smartphones for taking photographs and selfies and for other entertainment options," Gartner noted on release of the forecast.
"They can fly a short distance and time, typically no more than 5,000 metres and for one hour, with flight height constrained to within 500 metres. They weigh less than 2 kilograms and are priced less than [US]$5,000."
So, with more drones poised to arrive to market this year, providing consumers with an increasing range of options, what should consumers considering purchasing a drone be aware of?
First and foremost – know the law
As advised by the Civil Aviation Safety Authority (CASA), safety laws for flying drones vary, determined by whether users are flying commercially or recreationally/for fun.
While regulations for flying recreationally are less restrictive, and allow users to fly a drone without needing to be certified, this is provided simple safety rules are followed.
As outlined by CASA, among the rules that users need to follow are:
You should only fly in visual line-of-sight, in day visual meteorological conditions, which means generally no night flying, and no flying in or through cloud or fog, while users should be able to see the aircraft with their own eyes at all times.
You must not fly closer than 30 metres to vehicles, boats, buildings or people.
You must not fly over populous areas such as beaches, heavily populated parks, or sports ovals while they are in use.
In controlled airspace, which covers most Australian cities, you must not fly higher than 120 metres above the ground.
You must not fly in a way that creates a hazard to other aircraft, so you should keep at least 5.5 kilometres away from airfields, aerodromes and helicopter landing sites.
Further information can be found at the CASA website.
Pairing drones with cameras
Drones and cameras very much go hand-in-hand, allowing users to both record and view footage in real-time while flying their drone, with most drones coming with built-in cameras or capable of being paired with third-party cameras.
Consumers have their choice of camera technology across a range of brands, ranging from basic camera technology at the budget end of the spectrum up to 4K recording technology in the premium bracket.
Drones may provide the ability to pair the camera with the user's smartphone or tablet (depending on different system requirements), both to control the drone and to provide a real-time view of the footage being recorded.
Via different social media apps it is also possible to live-stream video being captured by drones.
Certainly, camera technology is a major factor to keep in mind, along with the ability to link up with a smart device (and what sort of functions are provided), when it comes to purchasing a drone, with camera requirements also playing a big role in determining what sort of budget will be required.
Different drones at different prices
The following is a selection of drones, ranging from budget through to more advanced options, currently available in Australia.
Swann – Xtreem RaptorEye RC Quadcopter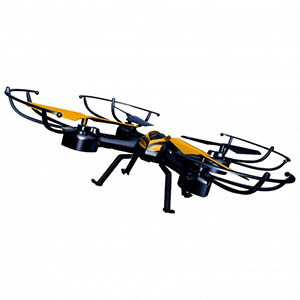 Swann describes the Xtreem RaptorEye RC Quadcopter, which is compact in size and lightweight in construction, as being "perfect for inexperienced pilots or as a gift idea for younger flight school rookies".
Utilising 2.4 GHz transmission, the RaptorEye is controllable from up to 40 metres away, and has 360-degree manoeuvrability, which includes up/down, forwards/backwards, sideways movements ("banking" and left and right turns), flip, stunt tumbles and continuous rolling.
It is controlled via a game-styled remote controller, and is decked out with a 720p HD resolution camera, operated via a push of the button on the controller, with a 4GB microSD card included.
The  RaptorEye can be recharged via an included USB cable, with 90 minutes charging time providing up to 7 minutes of flying time, with it also coming with a back-up battery.
The RaptorEye is currently priced at $99.95 via the Swann website.
Kaiser Baas – Delta Drone
Kaiser Baas' Delta Drone is designed to pair with GoPro (GoPro Hero3, 3+ and Hero4 Silver/Black) and other action cameras via an electronically stabilised gimbal.
It delivers 17 minutes of flight time, provides a range of 400m and comes pre-programmed with Geofencing at 300m, which stops the Delta flying out of the pilot's visual line of sight.
It can lock its altitude in a hover, and comes with an built-in return-to-home function, which brings the Delta back to its take-off location at the touch of a button.
The Delta is currently priced at $399.99 via the Kaiser Baas website.
Parrot – Bebop 2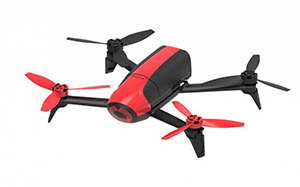 Parrot states that its Bebop 2 drone "combines aerodynamics, style and robustness in a lightweight and compact drone", with it being the first leisure drone in the 500g category with a 25-minute battery life.
The Bebop 2 has a signal range of 984 feet, and is controllable via smartphone and tablet, using accelerometer and touch controls on a flying interface to respond to the user's movements, while pairing it with the Parrot Black Skycontroller remote control (which the Parrot website lists as coming soon) extends the flying range to 2km.
Its camera provides 14MP (4096 x 3072p) photo and 30 frames per second (1920 x 1080p) video, with it coming with 8GB storage, with Parrot stating that the camera's neutral angle "has been revised to capture more ground and less sky".
Parrot states that a full-digital image stabilisation technology allows the "Bebop 2 to take remarkably stable and clear aerial footage regardless of the drone movements", while users can control the camera 180° in all directions by moving their thumb.
The Bebop 2 is currently listed at a sale price of $649.00 via the Parrot website.
DJI – Phantom 4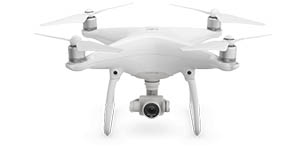 The Phantom 4 has been designed with agility in mind, with DJI stating that its "sleek and aerodynamically designed body minimises buffeting when flying in strong winds and against gusts from any angle, keeping its movements predictable and precise".
"The deeply integrated gimbal and the new placement of battery lift Phantom 4's centre of gravity, improving balance, enhancing agility and adding more accuracy to how it reacts to your commands," DJI states.
The Phantom 4 delivers a 28-minute flying time and a maximum control range of 5 km.
Various flight modes can be employed, while Obstacle Avoidance provides for the Phantom 4 to react to and avoid obstacles in its path, and TapFly Mode provides for users to tap on the live view on their smart device screen to send it flying in that direction.
The Phantom 4 camera is decked out with 4K video capture at 30 frames per second and full-HD 1080p at 120 frames per second for smooth slow motion.
The Phantom 4 is currently priced at $1,699 via the JB Hi-Fi website.