Fact Checked
Breville's got the best chops in food processors review
The food processor might be the 'Jack of all trades' and the gadget behind every good recipe. Many models can now do more than just dice and slice, with functions like grate, puree and knead also included to make sweet and savoury goodies like dips, spreads, coleslaw, pastries, cookie dough and pizza bases. Many Australians we surveyed even ditched their blender for their food processor to puree foods (42%), while a third simply bought a model to help them kickstart a healthier lifestyle (33%).
To see which food processors 'whisked' away Aussies, we surveyed more than 500 consumers for their feedback on the new model(s) and brand(s) they purchased and used in the last three years. Respondents scored their food processor(s) on performance, versatility, ease of use, ease of cleaning, design, value for money, and overall satisfaction. Manufacturers that received at least 30 responses are rated and compared in the ratings above.
Aussies rated Breville best in our first-ever food processors review, with the brand whipping up five stars in a whopping six out of seven categories ─ including overall satisfaction!
Best Food Processors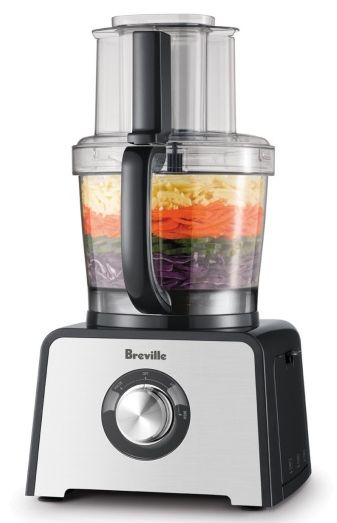 Here are the best food processors in Australia, as rated by consumers in Canstar Blue's 2021 review:
Breville
Kenwood
Ninja
Anko (Kmart)
Breville topped our food processors review as the only brand to receive five stars for overall satisfaction. It also got top marks for performance, versatility, ease of cleaning, design and value for money. Runner-up Kenwood and Ninja followed behind on four stars overall, while Kmart's Anko range rounded up the scores on three stars for overall satisfaction.
Notably, Kenwood also impressed Aussies for its versatility and ease of cleaning, achieving full marks. Ninja similarly got five stars for ease of clean, as well as performance and ease of use.
Food Processors Compared
Breville Food Processors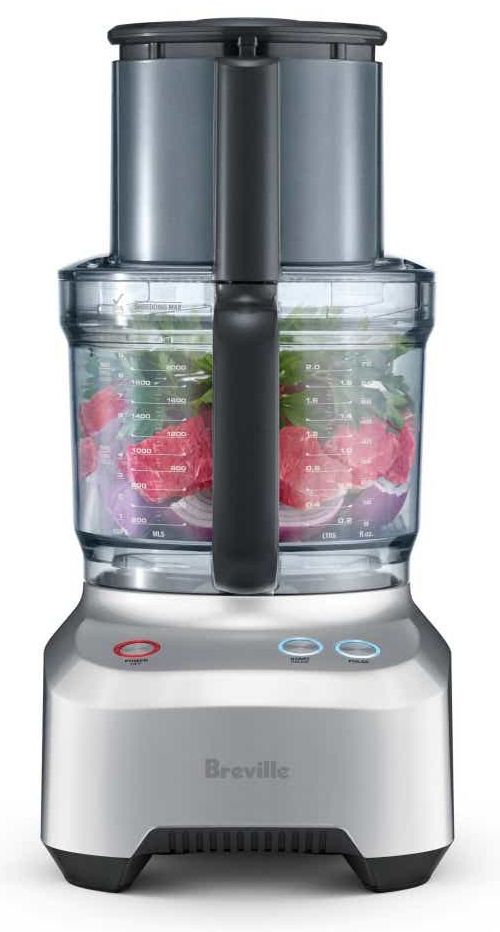 Breville has been a popular brand in Aussie households since 1932, creating a wide range of kitchen appliances such as ovens, blenders, coffee machines and kettles. Its food processors range caters to most budgets, costing between $89.95 and $749. The Mini Wizz line-up is the most affordable and worth considering if you're short on bench space. One of the models from the collection is Breville's The Mini Wizz Quad Blade ($89.95 RRP*), which comes with dual blades to deal with particularly chunky pieces, plus quad blades to create smooth consistencies when making dips and marinades.
Otherwise, you can splurge on Breville's The Kitchen Wizz Peel & Dice ($749 RRP*) from The Kitchen Wizz series. The brand claims this gadget can 'do it all' and contains a peeling disc that can supposedly peel up to seven potatoes at a time, plus three different-sized feed chutes to dice various ingredients accurately. There's also a variable slicing disc with 24 settings to help you achieve the right thickness. This Breville food processor additionally includes a large bowl (fits up to 15 cups) and small bowl (fit 2.5 cups), a 2000W motor and a storage box.
Some food processors available from Breville include:
Breville The Mini Wizz (BFP100WHT): $89.95 RRP*
Breville The Mini Wizz & Store Direct Drive Food Processor (LFP460GRY2IAN1): $179.95 RRP*
Breville The Kitchen Wizz 15 Pro (BFP800BAL): $649 RRP*
Breville dished up five-star reviews for performance, versatility, ease of cleaning, design, value for money and overall satisfaction. It also got four stars for ease of use.
Kenwood Food Processors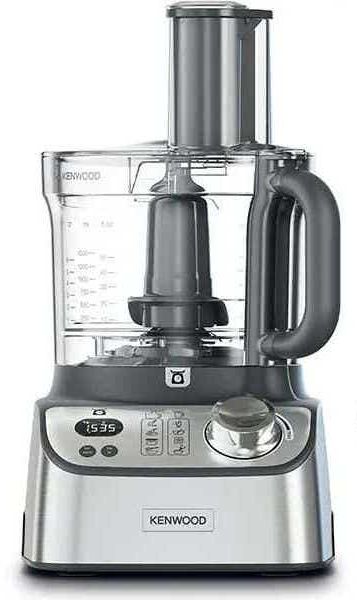 Kenwood doesn't joke around with its food processors, offering a wide selection of products to choose from. There are several ranges including Multipro Excel, Multipro Sense, Multipro Classic, Multipro Compact, MultiPro Express, MultiPro Home and MultiPro Express Weigh+. Expect to fork out anywhere between just over $150 to around $750.
Kenwood's MultiPro Express Weigh+ ($449 RRP*) is one of the standout models and boasts a built-in digital weighing function, unlike many models currently available on the market. It also comes with an Express Serve attachment, which allows you to plate the diced ingredients directly from the food processor to the dish or pan (while keeping the main bowl clean). This appliance additionally comes with a variety of attachments, including a blender jug, so that you can chop, grate, slice, blend, knead, whisk and juice.
For a cheaper alternative, there's the Kenwood Multipro Compact range. Similar to the MultiPro Express Weigh+, the MultiPro Compact ($129 RRP*) features a 1.2L blender attachment in addition to the regular 2.1L bowl. It also includes an 800W motor, variable speed dial and pulse function. This food processor additionally contains various attachments to knead, whisk, chop, puree, grate and slice.
Here are a few food processors from Kenwood:
Kenwood MultiPro Compact Food Processor (FDM300SS): $159 RRP*
Kenwood MultiPro Sense Food Processor (FPM810): $599 RRP*
Kenwood MultiPro Excel Food Processor (FPM910): $749 RRP*
Kenwood served up a smooth set of full marks for versatility and ease of cleaning, before scoring a respectable four stars for value for money, performance, overall satisfaction and everywhere else.
Ninja Food Processors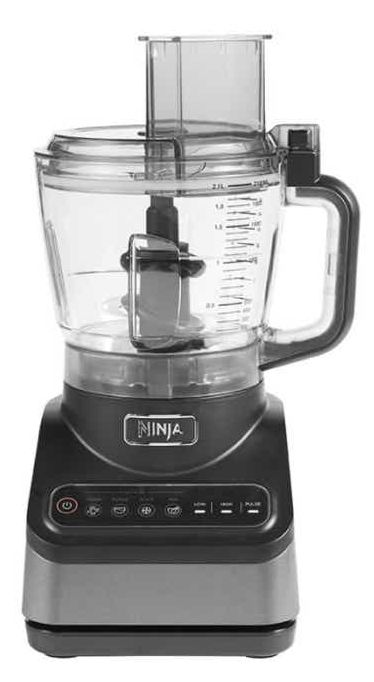 Ninja kicks up a no-fuss collection with its kitchen range, offering a variety of multi-cookers, air fryers, blenders and food processors. At the time of writing, there's just one option listed on the brand's website ─ the Ninja Professional Food Processor (BN650). It retails for $249.99 RRP* and features Auto IQ One Touch Intelligence, which lets you chop, puree, slice and mix with a single touch of a button. Plus, you can choose several manual programs including low, high, and pulse.
The Ninja food processor even comes with a dough blade, so you can make everything from sweet cookie dough to savoury pizza bases! Some other attachments include a disc adapter, chopping blades, a reversible slicing and grating disc and a 2.1L food processor bowl. The bowl fits up to nine cups, and it's recommended that all ingredients are prepped into similar portion sizes before chucking them into the food processor to get the best results. Potatoes and other large-sized ingredients may need to be halved beforehand.
Ninja was rated as the easiest to use, receiving the only five-star review for ease of use. It also landed full marks for performance and ease of cleaning. It got four stars for overall satisfaction and in the remaining categories.
Anko (Kmart) Food Processors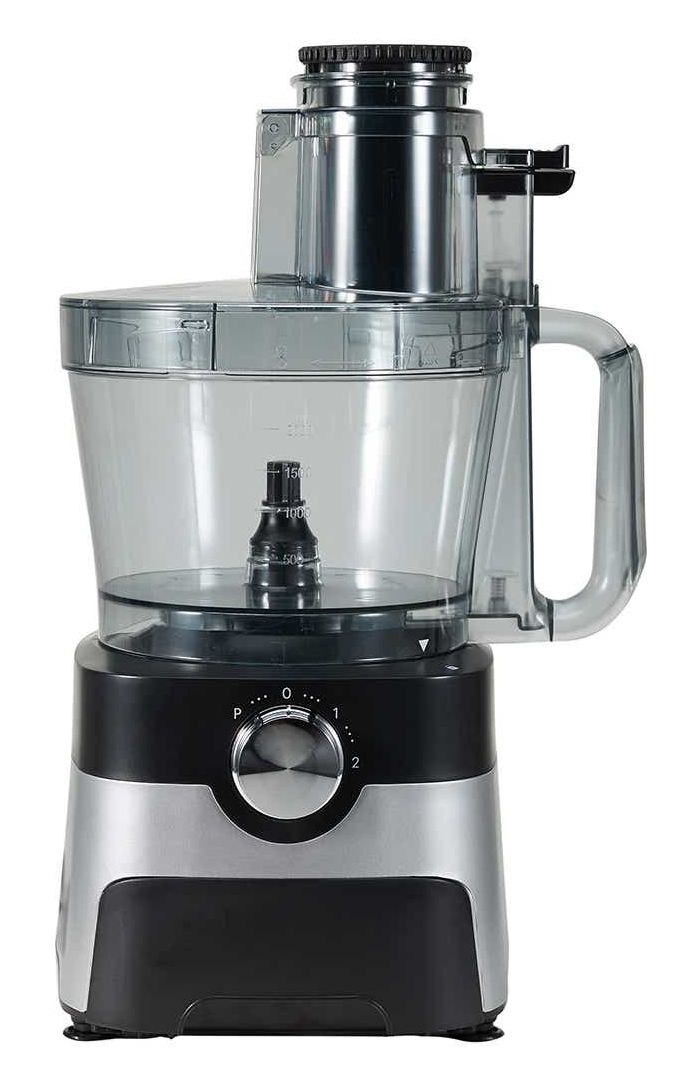 Kmart's affordable Anko appliances have been a staple in many Australian households, especially with the pie maker and cheap air fryer range which both have dedicated Facebook pages with cult followings. The most expensive Kmart food processor is still cheaper than many other budget-friendly models from other brands. Yet, it similarly features a bowl capacity of 2L and functions such as chopping, grating, slicing and kneading. There are additionally two speed settings and a pulse function.
For convenience, the Kmart food processor has a wide feed tube that can fit a whole potato and carrot. Plus, there's a storage drawer for accessories and a double safety switch on the bowl and base. Attachments include plastic kneading and spatula blades, and stainless-steel blades for chopping and grating, as well as big and small pushers.
Here are the Kmart food processors currently available:
Kmart Chopper: $15 RRP*
Kmart 1.2L Food Processor: $49 RRP*
Kmart 2L Food Processor: $65 RRP*
Kmart's food processors received a respectable four stars for ease of cleaning and rounded up the results on three stars for value for money, overall satisfaction and everywhere else.
Other Food Processor Brands
The food processors from the brands featured in our ratings aren't the only options worth considering for your next purchase. Here are a few more popular brands you might want to check out.
Contempo (Big W)
Cuisinart
Kambrook
KitchenAid
Nutri Ninja
Philips
Russell Hobbs
Sunbeam
What does a food processor do?
A food processor is a kitchen appliance that helps prepare different ingredients like potatoes, carrots, and nuts by using a motor and various attachments to slice, chop, shred, dice, knead, puree, mix, whisk and mix. Some models also come with blender jugs to make juices using your food processor. Keep in mind that some food processors will need the ingredients to be chopped, depending on the size of the feed chute. The attachments are often placed on the external top of the processor. Some include:
Stainless-steel blades: spin to chop and mix food added to the feed chute, and usually come in an s-shape to create even results. This is what you'll use if you want to use the pulse function.
Whisk accessory: whips and emulsifies ingredients to create things like sauces and dressings.
Grating (or shredding) blade: shreds food into thin pieces once it goes into the feed chute.
Slicing blade: evenly slices food inserted into the feed chute, often very thinly.
Dough blade: an s-shaped blade (or plastic paddle) that kneads ingredients to make different types of dough, such as cookie dough and pizza dough.
Pushers: let you safely push food down the chute and can come in different sizes.
What is the difference between a food processor and a food grinder?
Unlike a food processor, meat grinders and other food grinders are limited to the grinding function and can make dishes like sausages and patties. It's like how coffee grinders are specifically designed to turn coffee beans into ground coffee. These generally have a metal body and include accessories like grinding plates and a pusher. On the other hand, food processors can perform a variety of functions, and cut foods in multiple ways (i.e. puree, knead, etc.) and come with interchangeable attachments.
About the author of this page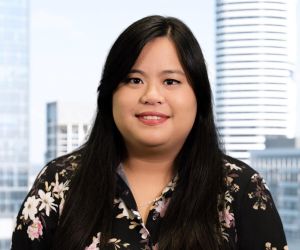 This report was written by Canstar Blue's home & lifestyle journalist, Tahnee-Jae Lopez-Vito. She's an expert on household appliances, grooming products and all things grocery and shopping. In addition to translating our expert research into consumer-friendly ratings reports, Tahnee spends her time helping consumers make better-informed purchase decisions on all manner of consumer goods and services, while highlighting the best deals and anything you need to be aware of.
Picture credit: Maybeline72 /Shutterstock.com.
*Prices are taken from respective retailers and Appliances Online, correct as of August 2021.