Our latest appliance reviews featured in a special 7 News report.
Buying a dishwasher: Things to consider
Any dishwasher worth its salt should be able to fulfil the most basic task of washing your dishes at the end of the evening, but there are several factors worth considering to ensure you buy the best dishwasher for your household's needs, including size, capacity and internal layout.
Dishwasher size
The standard size of a dishwasher is 60cm wide and 60cm deep, but the height of dishwashers can vary significant between brands and model types, typically 82-85cm. Slimline dishwashers can be considerably smaller, around 45cm wide. Be sure to take measurements of the kitchen space you have in mind before choosing which dishwasher is best for you. Whichever type you go with, it's recommended you leave a little space around your dishwasher for ventilation.
Dishwasher capacity
A dishwasher's capacity is measured by the number of 'place settings' it can accommodate in a single wash cycle. Most freestanding and fully-integrated dishwashers come with a capacity of 14 place settings, but some high end models can be larger. Smaller dishwasher types often have smaller capacities of around 6-7 place settings. Consider your daily use of dishes and cutlery to decide what capacity would be best for your household. Having to use a small dishwasher twice a day, rather than a large model once, is going to result in higher ongoing costs.
Internal layout
Anyone who has ever felt the frustration of not being able to properly accommodate different sized cooking utensils, saucepans or frying pans into a dishwasher will be able to appreciate the importance of a good – and flexible – internal layout. If you regularly need to wash large and unusual items, look for a dishwasher that provides maximum flexibility – including being able to move or remove other internal elements to create extra space.
Energy efficiency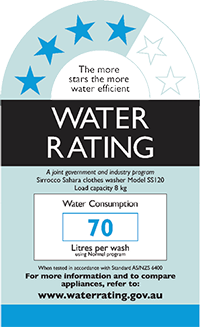 Energy efficiency is also an important consideration when picking a new dishwasher. Australia's Water Efficiency Labelling Scheme (WELS) rates appliances based on how much water they use to get the job done. The labels show star ratings from zero to six, as well as how many litres of water will likely be used. The higher the star rating, the more water efficient the appliance will be. It's a similar deal when it comes to energy ratings, with the number of stars indicating the efficiency of appliances. Dishwashers with high energy and water ratings will typically cost more to buy, but the trade-off is you stand to save more over time through reduced utility bills.
Performance
As well as identifying which dishwasher brands are rated best in Australia, this year's review can also show what drives overall customer satisfaction when consumers buy a new dishwasher. All of us want to bag a bargain on our major household appliances, but keep these findings in mind when shopping around because they reflect what is important to Aussie consumers once they have got their new dishwasher home and have started using it.
Performance: 28%
Internal layout: 24%
Value for money: 24%
Design (appearance/finish): 16%
Quietness while operating: 9%
While price is very important – and no one wants to pay more than they have to – it's probably best to focus on a dishwasher's performance credentials first and foremost. If you can also get a great deal on the price, then even better.