Earth Choice and Morning Fresh come out squeaky clean
Even if you own a dishwasher, chances are you still do some manual washing up. Maybe you think it's more economical to clean your dishes and cutlery by hand, or perhaps it's a case of 'if you want a job done properly, do it yourself'. Whatever your reason, you'll need a dishwashing liquid that delivers great cleaning results, while not costing the earth. So, which brand scrubs up best in Aussie kitchens?
Canstar Blue's annual dishwashing liquid review has once again put all the big name brands and various supermarket private labels to the test. More than 2,000 consumers have had their say on the effectiveness, finish, ease of use, scent, value for money and overall satisfaction with the products they have recently bought and used, delivering a real world guide to which brands are living up to expectations. In 2017, Earth Choice and Morning Fresh have both rated five stars for overall customer satisfaction, while impressing in most other areas, too.
Earth Choice scored five stars in every research category with the exception of value for money, where it rated four stars
Morning Fresh also earned five stars across all research categories but value for money, where it recorded three stars
Dishwashing liquids generally fall into two categories – the big name brands that come with a premium price and the cheap, supermarket own brand alternatives. Our ratings would suggest that the extra cost may be worth paying, with five-star reviews in short supply for Woolworths and Coles products. However, two of ALDI's three brands scored favourably, particularly Tandil Ultra which joined big names Earth Choice, Morning Fresh and Palmolive in rating five stars for effectiveness.
While our ratings provide a helpful guide as to which dishwashing liquids are delivering squeaky clean dishes across the country, your choice may simply come down to personal preference. To offer a guide as to what's on offer, here is an overview of the brands that features in this year's review.
Dishwashing liquid brands
Earth Choice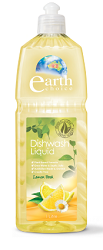 Arguably the biggest eco-friendly option on the market, Earth Choice dishwashing liquids are all plant-based, greywater and septic system safe, biodegradable, Choose Cruelty Free accredited, Australian made and owned, and packaged in fully recycled bottles. Phew! Somehow, despite all of their positive credentials, they remain one of the most affordable choices when it comes to the big name brands. Earth Choice dishwashing liquid comes in plenty of fruity scents, plus a fragrance-free option for those with sensitive skin. Earth Choice frequently performs very well in Canstar Blue reviews, from laundry powders to toilet cleaners. And for dishwashing liquids it is clearly impressing, with a near clean sweep of five-star reviews.
Morning Fresh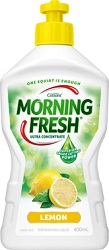 Offering one of the largest ranges of dishwashing liquids of any brand, Morning Fresh picked up top marks in almost all categories this year. With five stars for every category except value for money, Australian consumers seem to be indicating that it ticks all of the quality boxes, but comes at a price. The Morning Fresh dishwashing varieties cover regular, ultimate, advanced, antibacterial, and eco formulas, with the latter made of plant based, biodegradable and septic tank safe ingredients packaged in a recycled bottle. Across the range the usual original, lemon, lime and fragrance-free scent choices are covered, plus orange & tea tree, jasmine, white tea, and eucalyptus. Consumers can find Morning Fresh in sizes ranging from a handy 350mL bottle up through a bulk-buy 5L pack.
ALDI Tandil Ultra
Of the three different ALDI dishwashing liquids, Tandil Ultra has rated the best this year, picking up four stars overall, with five for effectiveness, value for money, and ease of use. Tandil Ultra is claimed to be tough on grease and long-tasting, to get your dishes clean without a hassle. There are three different scented formulas – lemon, lemon & lime and orange citrus – plus the Powder Soak n' Clean formula designed for tougher baked-on food. All of the biodegradable and phosphate free products come in 450mL bottles.
ALDI Unamat
The cheapest dishwashing option from ALDI, Unamat comes in just the one 1L size in lemon fragrance for 99c. While you may not expect such a cheap choice to be particularly eco-friendly, the Unamat formula is phosphate free, greywater safe, and biodegradable. This year's ratings show that consumers rate the budget bottle fairly highly, trailing ALDI's Tandil Ultra only by one star in the effectiveness category. It's certainly defeated a number of much more expensive, big name brands.
Coles
For a no-frills detergent with a lemon scent, Coles Smart Buy Dishwashing Liquid is just a dollar for a 1L bottle. Despite being cheap and simple, it's done quite well in this year's ratings – four stars overall, as well as on value for money and ease of use. The next price point adds 60 cents to nab a litre of Coles Super Strength dishwashing liquid, also in lemon. Coles Ultra (the most expensive but still quite cheap) comes in 450mL and 900mL bottles, in a choice of lemon, lime, or sensitive. Coles received a three star rating, but picked up four stars on value for money and scent.
Fairy
It's been cleaning our dishes for over a century, but Fairy still keeps it old-school simple with two different dishwashing liquid formulas – Regular, in original or lemon scents, or Platinum in lemon. Fairy is also helping fight back against pollution by using 25% post-consumer recycled material in its packaging, with aim to lift that up to 100% renewable or recycled packaging. In 2017, Fairy shows itself to be a solid middle-ground player, with four stars in every category except value for money, where it achieved a three.
Palmolive
It was only a natural progression for one of the longest-running soap companies to turn to cleaning dishes as well. The product range covers regular formulas, ultra concentrates, 'Fusion Clean' baking soda combos for tough cleaning as well as 'Divine Blends' for those who want to feel like they're in a cloud of perfume while scrubbing pots and pans. Interestingly, Palmolive picks up five stars for effectiveness, finish and ease of use, four stars for scent, but just three stars on value for money.
Woolworths (Homebrand & Select)
The Woolworths Homebrand dishwashing detergent is simple and affordable – a 1L bottle of lemon scented liquid is priced at just 99c. Woolworths Select kicks it up a notch in effectiveness according to our ratings, with lime, lemon and antibacterial varieties all coming in a choice of 450mL or 900mL bottles. The Woolworths Homebrand and Select brands tie on all fronts except for effectiveness (where Homebrand falls behind) and value for money (with Homebrand rating higher).
ALDI Green
The environmentally-friendly ALDI shopper can choose to use ALDI Green Action dishwashing liquid, although it hasn't done quite so well as the other ALDI offerings in this year's ratings. However, it is the most eco option – Green Action is made from biodegradable, plant-based surfactants and is phosphate free, suitable for greywater use, and septic system safe. You can pick up a recyclable PET plastic bottle in a choice of lemongrass & kaffir lime, pomegranate & mango, and vanilla scents. Consumers have rated ALDI Green Action three stars in most areas, except value for money where it picked up an extra star.