Review of Amaysim NBN plans
Amaysim is best-known for offering competitive SIM Only mobile phone plans, on both a prepaid and postpaid basis. But Amaysim is now also an NBN provider, having launched a very simple yet appealing set of unlimited data plans with no lock-in contracts or upfront costs (if you BYO modem), which is pretty unheard of. Covering three NBN speed tiers, Amaysim looks set to challenge the big internet providers, just like it has with its popular phone plans.
So if you've been satisfied with what Amaysim has to offer in the mobile phone plan circuit, it could be worthwhile looking into its NBN plans if your home is connected. Or, if you're simply shopping around for a better deal, Amaysim could be the NBN provider you've been looking for. Amaysim is popular for its simplicity and flexibility, so let's see what NBN plans it has to offer.
Amaysim NBN Plans
Amaysim has three outrageously simple NBN plans. All come with unlimited data – the difference in price dictates what speed you get. As Amaysim has stated, its aim is to "untangle the unnecessary complexity, and put customers back in the driver's seat when it comes to using NBN broadband". So, you're in the driver's seat, and you have the choice of three speeds to steer towards. As all plans come on a monthly basis and with unlimited data, picking the right plan for your needs is super easy. In summary:
There are no hidden fees
Month to month contracts
Unlimited data
$0 activation
Customers also get the choice of bringing their own (BYO) modem, or purchasing a Netcomm 'premium' modem from Amaysim for a fee of $125. Here are Amaysim's plans at a glance:
Amaysim 'LBN' Plans
You may have seen this on its site – Amaysim also offers 'LBN' plans. LBN stands for Local Broadband Network and is officially designated as a multi-dwelling unit connection. LBN provides internet networks to apartment buildings, primarily in Western Australia. LBN provides speed tiers similar to that of NBN, and Amaysim's plans are exactly the same. If you've moved into a new apartment and realised you're on LBN, Amaysim is worth a look into as your retailer.

What does Amaysim offer?
| | Amaysim NBN Plans |
| --- | --- |
| Unlimited data | |
| Top-speed NBN Plan | |
| Entertainment | |
| Call packs | |
| Choice of contract | |
| Included modem | |
| Available across FTTP, FTTB, FTTN | |
Amaysim Network Coverage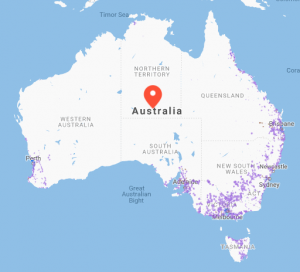 Its mobile customers probably know it uses the Optus network, but its NBN rollout is subject to that of NBN Co – the wholesale company responsible for the whole thing. The National Broadband Network is largley due to be completed by 2020, and 93% of customers will be covered on a fibre network, with the remaining 7% to be on either a fixed wireless or satellite plan.
Amaysim NBN covers most capital cities as well as major urban centres, with the vast majority of the rollout already having taken place.
Amaysim NBN Features & Bonuses
Amaysim sheds a lot of the filler and instead places the emphasis of its NBN plans and their prices.
Contracts: Users can only choose no lock-in contracts, with no setup fees.
Modems: The modem is optional and costs $125, including shipping.
The combination of no setup fees and optional modem means that you don't need to pay anything except the monthly plan fee.
Amaysim Basic NBN
Amaysim has basic NBN (top speed of 12Mbps) for just $60 with unlimited data. This speed tier has a 10.3Mbps evening speed (7pm to 11pm).
Amaysim Standard Plus NBN
Amaysim's next step up is the Standard Plus speed tier, yielding a maximum download speed of 50Mbps. Amaysim rates its evening speed at 42.2Mbps.
Amaysim Premium NBN
If your needs are a bit more intensive, Amaysim provides premium NBN (max speeds of 100Mbps) for $90 a month. This speed tier yields evening speeds of 78.1Mbps.
Amaysim Customer Service & Support
Amaysim has a live chat and email support, as well as a call centre. The call centre has some support in Australia, as well as in the Philippines.
Amaysim contact number is 1300 808 100
The call centre is open on weekdays from 8am to 6.45pm (AEST), 10am to 5.30pm on weekends and 10am to 6pm on public holidays.
How does Amaysim NBN compare to other providers?
Amaysim's mobile phone plans compare well against the competition, and so do its NBN plans. Its prices are among the cheapest out there, and its no contract promise, with no activation fees, adds a cherry or two on top. Other stripped-down, cheap providers include:
Amaysim benefits from having no contracts and no setup fees. With other providers you may have to keep an eye out for these, as well as mandatory modem fees and any other upfront costs that can make the first month of a plan quite prohibitive.
Is an Amaysim NBN plan an 'amaysing' deal?
If you've been pleased with what Amaysim has offered customers in the mobile phone plan segment, you might also be pleased with what it has to offer in the NBN sphere. Amaysim's NBN plans are pretty cost competitive, and while they do seem a few dollars pricier than the 'cheapest of the cheap', Amaysim's no-gimmick approach may more than make up for it. With no contracts, hidden fees, or setup costs (if you BYO modem), the value proposition with these factors considered might make other providers sit up and take notice. Amaysim has done it in the SIM Only mobile space, and it's doing it again with the National Broadband Network.
Other articles worth reading