We all know comparing energy plans can be confusing, but there are a few specific traps you will need to avoid if you want to get a reasonable deal. In this article, Canstar Blue highlights five potentially costly mistakes that you can make when reviewing 
energy price fact sheets
. These documents hold the secrets to your energy company's intentions and if you don't read them carefully you can end up paying much more than you need to.
Compare Electricity Plans
Trap 1: Does the price include GST?
One of the first things you'll see on an energy price fact sheet is the daily supply and usage charges you will need to pay. This is the most important piece of information in the document because it explains exactly what you will be charged for the power you use and what you need to pay simply for being connected to the energy network.
The problem is that energy retailers display their pricing both excluding and including GST. And wouldn't you know it – the pricing that excludes GST is normally in the column to the left, meaning you're likely to see these details first. If you're in a rush, they might be all you see! The most important rates are of course the ones in the right hand column that include GST. This is a potential problem if you're quickly jumping between fact sheets to compare rates from several different providers. You might also not be aware that we pay GST on electricity – but we certainly do.
Falling into the trap of thinking you're paying lower rates than you are could cost you hundreds of dollars a year. Here at Canstar Blue, we often hear from consumers who have confused the two sets of rates. See the example fact sheet below which shows rates excluding GST to the left of the rates that include it. Throughout this article we have used an EnergyAustralia price fact sheet to provide examples. This is typical of most retailers.


How to avoid the trap
To avoid this mistake, it's a good idea to print off the price fact sheets you are reviewing. This allows you to highlight the most important details and overlook those that are not relevant. In addition, you might also find it more helpful to hold a hard copy of the documents you're comparing to really focus on the specifics without the glare of your computer screen.
Trap 2: The prices shown will change
It's natural to assume that the prices you settle on will be what you will pay for the length of your contract – but think again. Finding competitive energy rates is only the first phase of maintaining a good power deal, because the reality is that these rates can change very quickly. One of the biggest traps you can fall into is assuming the prices you initially find are here to stay.
Energy price fact sheets will point out that the rates displayed are subject to change – be sure not to overlook this point. If the product you're looking at comes with variable rates – which the vast majority of electricity plans now do – you should assume the prices shown will be changed at least every 12 months, quite probably every six months, and possibly even more regularly than this. The box shown below is what you need to look out for.

How to avoid the trap
Unfortunately the only sure-fire way to avoid the trap of increased variable rates is to be constantly vigilant. Energy retailers must notify customers of price changes, so be sure to thoroughly read through every bill you receive and closely read any other correspondence you are sent. It's also a smart move to compare the usage and supply rates shown on your most recent bill to those on a previous bill, just in case any changes have been missed. You should also regularly compare energy offers to ensure the rates you originally signed up to are still competitive. You could have the cheapest deal today, but the most expensive just a few months later.
Trap 3: The 'hidden' fees
Consumers are always told to 'check the small print' and this is especially true when it comes to extra fees and charges that you could be slugged for a variety of reasons. If your last energy bill was slightly higher than you'd expected, it could be because you've been hit with one of the fees shown below in our example price fact sheet.
You might expect a penalty if you fail to pay your bill on time, but did you realise you are charged extra for receiving a paper bill in the mail instead of by email, or that various payment methods can result in extra 'processing' fees? You might also be shocked to find out that moving home will bring an additional charge, should you take your existing provider with you. Here is an example of the types of fees to watch out for and what they could cost you. Keep in mind that fees vary between retailers.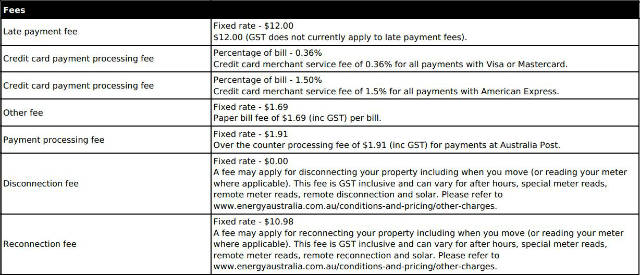 How to avoid the trap
We often talk about fees like these as being 'hidden' but the reality is they are there for all to see – as long as you know to look for them. These fees are often displayed towards the bottom of price fact sheets, so be sure to read through the whole document. Not being aware of the charges will not be a good enough excuse to dodge them if they come up, so do yourself a favour and familiarise yourself with the fees that may apply to you. Doing so could help you make better decisions around your billing and payment methods, saving you a tidy sum in the long run.
Trap 4: Contract length vs benefit period
Big discounts have become the main marketing tool of energy companies in Australia, but they are surrounded by mystery and potential confusion. It is hugely important to understand that the biggest conditional discounts do not always mean the biggest savings, but it's equally important to know that most discounts have expiry periods, after which you could end up paying a far higher price. Do not confuse the contract length with the benefit period.
While all energy plans are technically a 'contract', most are simply ongoing agreements and have no contract period. However, most plans that come with conditional discounts will have a benefit period. These are two different things. A benefit period refers to the length of time the discount applies for, and if you have an ongoing contract, the benefit will expire before the end of it, as per the example below. We have even seen examples of two year contracts where the benefit period only lasts for the first year.

How to avoid the trap
It's all about understanding exactly what you're signing up to. You will find information on the contract length and benefit period near the top of your energy price fact sheet, but be sure not to confuse the two. If you fall into the trap of assuming your big discount is ongoing, you could be in for quite a shock when it disappears and your bills suddenly increase. A 40% discount sounds good when you sign up, but that's an extra 40% you'll be left paying when the benefit period ends.
Trap 5: Bill frequency
Paying a little often can be a good way to keep up to date with bills, rather than having to pay one big bill every three months. Those big quarterly bills can come as quite a shock and can seriously hit your budget. This is something to keep in mind when comparing energy products, because some providers only allow for quarterly billing, not monthly. If you prefer paying your bills off monthly, accidentally signing up to a plan with quarterly billing could prove an unfortunate mistake.
Also keep your eyes peeled for mentions of estimated billing, whereby your retailer will charge you a certain amount from month to month and then hit you with a 'settlement' figure at a later date. Be sure to check fact sheets for the small section on billing frequency, as shown below.

How to avoid the trap
Keep your eyes peeled! Details on billing frequency should appear near the top of energy price fact sheets, but it can be easy to miss, especially if you have your sights sets on pricing information – and rightly so. If you do find yourself struggling with large quarterly bills, you can always talk to your retailer about bill smoothing.
The take home message
The point of this article is to explain that energy price fact sheets are home to all the important information you will need to make an informed decision about your energy provider. But interpreting this information is not always easy and getting the wrong end of the stick can cost you big. If you have any doubts or concerns about the details you see, be sure to raise them with the retailer before signing up.
Consumers are always told to 'shop around' for a better energy deal, and this is absolutely true. As you can see from the examples above, the details of your plan are subject to change. Therefore the only way to ensure you're still getting a good deal from one month to the next is to remain vigilant of any changes and compare your other options.