With more of us working from home – or having to self-isolate – there's unprecedented demand on the big supermarket chains to get groceries delivered to our door. But are they able to deliver, how long will it take, and who gets priority? We'll keep this page updated with delivery details from Woolworths and Coles.
Woolworths home deliveries during coronavirus outbreak
Woolworths has taken drastic measures to combat the spread of coronavirus and manage panic buying in stores by offering the elderly, people with disabilities and those in mandatory self-isolation priority access to its delivery services.
Following the supermarket's special dedicated shopping hour, the Priority Assistance service allows eligible customers to apply for delivery within certain timeframes before delivery is made available to other shoppers.
According to the Woolworths website, requests will be reviewed within 48 hours.
The retailer's Priority Assistance home deliveries will also allow those unable to visit a physical store to purchase the Woolworths Basic Box, which contains meals and household items for $80. This is currently available in most major cities and regional centres across Australia.
Woolworths has also announced that drivers won't require a signature upon delivery, and instead a photo of the groceries will be taken once the items have been dropped off at the door.
However, the Crate to Bench Service is now temporarily unavailable and orders will be placed in reusable bags.
Woolworths has additionally put a halt on pick up orders until further notice due to major product shortages in stores, with the company hoping this will help staff restock shelves 'in the face of unprecedented demand'.
Purchase limits still apply to items including toilet paper, baby wipes, antibacterial wipes, paper towels, serviettes and rice (at least 2kg).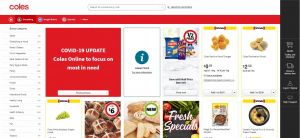 Coles home deliveries during coronavirus outbreak
Coles has announced it will reserve its online shopping service for seniors and people with disabilities starting this week. Deliveries will be suspended to the general public until further notice.
Coles Online Priority Service (COPS) will allow seniors and vulnerable members of the community, including those living in retirement and nursing homes; to order and get food and grocery essentials delivered to their door. This includes the Coles Community Box, which provides food and household items such as toilet paper and cleaning spray for $80.
Those eligible for COPS include:
Existing Coles Online and flybuys customers who are aged over 70
People who are aged over 65 with a My Aged Care number or NDIS number
Indigenous Australians who are aged over 50 with a My Aged Care number or NDIS
Customers of the National Disability Insurance Agency who have received a unique code to access services such as COPS
Aged care, disability care and other businesses that support vulnerable members of the community
Similar to Woolies, Coles has also put a halt on Click&Collect orders to prevent customers facing further product shortages. It has also decided to temporarily cancel its UberEats delivery service to help staff improve the availability of items in store.
For those eligible, purchase limits will start to apply from Saturday (March 21). This applies to products like frozen vegetables, canned tomatoes, dried rice, long life milk, hand sanitisers and liquid soap.
Coles is additionally suspending its change-of-mind refund policy to avoid panic buying, a move which ALDI recently followed. The supermarket recommends customers instead donate extra groceries to community organisations or neighbours who have been struggling to buy enough essentials during the coronavirus outbreak.

Picture credits: ArliftAtoz2205 / Shutterstock.com