Fact Checked
Winners leaked: Always Discreet rated best in continence product ratings
Continence products are a mainstay in many people's bathroom cupboards. They are super useful products, ready to help people move through the day without worrying about leaks or accidents. In fact, over a third of consumers (35%) say that continence products allow them to continue to live their life the way they want, with another 10% just using them when exercising for extra confidence.
However, although they're all designed to assist in the same way, not all continence products are created equal. Nearly half of our respondents (44%) have tried multiple brands in the search for the right one, while a third (29%) have tried multiple products from the same brand while looking for a good fit. To see which continence products are best on the shelf, here's our review.
---
How we rate continence products
---
Over a third of people surveyed for this review (35%) said continence products have allowed them to continue pursuing their preferred lifestyle. However, a small portion (12%) have had a continence product leak in public, suggesting not all products for bladder and bowel leaks are created equal. Be sure to compare products and do some research.
Find more detailed information on our ratings methodology.
---
Top Continence Product – Always Discreet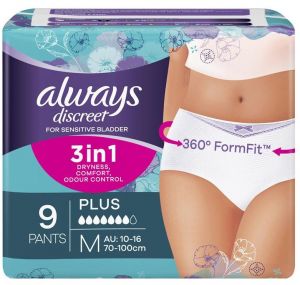 Always Discreet specialises in women's continence issues, providing a comprehensive range of products, including pads, liners, and underwear to help manage overactive bladders. Always Discreet pads feature an ultra-thin absorbent core with Rapid Dry and Odour Control Technology to provide
discreet protection under your clothing. Its pads come in various options for all levels of continence from occasional leaks to frequent leaks. Always Discreet products are available to purchase from most supermarkets and pharmacies.
Always Discreet scored five stars for quality and comfort, absorbency and effectiveness, range variety, packaging appeal, value for money and overall satisfaction.
What are the main causes of incontinence?
Incontinence refers to an inability to control your bladder and bowel, often resulting in leaks. It's not uncommon and in fact, one in four Australians experience incontinence regularly, according to the Continence Foundation. There are a few different reasons that someone might be incontinent including:
Being pregnant or, having been pregnant makes it more likely for you to experience incontinence
Neurological and musculoskeletal conditions
Health conditions
Reduced mobility
Menopause
Obesity
Unhealthy diet
Medications
Infections
What's the best type of continence product?
The type of continence product you need will largely depend on how light, moderate or heavy your incontinence is and how frequently you experience leaks. It will also depend on whether you experience urinary incontinence or faecal incontinence, or both. Some of your decision will also be based on your personal preference with some people preferring disposable pads over reusable underwear and vice versa. Our survey found that most people purchase disposable pads (61%), followed by disposable pants (15%), and reusable bed pads (6%).
About the author of this page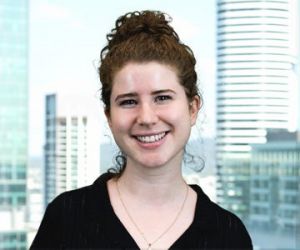 This report was written by Canstar Blue's Content Producer Luciana Lawe Davies. She writes about streaming, appliances and consumer products and services. Luciana enjoys bringing readers the best in what's on TV and at the shops, including the best deals and latest reviews.