Fact Checked
Is the electric car revolution shaping the future of motoring? Well, one thing's for sure – it's gaining some serious traction here in Australia. Our nation's growing obsession with '
going green
' seems to be a driving factor behind the popularity of electric vehicles.
Whether you're looking to reduce your carbon footprint or you want the convenience of charging your car at home, there are many reasons why motorists are ditching the bowser and turning electric. But don't just take our word for it. In 2017, electric car sales in Australia experienced a whopping 67 per cent increase compared to the previous year, with some energy retailers already jumping on the bandwagon. With electric vehicles hot property right now, we take a close look under the bonnet by exploring the ins and outs of these machines.
What Are Electric Cars?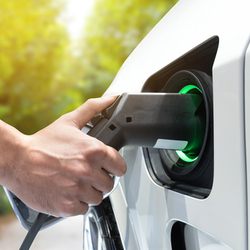 Otherwise known as an electric vehicle (EV), electric cars are powered by batteries that can be recharged from a designated charging station or by plugging into a certified charger at home. Most electric cars do not require a fuel source (i.e. gas or petrol) to operate and will generally have a maximum range of travel once the battery is fully charged.
There are many variations of electric cars on the market, including:
Plug-in Hybrid Electric Vehicles (PHEVs) – powered by a plug-in battery and small combustion engine that can be charged by the electricity grid or the engine.
Battery Electric Vehicles (BEVs) – contains a built-in battery pack that can be charged via a designated charging station.
Hybrid Electric Vehicles (HEVs) – a combination of a fuel engine and electric motor that helps improve fuel economy.
Pros and Cons of electric cars
There are pros and cons to electric vehicles, which you should weigh up before making any purchase decisions.
Pros:
Produces less greenhouse gas emissions
Lower ongoing servicing and maintenance costs
Quieter to drive
Additional storage space
Cons:
Higher upfront costs
Range anxiety
Limited charging stations and infrastructure
Longer recharge time
Limited range of car models available
What was the first electric car?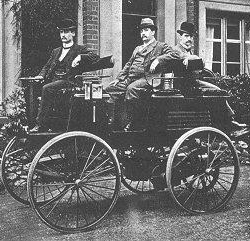 Electric cars are widely perceived as a modern creation, yet the technology used to develop and invent these machines can be traced back to the 1800s. Although there were many prototypes created during the early 19th century, the first electric car was introduced in 1884, which looked more like a horse-drawn carriage than an automobile.
Who invented the electric car?
While the origin of electric vehicles dates back to the early 1800s, there is a lot of contention around a specific date or sole inventor. Many historians credit the first practical electric car to British inventor, Thomas Parker, who used rechargeable batteries to power his invention.
Since the 19th century, various manufacturers have developed their own electric vehicles with little success. It wasn't until almost the turn of the 21st century that the world saw any real progress. General Motors built the first mass-produced electric car in the mid-1990s, while Tesla launched its first model in 2008, helping put electric vehicles on the map.
Electric Cars in Australia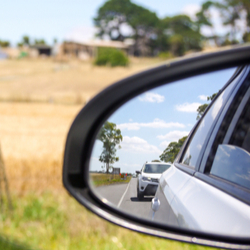 There are many types of electric cars in Australia, including battery electric vehicles (BEVs), hybrids (HEVs) and plug-in hybrids (PHEVs). Depending on what type of model you're looking for, there are hatchbacks, sedans, SUVs and luxury electric cars available to purchase.
How much is an electric car in Australia?
The price of an electric car will depend on the model and make, as well as any additional features or specs you choose. For example, a top of the range Tesla Model S will cost roughly $155,430, while a Hyundai IONIQ EV will cost approximately $49,970.
Like traditional car models and makes, there can be a big difference between price tags, which may be additionally influenced by your location and sales periods, so to find out exactly how much an electric car will set you back, it's best to get in touch with the car manufacturer or step foot into a dealership. Another thing to consider is the running costs of the electric vehicle.
What is the cheapest electric car?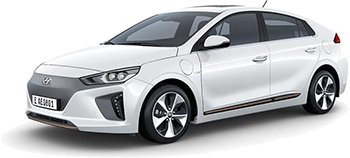 The cheapest electric car in Australia is currently the Hyundai IONIQ EV, which retails for around $44,990. It features a 28kWh sized battery and has a range of 230 kilometres once fully charged. Again, it's best to check with the manufacturer for a detailed quote as the above price is an estimate only.
What is an electric car charging station?
Electric car charging stations are designated recharging points that allow a motorist to plug in their EV or hybrid vehicle's battery. Otherwise known as a 'DC fast charging station', these allow motorists to connect their battery directly to a power source with a high charging capacity. You will generally find DC fast charging stations at selected petrol stations or along major traffic corridors in cities.
Electric car charging stations in Australia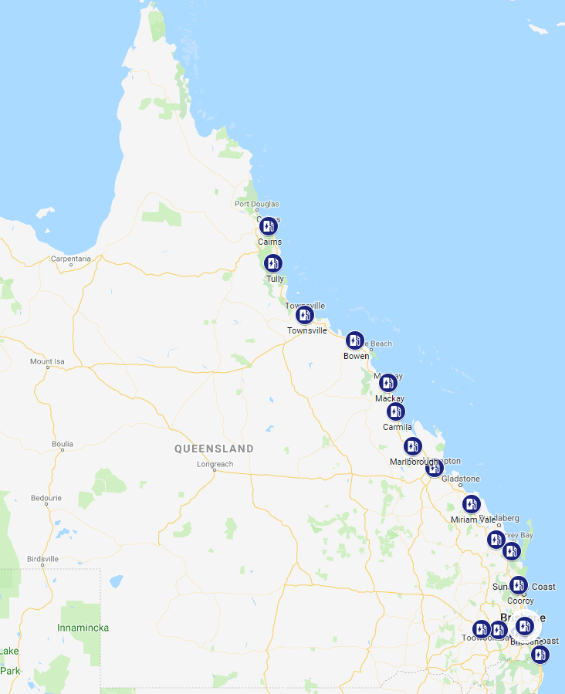 To find an electric vehicle charging station near you, you'll need to visit your state government's website or visit PlugShare, a global charging station tool and interactive map. From here you'll be able to view charging stations in your area, as well as the types of charging sources available at particular charging points.

Shopping for tyres? Check out JAX Tyres & Auto
Electric Car Battery Charging Times
Depending on the size and type of battery, as well as the power source used to charge the battery, charging times can take anywhere between 40 minutes and 24 hours. For example, a Hyundai Kona Electric can be charged to 80% in under an hour at a commercial DC fast charging station, while a standard home charging station can take more than nine hours for a full charge.
Electric Car Battery Range
How much distance an electric vehicle can cover on a fully charged battery will depend on a number of factors, including:
Battery size
Battery type
Type of EV (BEV, PHEV or Hybrid)
Make and model of car
Driving conditions such as speed and incline
Use of in-car features like air conditioning
Like any fuel-powered car, electric vehicles have a maximum range they can travel on a fully charged battery. For instance, the Tesla Model S has a maximum range of 565km, while the Hyundai IONIQ EV has a maximum range of 230km. If you're in the market for an electric car, make sure you jump on the car manufacturer's website to find out the specific model's battery range, particularly if you're partial to long road trips.
Charging your electric car at home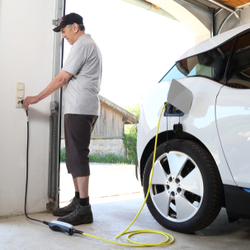 The convenience of charging your electric car overnight in your own garage is a major drawcard for motorists, as well as not worrying about fluctuating fuel prices. That said, you will still need to take into account energy price rises and changes that will surely have an impact on electric car charging costs.
Canstar Blue spoke to Tim Washington, Director of JET Charge – a leading electric vehicle hardware and software installation company from Melbourne. We asked Mr Washington a couple of questions to gain an inside scoop on the costs and practicality of charging an electric car at home.
How much does it cost to install an electric car charging station?
Installation varies but typically between $2,000 and $3,000, including the charging station itself. The price can be lower or higher depending on the owner's individual circumstances and requirements.
What should a consumer be looking for when installing a battery charging system in their home?
They should make sure that their charging station is compatible with their vehicle from a plug perspective. While most electric vehicles now utilise a type 2 plug, there are still some exceptions, such as the Mitsubishi Outlander Plug In Hybrid, and also second hand vehicles with a type 1 plug. They should also make sure that the charging station is RCM certified, as with any other electrical appliance. They should avoid importing electrical products from overseas without the necessary certifications.
Electric Cars: Charging Cost
Rather than being slugged per litre at the petrol station, motorists with an electric vehicle are instead charged per kilowatt hour (kWh) for electricity usage. Exact costs will depend on a variety of factors, including where you live, type of EV battery, charging source and the electricity tariff you are on.
As there are so many variables that can influence the charging costs of an electric car, it's difficult to predict exactly how much you'll pay in extra electricity usage charges. However, we can provide you with rough estimates for greater peace of mind, using the Nissan Leaf as an example.
According to Nissan Australia, there are three ways a Nissan Leaf can be charged:
Mode 2 cable – 24 hours to recharge
Mode 3 cable with dedicated EVSE plug – 7.5 hours to recharge
Mode 4 tethered to a CHAdeMO DC charger – 60 minutes to recharge
To work out the running costs of a Nissan Leaf, we've assumed an electricity usage rate of 28.7c/kWh.
| Electricity Usage Rate | Nissan Leaf Battery Size | Nissan Leaf Range | Cost to Recharge | Cost per 100km |
| --- | --- | --- | --- | --- |
| 28.7c/kWh | 40kWh | 270km | $11.48 | $4.25 |
General guide only. May 2019
To put these figures into perspective, the average fuel consumption of a petrol-powered vehicle is 10.8 litres per 100km. That'll cost motorists $16.20 per 100km if we assume petrol prices are $1.50 per litre. That's a big difference in price!
You may also be interested in:
Is an electric car worth it?
Before switching from fuel to electric, it's best to conduct your own research and consider your personal circumstances, as there's a plenty of pros and cons to owning an electric vehicle. Factors like the make, model, battery size, range, electricity charging costs, car servicing expenses, and the amount of EV charging stations near you, should all be weighed up. The good news is that electric vehicles are firmly on the radar in Australia, with future investment in technology constantly rolling out, meaning the costs of owning an EV could become much lower.
Given the rising cost of fuel, investing in an electric car may pay off down the track. Though, it's not only fuel prices that can change overnight, it's also energy prices. With this in mind, ensuring you're getting maximum value on your energy plan could be the difference in big savings, whether you own an electric car or not.

Image credits: Coffee/Pixabay, Zapp2Photo/Shutterstock.com, Commons/Wikimedia, Shuang Li/Shutterstock.com, Daniel Krason/Shutterstock.com, riopatuca/Shutterstock.com