Fact Checked
How we rate butter
Butter is the unsung hero of any muffin, croissant, crumpet or toast. It's the staple that pops up in all kinds of recipes, so you're bound to have it stocked in your fridge ready to be whipped into action. As the backbone of our meals and desserts, butter needs to have the right blend of taste and value. But which brand is the bread to our butter? Our review spreads out the top butter brands on the market to find out.
---
Find more detailed information on our ratings methodology.
---
Top Butter Brand ─ Devondale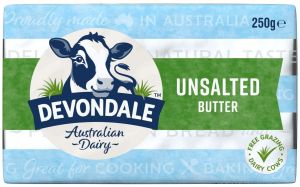 Easily recognisable thanks to the smiling blue cow, Devondale butter is hard to miss in the dairy aisle. The brand offers a range of butter options for both eating and cooking, including speciality products for those who hate nothing more than hard butter tearing their toast apart. These include traditional salted and unsalted options, as well as the Dairy Soft line consisting of original, salt-reduced and extra soft. Devondale sells butter in 250g, 500g and 750g packets and tubs, and you can expect to pay anywhere from $4 to $9.95, depending on the size. It's important to note that Devondale is a strictly dairy brand, and doesn't cater to vegans, or make butter products using seeds or oils.
Devondale melted the competition, scoring five stars for taste, texture and consistency, packaging convenience, variety and range, and overall satisfaction. The brand landed four stars for value for money.
Other butter brands
---
Not all butter brands in the market qualify for our ratings (based on minimum survey sample size), but that doesn't mean they're not worth considering. Here are several more brands to check out before making a purchase decision.

The Organic Milk Co.
Great Ocean Road Dairy
What are the different types of butter?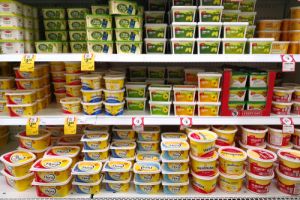 Did you know 37% of Aussies we surveyed have tried multiple brands and types of butter? Here's a rundown of several options you can find:
Unsalted butter: doesn't contain added salt. Since the level of salt in butter varies between products, unsalted butter is the preferred option when baking as a way to ensure consistent results.
Salted butter: once the churning process separates the salt and buttermilk, more salt is added and the mixture is churned once more.
Plant-based butter (i.e. certain types of margarine): derived from vegetable oils such as olive oil, or almond oil.
Cultured butter: live bacterial cultures are added to pasteurised cream before the mixture is churned. It has a higher fat content than non-cultured butter, giving it a creamier consistency that makes it easier to spread.
Whipped butter: less dense than non-whipped butter, making it suitable as a table spread but not for cooking or baking.
Clarified butter (i.e. ghee): is commercially available or can be created at home by melting a stick of unsalted butter in a pan. It's essentially the remaining butterfat left over after impurities like water and lactose have been removed. This is ideal for searing meats or sautéing vegetables due to the higher smoke point.
Our latest survey found one in three Aussies (34%) eat butter every day, with the majority using the golden spread on toast (84%) or bread (72%). More than half of consumers also use butter as a baking ingredient (58%), or as an alternative to oil when cooking (32%). Our research found that most shoppers prefer to buy butter in a tub (50%), rather than as a block (26%), although many households buy both options.
Meet our consumer experts
---
Megan Birot: Home & Lifestyle Editor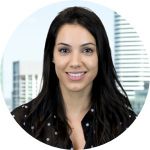 Megan is Canstar Blue's Home & Lifestyle Editor, leading the team that focuses on consumer products and services, ranging from supermarkets and groceries to home and personal appliances and retail stores. She interprets Canstar Blue's bespoke research on the thousands of brands that we compare, rate and review, to help shoppers make better purchasing decisions.
Samantha Howse: Consumer Research Specialist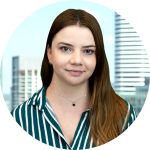 Samantha Howse is Canstar Blue's Consumer Research Specialist, coordinating the consumer research program behind our customer satisfaction awards across Canstar and Canstar Blue in Australia and New Zealand. Sam has earned a Bachelor of Business (Marketing) from Griffith University and, with seven years in market research and 2 years in marketing, she is experienced in survey design, implementation and analysis, coupled with an understanding of marketing principles and best practice.
Picture credits: stockcreations / Shutterstock.com, Stockcreations / Shutterstock.com, 4 PM production / Shutterstock.com, / Lim /shutterstock.com.