ALDI still the 'butter' brand in consumer ratings
Butter is the unsung hero of any muffin, croissant, crumpet or toast. It's the staple that pops up in all kinds of recipes, so you're bound to have it stocked in your fridge ready to be whipped into action. As the backbone to our meals and desserts, butter needs to have the right blend of taste and value. But which brand is the bread to our butter?
To find out, we've again surveyed more than 2,000 Aussies about the butter they've purchased and consumed within the last three months. Respondents compared and rated brands on a wide spread of factors, including taste, texture, ease of spread, packaging, value for money and overall satisfaction.
From the nine brands which received the minimum sample size (30 responses) to be featured in this year's results, ALDI Beautifully Butterfully placed number one with the only five-star rating for overall satisfaction. It also earned full marks for value for money and packaging design, with four stars for taste, texture and ease of spreading. It's the FIFTH year in a row that ALDI has topped our butter ratings.
Best Butter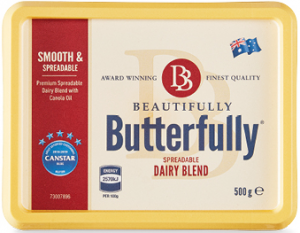 Here are the best brands for butter in Australia, as rated by consumers in Canstar Blue's 2020 review:
ALDI Beautifully Butterfully
Mainland
Western Star
Devondale
Lurpak
Woolworths Essentials
Coles
Bertolli
Allowrie
ALDI now officially reigns as the undisputed champion in Canstar Blue's butter review. It was not only rated best for the fifth year in a row, but ALDI Beautifully Butterfully remains the only brand to win the top spot since we started rating the category back in 2016!
Most entries in our 2020 review received four stars overall, except for Allowrie which landed on three. Although a special mention should go to Mainland after it managed to beat this year's winner on taste, texture and ease of spreading.
Butter Brands
ALDI Beautifully Butterfully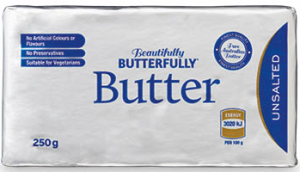 Beautifully Butterfully is ALDI's exclusive brand of table spreads and butters. All spreads from the range are Australian-made and contain no preservatives or artificial colours and are vegetarian friendly. The brand also offers a Halal-certified option. Here are some product options from Beautifully Butterfully:
Beautifully Butterfully Dairy Blend
Beautifully Butterfully Spreadable Dairy Blend
Beautifully Butterfully Unsalted Butter
Beautifully Butterfully Butter Salted
Prices for Beautifully Butterfully butter start from $3.25 for 500g, exclusively at ALDI.
ALDI Beautifully Butterfully was the only brand to score top marks for overall satisfaction, value for money and packaging design, but landed on four stars for taste, texture and spreading.
Mainland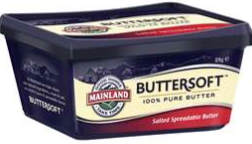 According to Mainland, good things take time which is why its butter is crafted using only premium and natural ingredients sourced from New Zealand. The brand is renowned for its dairy products, including cheeses and spreads, with classic butters and spreadable options also available. Mainland has three trademarked lines, namely Butter Soft, Organic Butter and Pure Butter. Here are some products:
Mainland Butter Soft Salted
Mainland Organic Butter Unsalted
Mainland Organic Spreadable Salter
Mainland Pure Butter with Real Sea Salt Crystals
A Mainland tub of butter can set you back upwards of $6 for 375g.
Mainland received five stars in the taste, texture and ease of spread categories, but finished on four stars for overall satisfaction and packaging. It got three stars for value for money.
Western Star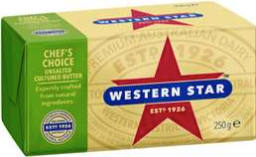 Western Star is more than butter, it's been an Australian tradition for almost 100 years. The brand offers thickened cream products and different butter products, including regular and spreadable options, with low-salt alternatives also available. Here are some products from the Western Star range:
Western Star Original Salted Butter
Western Star Salt Reduced Butter
Western Star Unsalted Butter
Western Star Spreadable Supersoft
Western Star Spreadable Soft'n'Less Salt
Prices for Western Star butter start from $4 for 250g at a supermarket.
Western Star achieved four stars in the majority of categories, including taste, consistency and overall satisfaction, but fell short in the value for money category where it received three stars.
Devondale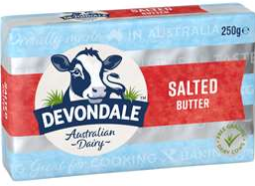 Devondale's philosophy is that dairy is with you from childhood to adulthood. The brand says it delivers quality dairy 'as nature intended' with its range of everyday dairy products which includes milk, cheese, butter and spreads. Devondale's butter products are made from premium Australian ingredients. Some options from the range include:
Devondale Salted Butter
Devondale Dairy Soft Butter Spread
Devondale Extra Soft Butter Spread
Devondale Dairy Soft Light Butter
A tub of Devondale butter costs on average $2.30 for 250g from most supermarkets.
Devondale scored four stars in most categories, including for taste, consistency and overall satisfaction, but finished on three stars for value for money.
Lurpak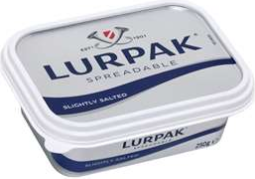 Lurpak says it combines traditional methods with state-of-the-art technology to craft unmistakably fresh and ever-so-slightly aromatic Danish butter. Lurpak has been in the business of making premium butter ever since its inception in 1901 and now sells its products in more than 75 countries. Here is a sample selection from the Lurpak range:
Lurpak Spreadable Slightly Salted Butter
Lurpak Slightly Salted Butter
Lurpak Lighter Spreadable Butter
Lurpak Softest Butter
Prices for Lurpak butter start from $5 for 250g at most supermarkets.
Lurpak was rated four stars across the board, including for taste and overall satisfaction, but landed on three stars for value for money.
Woolworths Essentials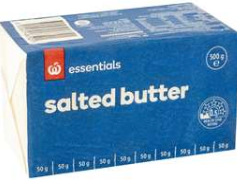 Woolworths Essentials is the supermarket's low-price range of every day essential items like butter and margarine. It's a range that's designed to help you buy all the 'must haves' and pantry staples on your shopping list at affordable prices. The supermarket brand offers a few butter options to choose from, including:
Woolworths Essentials Salted Butter
Woolworths Essentials Unsalted Butter
Woolworths Essentials Table Spread Soft
Prices for Woolies butter start from $5 for 500g, exclusive to Woolies.
Woolworths Essentials scored four stars for texture, value for money and overall satisfaction. It landed on three stars in the remaining categories, taste included.
Coles
Coles own brand is the supermarket's 'bread and butter' line of low-price household and pantry essentials. The private label offers a small variety of butters, including regular and soft spreads, at affordable prices, compared to other commercial brands. Here is a sample selection from the range:
Coles Salted Butter
Coles Unsalted Butter
Coles Regular Spread
Coles Buttery Blend
Prices for Coles butter start from $2.80 for 500g, exclusive to Coles.
Coles received a satisfactory four stars for overall satisfaction and value for money, but finished with three stars in the remaining categories.
Bertolli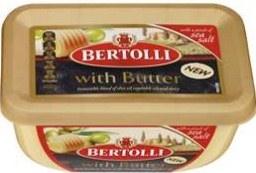 The Bertolli legacy started hundreds of years ago and lives on through authentic flavours imbued in the brand's assortment of table spreads, condiments and frozen meals. Bertolli offers a range of regular and soft butters, as well as margarine and olive oil spreads. Here are some products from the range:
Bertolli Buttery Spread
Bertolli Sea Salt Butter
Bertolli With Butter Margarine And A Pinch Of Sea Salt
Bertolli Olive Oil Spread
A tub of Bertolli butter costs on average $4.50 for 400g from most supermarkets.
Bertolli scored four stars for ease of spread and overall satisfaction, but finished on three stars everywhere else.
Allowrie
Allowrie is an independent brand of Australian-made butters produced from natural ingredients and containing no artificial flavours and preservatives. Allowrie's butter products are stocked in Coles and Woolworths and some independent supermarkets. Here are some products from the range:
Allowrie Original Butter
Allowrie Choicest Butter
Allowrie Cultured Unsalted Butter
Allowrie Pure Creamery Salted Butter
Prices for Allowrie butter start from $4.50 for 250g.
Allowrie rounded out the results, landing three starts across the board.
What to consider when buying butter
Apart from discovering which butter brands Aussies love most, our research also identified some key findings. Three in 10 survey respondents (30%) said they eat butter every day, making it a staple on the grocery list. A similar number (28%) said they primarily use butter for cooking. Additionally, 43% have tried multiple butter brands and types. Here are some of the other key findings from our survey:
Drivers of satisfaction for butter
Taste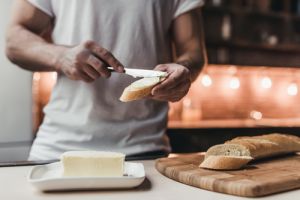 As an important ingredient in so many meals – as well as simply the thing we put on toast – taste is naturally the most important factor of customer satisfaction, as shown by our survey results. If our ratings are anything to go by, there can be a big difference. So, if your butter isn't providing you with that great taste you're after, it's easy to switch.
Texture and ease of spread
Texture was found to be the second most important driver of customer satisfaction when it comes to butter.  But having butter that's also easy to spread is a plus. It's never fun when butter is rock hard and destroys the delicate little piece of toast that you're trying to spread it on. Some brands boast their products as 'spreadable' on the packaging, but only you can be the judge of that.
Value for money
Value for money seems to be an important factor for Aussies, with ALDI scoring top marks in this area, while in some other categories it got four stars. When it comes to price, our survey identified that one in five consumers (21%) said they always buy the cheapest brand, and almost two in five (35%) always buy the same brand.
Packaging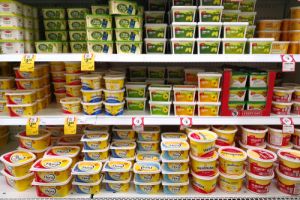 While packaging design shouldn't make any real difference to the butter itself, it could certainly help convince you to try one brand over another. Have you seen the length of the butter aisle – where do you even start? Some brands offer a measuring guide on their packaging, which removes the need to get your scale out when you're cooking. You might also find some packaging is better than others after it has been opened. There's nothing worse than butter going bad because the packaging lets you down.
So, there you have it! If your butter isn't buttering you up any more, there's plenty of choice out there.
About the author of this page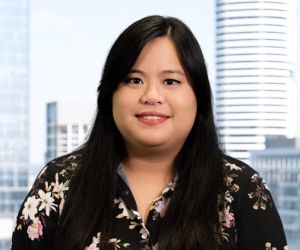 This report was written by Canstar Blue's home & lifestyle journalist, Tahnee-Jae Lopez-Vito. She's an expert on household appliances, grooming products and all things grocery and shopping. In addition to translating our expert research into consumer-friendly ratings reports, Tahnee spends her time helping consumers make better-informed purchase decisions on all manner of consumer goods and services, while highlighting the best deals and anything you need to be aware of.
Picture credits: Stockcreations/Shutterstock.com,/ 4 PM production / Shutterstock.com, / Lim /shutterstock.com.