Fact Checked
Woolworths 'bakes it' to the top spot in flour ratings
When it comes to baking, it's hard to find a recipe that doesn't call for the power of flour. It makes cakes and muffins rise sky-high, it gives dough that deliciously chewy bite and it keeps all the extra goodies like chocolate chips, fruit, and nuts nicely spread throughout the baked goods, where they belong. Aussies understand the importance of flour, which is probably why 72% keep it as a staple in their pantry, while 40% are happy to throw the cheapest brand in the trolley, as long as they tick it off the shopping list. So which brands rose to the top, and which took a battering?
---
How we rate flour brands
---
With the majority of people keeping flour as a pantry staple, it is an important product to consumers. While there is a huge variety of flour types out there, Aussies like to keep it traditional, with over half (54%) sticking to plain flour, about a third dipping into self-raising (32%), and a smaller number opting for wholemeal flour (13%). Such discerning flour buyers should find our brand reviews quite helpful.

Find more detailed information on our ratings methodology.
---
Top Flour Brand – Woolworths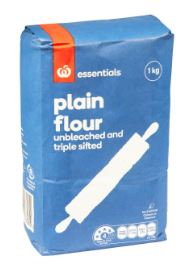 Woolworths homebrand flour is an ideal choice for keen bakers and novices looking for a great deal on their ingredients. The range includes plain, self-raising, wholemeal, wholemeal self-raising, plain gluten-free, and wholemeal gluten-free options. You can pick up a 1kg bag of these flours at any Woolworths supermarket for anywhere between $1 and $4, depending on the flour type.
Woolworths scored five stars for texture and consistency, value for money, variety, and overall satisfaction. It landed on three stars for packaging appeal.
What's the difference between baking flour and all-purpose flour?
Baking flour is the American term for self-raising flour, as this is the most common use of this flour. Self-raising flour has added leavening agents which help the dough rise without having to add yeast, giving you that dream choc chip muffin top spilling over the wrapper.
All-purpose flour is the American term for plain flour, as it has nothing added to it, making it suitable for use in cakes as well as gravies, soups, and sauces. If you want to make self-raising flour from plain flour, you just need to add baking powder, a product you can easily pick up from supermarkets.