You've tried every diet and exercise under the sun, but you just can't seem to budge those kilos. You're worried about your health and just need to lose that excess weight as soon as possible. When life is so busy and making drastic lifestyle changes is difficult and time-consuming, sometimes you just need a simpler way to help you make the shift to a healthier self.
Many weight loss brands offer something called a Very Low Calorie Diet (VLCD) program. These involve consuming a minimal amount of energy by replacing most of your meals with supplement products that still meet your basic nutritional needs. It can be much easier to limit your energy intake when you don't need to worry about cooking, just mix up a weight loss shake or bite into a weight loss bar.
It's important to note that a VLCD is close to being a crash diet, but is probably one of the safer ways to do so. It's still quite an extreme diet so it's essential that you talk to your doctor first to find out whether it's safe for your health. In most cases, these diets are usually only recommended for people with serious weight issues who need to slim down for health reasons.
What is a Very Low Calorie Diet?
A Very Low Calorie Diet (abbreviated to VLCD) is a kind of diet where meals are replaced with foods or formulas that provide just 3,350 kilojoules (800 calories) or less per day. A proper VLCD also includes the recommend daily intake of all vitamins, minerals and essential fatty acids. The most popular kind of VLCD is a meal replacement shake program.
While it seems like a logical assumption that, the fewer kilojoules consumed the more weight will be lost, studies have not found any weight loss advantage to consuming less than 3,350kJ.
What can you eat on a Very Low Calorie Diet?
VLCD programs generally recommend supplementing your weight loss shakes or other VLCD formula with vegetables and some other foods from a permitted list. Different programs may have different lists. You can usually eat as much broccoli as you want!
Programs often provide recommendations as to when to reintroduce certain foods into your diet (and in what quantities) as you transition off the VLCD into a weight maintenance diet.
Not all meal replacement products are suitable for VLCDs. Many are designed to only partially replace your daily food intake and do not provide all of the nutrients your body needs to be healthy.
Do Very Low Calorie Diets work?
Very Low Calorie Diets are usually very effective for losing weight, at least in the short term. The main problem with them in that it's very hard to successfully transition back to a regular food diet without regaining weight.
A study published in the Medical Journal of Australia in 2008 examined a case of a severely obese man who had safely remained on an Optifast VLCD diet for 12 months and lost 43% of his initial body weight. However, it's important to note that this was a case study of an extreme example which was heavily supervised by doctors, and cannot be used alone to draw a broad conclusion about the safety of a long-term VLCD diet.
Furthermore, the study noted that the next major hurdle for the man was transitioning from the VLCD to a weight maintenance diet. Losing weight through dieting is shown to change the body in ways that make it easy to regain weight.
Is a Very Low Calorie Diet safe?
This really depends on your particular health needs. It's absolutely necessary to talk to your doctor before starting a VLCD to make sure that it's the right choice for you. People who are under the age of 18, pregnant, breastfeeding, or have particular medical conditions (including liver and heart problems) should not adopt a Very Low Calorie Diet.
It's very important to discuss your weight loss plans to ensure that you won't inadvertently harm your health. According to the UK's National Health Service, drastically dropping your energy intake may cause problems such as gallstones and heart issues. Your doctor should do a series of tests to check that your health is in order before starting a VLCD. During your diet you should continue to regularly see your doctor to monitor your health. Doctors may prescribe a VLCD for obese patients, particularly those suffering from serious health risks as a result of their weight.
What weight loss brands offer VLCD programs?
Tony Ferguson
The Tony Ferguson VLCD Meal Plan involves three specially formulated VLCD shakes each day, plus three cups of allowable low-starch vegetables, one piece of fruit and 10g of olive oil. Shakes come in three flavours – chocolate, vanilla, and coffee – and are made by mixing the shake packet with water. You can also eat sugar free sweets. Tony Ferguson VLCD shakes are sold in Terry White pharmacies.
Optislim
If you want more options than just shakes, the Optislim line of VLCD soups, snack bars and shakes in a range of flavours may make it easier to stick to your limit. Every day three meals are replaced with your choice of a shake, bar, or soup, supplemented by two cups of green vegetables. The diet plan is a little less detailed, but more support is available if you become an Optislim member. Membership is free for the first 12 weeks when you purchase any Optislim product pack.
Flatblaster
Unlike many other VLCD programs, FatBlaster recommends spending only one week on its VLCD Phase (3,300kJ/785cal) program, before moving onto the less intense Rapid Phase (4800kJ/1140cal). The VLCD Phase involves replacing each meal with a FatBlaster shake, consuming FatBlaster Max Raw Power capsules, and snacking on nutritious low-calorie foods such as fruit, low-fat yoghurt, and salad.
Optifast
The Optifast VLCD Program Intensive Level involves three meals replaced with your choice of VLCD shakes, soups and bars, plus two cups of low-starch vegetables and one teaspoon of oil. Optifast suggests that those with BMIs less than 30 but above 25 instead follow the Active 2 or Active 1 level of its VLCD Program, which restrict to 1,000-1,200 calories and is designed to be followed for only 4-6 weeks.
SlimRight
The 850 calorie SlimRight VLCD plan involves drinking two VLCD High Protein Weight Loss Shakes, eating one VLCD meal (recipes provided when you sign up) and up to two serves of suggested snacks. You don't need to sign up to the program to use SlimRight VLCD products, but if you do you'll receive a 10 week meal and snack plan, recipes, and special offers.
Should I go on a Very Low Calorie Diet?
According to the NHS, VLCDs are only suitable for people who are very overweight and have remained so despite efforts to make healthy diet and lifestyle changes. VLCDs should only be undertaken with close medical supervision by those with a BMI above 30 (obese) or above 27 (overweight) with weight-related medical problems.
Not all people who want to lose weight should go on a VLCD. Losing too much weight, losing weight too quickly, or depriving yourself of important nutrients in order to lose weight can all be very dangerous. While it may seem tempting to go fast and hard, it's usually much safer and better in the long term to lose weight more slowly and sustainably. Obese people may need to lose weight quickly to alleviate significant health problems or reduce high health risk factors which outweigh the risks of rapid weight loss.
VLCDs are very effective for losing weight fast, but are also very risky if you do not have ongoing medical supervision. If your doctor agrees that a VLCD is a good choice for you, we suggest taking your preferred VLCD program to them so that they can go through it and make sure all of your personal nutritional needs will be met.
About the author of this page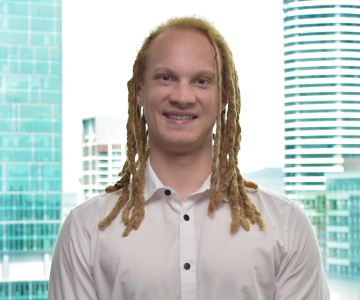 This report was written by Canstar Blue's Content Projects Lead, Dean Heckscher. He's our resident expert on all things automotive, health & fitness, streaming and more. Dean is also one of Canstar Blue's customer research report producers, helping to turn complicated subjects into easily-digestible information for our readers. He's passionate about helping consumers make better-informed purchase decisions on all manner of consumer goods and services.