OZtrail sets up camp at top of customer ratings
Camping is one of the great Aussie pastimes, and one of the best ways to get to know our amazing wild places – and even spot some wild animals. Whether you're camping on the beach, in the bush, or on the side of a mountain, you'll need  something to sleep in to let you enjoy the great outdoors without having the great outdoors enjoy you for dinner – a tent keeps the weather, bugs and wild animals out and away from you while you sleep in relative comfort. But which tents are best-equipped at keeping you safe and sound during these dark, cold nights in the middle of nowhere? To find out, we've surveyed hundreds of camping enthusiasts to seek their feedback on the tents they own and use.
In our inaugural tents review, OZtrail proved a clear winner, receiving top marks across all of our ratings categories, including strength & durability, portability, ease of use and value for money. Coleman rated four stars overall – but impressed with high scores in some specific areas – while Kmart scored just three stars overall, with a mixture of three and four stars across the board.
Half of survey respondents (51%) said that they checked online reviews before buying their tent, so we hope that ours can help you find the right tent for your next outdoor adventure. Finding the right tent for you can make the difference between a fun, comfortable adventure and a frustrating and unpleasant experience. In fact, almost half (47%) of survey respondents said that setting up tents has been a cause of stress among family and friends on camping trips. That's when having a tent that is easy to set up and take down really pays off.
On average, our respondents spent $403 on their new tent. Naturally, the price you can expect to pay will vary considerably, depending on the type and purpose of your preferred tent. That being said, 29% of respondents wished that they had spent more money on a better tent. You don't want your camping trip to be ruined by dodgy equipment so it's very much worth investing some time into making the best decision for you and your budget.
What kind of tent is best?
The most popular type of tent is that which uses flexible poles, with 67% of survey respondents having purchased this type. It's no surprise – those hollow flexible poles are quite light and fold up to be very compact. The next most popular is the more old-fashioned rigid pole design, with 20% of respondents having purchased one of these, while 7% purchased one of the newer and less common inflatable tents.
The type of tent you should choose depends greatly on intended purpose. For example, hiking tents designed to be easily carried and be used in windy locations or on uneven ground are quite different from pop-up tents designed for more casual campsite use. If you head in-store to buy, it may be worth discussing your options with the sales representative. Also consider the below findings from our survey which identified the main drivers of customer satisfaction when it comes to owning a tent.
How much time do you spend in your tent?
Once you've invested in a full suite of camping gear, it makes little sense to use it once then shove it in the back of the shed. How often does the average tent-owner embark on a great outdoors adventure? In our survey, we found that the vast majority go on a camping trip at least once per year, with a fairly even spread between those who go every three to four months (22%), every couple of months (23%), and at least once a year (30%). Just 9% are real fanatics who go camping at least once per month, while at the other end of the spectrum, 16% of tent-owners are only occasional campers. Maybe they should have bought a better tent?
Top Tent Brands
To help you decide which tent might be best for you, here is an overview of three brands in our review.
OZtrail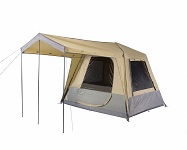 OZtrail has been producing outdoor equipment since the company was founded in Queensland back in the early 1990s. Now, OZtrail products are sold in more than 30 countries across the world. The OZtrail tent range includes dome tents, swags, ensuite tents, personal shelters, camper trailer tents and rigid pole tents – pretty much every kind of tent you might want to take on your next outdoor adventure. It goes without saying that you'll also find all the camping accessories you could possibly need at Oztrail.
In our inaugural tent ratings, OZtrail received an outstanding five stars for overall satisfaction and across every ratings category.
Coleman
An American brand, Coleman began as a producer of a new type of gasoline lamp that burned bright and steady, rather than the then standard kerosene lamps, which flickered and smoked. It's been over 100 years since Coleman was founded back in 1905, with tents joining the product range in 1962. Today the Coleman tent range covers dome tents, hiking tents and hybrid tents, with different shapes and sizes to suit different needs such as comfort, portability, and inclement weather.
Coleman tents received four stars for overall satisfaction, strength & durability and extra features, with an excellent five stars for portability, value for money and ease of set-up/pack-down.
Kmart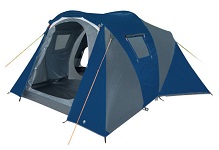 With tents starting from just $12, through to only $179 for a sprawling 10-man dome tent, Kmart seems to be the place to go for bargain camping gear. But how do Kmart tents stack up against the big camping brands? They've done reasonably well – while only achieving three stars for overall satisfaction, strength & durability and extra features, Kmart earned a solid four stars for portability, value for money and ease of set-up/pack-down. Kmart tents might be handy for occasional campers, but one suspects that regular campers will be looking for closely at the specialist brands above.
How to choose your tent
There are a number of questions you should ask yourself to make sure you choose the best tent for your needs.
How many people do I need to fit?
How will I transport the tent? Do I need to fit it in a backpack?
Do I need a large external roof to sit under?
Will I have multiple pairs of hands to set it up, or do I need a tent that one person alone can set up?
How easy is it to pack up regularly?
Will it stay safe on the type of terrain or in the type of weather (e.g. strong winds on an exposed mountainside) I wish to use it in?
Is it strong enough to last against heavy duty use and/or rough weather?
It's a good idea to visit a store where you can physically inspect display tents to get an accurate idea of what using the tent will be like. You don't want to get to the campsite only to find out that your tent is too small or is too hard to put up!
About the author of this page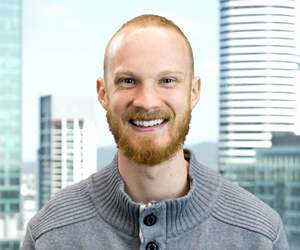 This report was written by Canstar Blue's Content Projects Lead, Dean Heckscher. He's our resident expert on all things automotive, health & fitness, streaming and more. Dean is also one of Canstar Blue's customer research report producers, helping to turn complicated subjects into easily-digestible information for our readers. He's passionate about helping consumers make better-informed purchase decisions on all manner of consumer goods and services.