Everyone knows the Product of Australia leaping kangaroo logo, but you may not be familiar with the latest additions to food labels.
The Federal Government has passed an agreement of states and territories to reform food labels, following confusion from Australian consumers. The Country of Origin labelling plan will begin appearing on packaging from the 1st of July. The system is designed to deliver more information and honesty to consumers about the contents of their products.
The old food labelling requirements
The Australian Made, Australian Grown kangaroo label was launched in 1986, and according to a 2012 Roy Morgan survey, 98% of Australians recognise the logo. Depending on the product, there are different criteria that must be fulfilled for it to be able to use the label. While there are variations between specific labels, all food and consumable products must have the most significant ingredients grown in Australia, as well as the majority of the manufacturing to be completed here in order to obtain the label. For the most part, this system makes it simple to identify any product that by and large, is made and grown in Australia.
However some products contain ingredients that may not always be locally available due to seasonality and scarcity, and may choose to substitute with foreign ingredients for a period of time. Even if the product was not mostly Australian for a short period of time, it could no longer hold the Australian Made, Australian Grown label.
What's changing?
The new Country of Origin labelling plan is an attempt to make it easier for consumers to identify where food is grown, and where it is manufactured. The Australian Consumer Affairs Ministry said in a press release that the purpose of the new labelling is to "give Australian consumers clearer and more meaningful information about the food they buy".
The new labelling system will continue to feature the classic green triangle and gold kangaroo logo, but will now also have a bar chart underneath. This will reflect how much of the product is made of Australian ingredients, and will be averaged to take into account any seasonal variations.
Barnaby Joyce hopes that "Australian consumers should be able to trust that claims such as 'Made in' and 'Product of' are applied consistently" following the roll-out of the more specific labelling. Minister for Small Business Kelly O'Dwyer MP stated that the reform will come with "additional funding of $4.2 million over five years to undertake compliance and enforcement activities in relation to the new requirements." This will be given to the Australian Competition and Consumer Commission (ACCC), which is Australia's national protector of consumer rights and chief industry regulators.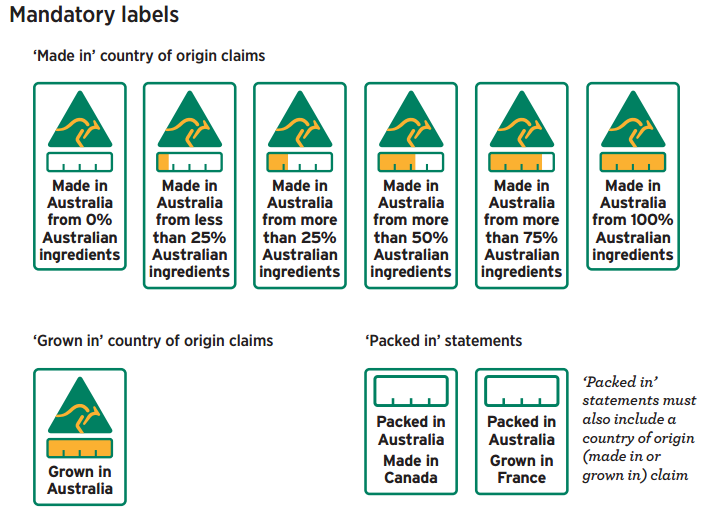 The response
The Australian National Farmers' Federation issued a media statement in support of the policy reform. NFF Chief Executive, Tony Mahar, said the reforms of country of original labelling were a result of "a long and open consultation process run by the Government to improve the policy surrounding what we know seems simple but is much more difficult to apply." He went on to suggest an education campaign to help consumers understand specific labelling over the next two years.
Consumer advocacy group CHOICE also welcomed the new change, spokesperson Tom Godfrey stated that it was "a big step towards ending the confusion around country of origin labelling." However, it was also pointed out by CHOCIE that while there are more details, it still does not provide information or clarify any details about where the imported ingredients are from. While information can be provided by companies on a voluntary basis, there is still no mandatory requirement to list the country of origin of imported ingredients.
Whether or not the new labelling is the most effective is yet to be seen, however most Australian consumers will welcome some clarification when it comes to whether products really are Australian made and Australian grown.