Hisense and LG are the cool kids on the block
If your refrigerator is on the fritz, or you've simply outgrown your own kitchen mate, it may be time for a new one. But where do you start? If you're looking for a new fridge, chances are it's been a while since you had to buy one, but fear not because Canstar Blue is here to guide you through everything you need to consider. With modern fridges usually costing more than $1,000, and expected to last for over a decade, you really should be doing your research. That's where our customer review and ratings come in, because we simply reflect the experiences of more than 1,000 consumers just like you.
If you're wondering which brand will be best for your home, let us tell you that LG has been a consistently strong performer in our customer reviews over the years, and has once again been rated five stars overall. But this time the South Korean master of kitchen appliances is joined at the top of the ratings table by Hisense, the Chinese powerhouse shaking up the Aussie market. The two brands couldn't be separated for overall customer satisfaction, and both achieved five-star reports in the same number of categories.
Buying a fridge: Things to consider
Buying a new fridge is a significant investment, and before settling on the right brand for your kitchen, you need to consider a few basics, such as:
The type of fridge you need
Any bonus features you want
A price point that suits your budget
So let's begin by explaining the different types of fridges available to buy in Australia. You may have always had a particular type, but you might just be convinced to switch. Keep in mind that the following all come with freezer compartments – it's really just a case of how much priority you give it. Here are the five main types of refrigerators:
Top mount: Top mount fridges are the most common type in Australia. They come with a single door fridge and smaller single door freezer compartment at the top.
Bottom mount: Bottom mount fridges are in reverse, with the smaller freezer compartment at the bottom of the unit instead. These models are not as widely seen as top mounted fridges, but they are still very popular.
Side by side: These fridge freezer units give more priority to the freezer, with side by side doors and two vertical compartments. Usually, the slightly smaller freezer compartment is on the left and the main fridge area is on the right.
French door: French door fridges are effectively bottom mount and French door fridges combined. They have a two-door fridge at the top and typically a single door freezer at the bottom. Some models have two doors at the bottom.
Single door: Breaking from the traditional fridge-freezer models, single door fridges simply dedicate all of their space to the fridge unit, with no freezer.
Other smaller types of fridges include your trusty beer or wine fridge, which we'll come to later.
Fridge features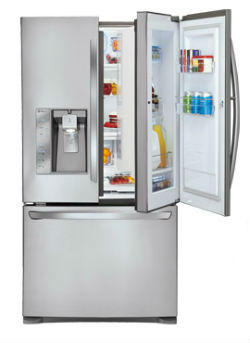 There's no doubt that manufacturers are becoming more adventurous with new fridges, driven by consumer demand for something that does a little more than just keep your food and drinks cold or frozen. LG has been one of the brands leading innovation in the fridge space, including its imaginative 'door-in-door' feature (pictured). Roughly half (49%) of respondents to our survey said they like to buy fridges with the latest technology and features, so what could you expect to find?
Ice makers: These have been around for a while now, but remain a popular 'basic' feature of high-end modern fridges.
Multi-zone climate and humidity control: Fruits and veggies are best kept at particular humidity and temperature levels, so why not have the ability to choose individual climate zones?
Flexible spacing: This one has also been around for a while now, but flexible spacing can be a godsend. Every family is different, so having the ability to swap out and change your shelf configuration is very handy.
'Smart' fridges: Some fridges are now Wi-Fi connected and have screens on the door so you can actually see what's on the inside. Take the Samsung 'Family Hub' fridge for example. It's connected to the internet and has a compatible smartphone app, so if you're sitting in the lounge room and hankering for a snack, you can see what you've got stocked before you even get up.
Energy efficiency
Energy efficiency largely comes down to how large your fridge is. Big fridges obviously use more power, but small fridges can be notoriously inefficient relative to their size. The following table is a guide to what you could expect to pay every year to run your fridge, depending on its size.
Seeing as fridges need to be run 24 hours a day, there is no real way around saving energy on an energy-inefficient fridge, bar sending your food to an early grave. The best and easiest option is to purchase an energy-efficient fridge in the first place. Aussie consumers certainly have this in mind, with eight out of ten respondents to our survey (81%) declaring energy-efficiency as an important purchase decision.
| Fridge size | Typical annual energy consumption (kWh) | Cost per year |
| --- | --- | --- |
| 100-199 litres | 358 | $118.14 |
| 200-299 litres | 410 | $135.30 |
| 300-399 litres | 490 | $161.70 |
| 400-499 litres | 495 | $163.35 |
| 500-599 litres | 738 | $243.54 |
| 600-699 litres | 1356 | $447.48 |
The good news is that by simply by looking at the energy star ratings sticker on the fridge, you can easily determine if the fridge is energy-efficient or not. It's a solid way to determine how much your fridge is going to cost you per year. The maximum energy star rating a standard fridge can have is six stars. Super-efficient fridges, however, can have between 7-10 stars, as shown by the 'crown' of stars on top of the label (pictured).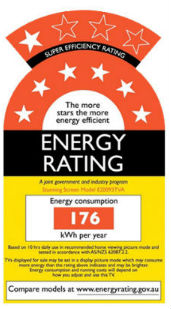 Of course, it takes a lot for a fridge to earn a maximum energy rating. Most fridges struggle to earn any more than five stars. One such fridge to earn 5 stars is the Electrolux 540L top-mount fridge. It's rated at 282kWh, and based on 33c/kWh, you can expect to pay around $93 to power the fridge for the year! That's over 2.5 times cheaper than the guidelines set out by the SA Government. Of course, energy costs are also dependent on how your electricity provider sets their electricity rates. Your mileage may vary, but this is indicative of how much you can save per year by purchasing an energy-efficient fridge. That said, expect to pay more for fridges with higher energy ratings.
Cheap fridges: What you need to know
Everyone wants their money to go the farthest, so a cheap fridge can be an alluring prospect. Our survey results indicate that the average spend on a fridge is $1,298. This is pretty much smack dab in the middle of the fridge price range. Fridges can range anywhere from about $400, all the way up to and over $3,000 for the latest and greatest. However, cheap fridges can be the silent killer in your kitchen as far as your electricity bill is concerned.
A fridge's cheap sticker price can be just the tip of the iceberg. Often, what you save in the initial outlay, you'll pay for in energy inefficiency over time. Take the Midea 207L top-mount fridge for example. It costs around $500 to buy, and you might think its fairly small capacity means lower electricity bills. Unfortunately you'd be mistaken because it consumes 380kWh and has a 2 star energy rating. This is right in line with the cost comparison above, but falls significantly behind compared to the Electrolux mentioned earlier, and it has less than half the capacity.
The yearly power bill could equate to around $125, which is nearly $30 more per year than the Electrolux.
To break it down even further, that equates to about 61c per litre of capacity for the Midea, versus a hint over 17c per litre for the Electrolux.
This doesn't count for increases in electricity prices, and over time an increase in electricity prices could increase the consumption gulf between cheap and energy-efficient fridges.
These are extreme examples, but it could help illustrate how you might be better off spending more on a higher capacity fridge that's also energy-efficient. Not to mention, you can also expect pricier fridges to come with higher quality fittings and fixtures. As is the case with most other household appliance, you often get what you paid for. The trick is to find a quality product at a reasonable price.
Bar fridges and second Fridges
A lot of Aussies have a second fridge or bar fridge for drinks when having a barbecue, and for good reason. In fact, the average number of fridges in a household – as our survey suggests – is 1.5. Bar fridges benefit from being small and convenient, and cheap fridges are also commonly used here. However, bar fridges can be costly to run – often with power figures more than 300kWh. So if you're wondering why your bill is starting to creep up, look to your bar fridge's energy rating and chances are it's contributing more than you think. Bar fridges are convenient, but their power use can be deceptive.
The leading fridge brands
In our customer ratings, both LG and Hisense took out the top spot with five stars each for overall satisfaction, but other brands also earned strong scores in specific areas. Let's dive in and see what each brand in these ratings can offer you around the average spend of $1,298.
LG
In this price bracket, Appliances Online has the 450L bottom-mount unit (GB-W450UPLX) available for just over $1,200, even though it retails for $1,849. With a 450 litre capacity, it's good for a smaller family. It's rated a decent 4.5 stars for energy efficiency, consuming 299 kWh a year. It contains an anti-fingerprint steel coating and contains four digital sensors inside, which also aid in energy-efficiency.
Hisense
Tying for top spot, Hisense also comes to the table with a strong offering. With a pretty hefty 593L capacity, the Hisense top-mount fridge (HR6TFF600SD) is also a beauty at a hair under $1,300 on Appliances Online, but retailing for about $1,400. It has a multi-function touch control panel and a multi airflow sensor, so keeping your food fresh has never been easier. With a 3 star energy rating, it consumes 508 kWh, which is pretty decent for such a large fridge.
Fisher & Paykel
From our cousins across the ditch, New Zealanders Fisher & Paykel have come out with a cool offering. In this price bracket, Fisher & Paykel has a 447L top-mount fridge (E440TLX3), retailing for just under $2,000, but can be found on Appliances Online for just over $1,200. It's a solid mid-sized unit that boasts an active smart system, a crisper that's humidity-controlled and a versatile shelving system. Rated 2.5 stars in the energy stakes, it consumes 480 kWh.
Kelvinator
Kelvinator came to the game with a very strong contender. In this price bracket, Kelvinator offers up a massive 620L French door fridge (KSE6200WA), which retails for just under $1,500, but can be found for just under $1,200. Its large capacity makes it suitable for a larger family, and for those wanting the convenience of French doors. It has the handy feature of stacked crispers, which means storing more veggies and fruit is a snap. Rated at 2.5 stars for energy-efficiency it consumes 610 kWh, which seems hefty but it's still half of what the SA Government guide has suggested for a fridge of the same size.
Samsung
Korean giant Samsung has come to play with the 471L top-mount fridge (SR467BTC). It retails for about $1,700, but can be found for just under $1,300, and it's finished in an alluring black metallic. At 471L, it's suited to a mid-sized household, and its versatile shelving system makes it easy to configure to your tastes. Rated at a fairly decent 3.5 stars energy rating, it consumes 365kWh – 1kWh a day, which is certainly handy for easy calculations!
Westinghouse
The age-old Pennsylvanian fridge brand, Westinghouse in this price bracket has a strong offering in the shape of the 540L top-mount fridge (WTB5400SAR). Retailing for over $1,500, it can be found for under $1,300. Its large capacity means that it's versatile enough for most family needs, and its stainless steel finish makes it fit in nicely with the modern kitchen. Rated 3.5 stars for energy-efficiency, it consumes 418 kWh, which is well under the SA Government guidelines.
Electrolux
Swedish brand Electrolux has rounded out the list with three stars for overall customer satisfaction, but that doesn't mean it doesn't have anything to offer. A little more expensive than the competition, Electrolux has come to the game with a 520L top-mount fridge (ETM5200SDL). Retailing for over $2,300, it can be found for under $1,500. It's a solid fridge, and the 520L capacity means it's big enough for the whole family. It's rated 4 stars in energy-efficiency and consumes a low 356 kWh a year, which is outstanding for such a large fridge.
Keep your cool
There are many things to consider when buying a new fridge, with energy-efficiency high on the agenda for most. Not only is choosing an energy-efficiency model cost-effective in the long run, it's also kinder to the environment. Given that fridges need to be run 24 hours a day, it makes sense to choose the most energy-efficient model with your size and price requirements. You'll also need to consider:
The features and what type of fridge you want – it's no use spending money on a fridge you hate. Also, cheap fridges can be deceptive in their energy use, so beware.
Whether you need that second fridge or bar fridge – their costs can quickly add up.
Using these three methods can hopefully send you on the right track to buying the best fridge for you and your family. We hope you find our review helpful in your decision-making process.