TPG has fast become one of the premier home internet service providers in Australia, with more two million broadband customers across the country. Behind Telstra, it's become one of Australia's largest telcos, thanks to its acquisition of iiNet and its subsidiaries (including Internode), and more recently, its merger with Vodafone.
In the NBN space, TPG's size does not mean it has lost touch with consumers, and the company still delivers competitive plans across several speed tiers. Review TPG's NBN plans and prices below, and see how it stacks up to the competition.
TPG NBN Plans
TPG offers decent flexibility: customers can select from either a no-contract monthly plan, or a six-month commitment. Keep in mind that TPG's six-month plan waives all setup fees, but month-to-month customers will need to pay a $99.95 upfront setup fee.
The below table features a selection of published TPG NBN plans from Canstar Blue's database, listed in order of their cost from lowest to highest. Use our comparison tool to see plans from a wider range of providers. These are products with links to a referral partner.
What does TPG offer?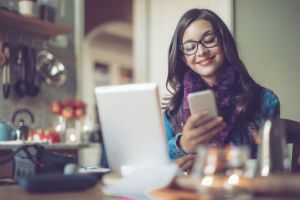 TPG has quite a few NBN plans across four different speed tiers – NBN 12, NBN 25, NBN 50, and NBN 100 –  with unlimited data starting at $59.99 per month.
Unlimited Data: While TPG's entry-level Basic Evening Speed plans do come with 10GB and 100GB options, unlimited data is available on all speed tiers.
NBN Speeds: Basic Evening Speed (typical evening speed: 11.2Mbps), Standard Evening Speed (typical evening speed: 22.3Mbps) Standard Plus Evening Speed (typical evening speed: 46Mbps) and Premium Evening Speed (typical evening speed: 80.1Mbps) NBN plans are available.
Technology Types: TPG offers NBN across Fibre to the Premises, Fibre to the Node, Fibre to the Building, Fibre to the Curb, and Hybrid Fibre Coaxial connections.
Modems: A WiFi modem router is included on all TPG NBN plans.
Call Packs: All NBN plans available from TPG include a home phone line and pay-as-you-go calling, with Bundle plans also featuring unlimited standard local, national, and Australian mobile calls. Talk packs are also available from $10 per month.
TPG NBN speeds: at a glance
TPG has made moves to pack more in for a cheaper price, with an upgrade to NBN 50 speed from NBN 25 on $5 per month extra. Bundled home phone options are available, and all plans include a pre-configured WiFi modem.
While all speed tiers offer unlimited data, customers can also opt for capped gigabytes on Basic (NBN 12) plans: 10GB of data for $29.99 per month, or 100GB for $49.99 per month. However, as unlimited data is just $59.99 monthly, most customers are likely to pay the extra $10, and avoid speeds being drastically slowed once the included 100GB has been exceeded.
Below are the typical evening speeds TPG lists for the three available NBN speed tiers on fixed line networks (FttP, FttN, FttB, FttC, and HFC).
| Speed Name | NBN Tier |  Typical evening speed |
| --- | --- | --- |
| Basic Evening Speed | NBN 12 | 11.2Mbps |
| Standard Evening Speed | NBN 25 | 22.3Mbps |
| Standard Plus Evening Speed | NBN 50 | 46Mbps |
| Premium Evening Speed | NBN 100 | 80.1Mbps |
Speeds correct as of November 2020
TPG Call Rates & Packs
If you're planning to pay for your home phone on a pay-as-you-go basis, TPG's rates are as follows.
Local and national calls to landlines are from 25c per minute (plus 39c flagfall), while calls to Australian mobiles are priced from 39c per minute and 39c flagfall. Calls to 13/1300 are 30c each.
Calling packs for pay-as-you-go plans are available from an extra $10 per month, and include unlimited local, standard national, and national mobile calls.
How does TPG NBN compare to other providers?
TPG competes very well in a sea of low-cost providers. Other providers offering similar plans include:
Generally, entry level prices for Basic NBN speeds and unlimited data are around $50-$60 per month, with exceptions during limited-time promotions and deals. Other than your required speed and the amount of data you need, you'll also have to consider contracts, setup fees, cancellation fees, home phone packs, entertainment options and more when it comes to working out a budget-friendly NBN option.
Is a TPG NBN plan worth the money?
TPG's NBN plans compare extremely well to its main rivals – Optus and Telstra – but do tend to be around $5 more expensive per month than the absolute cheapest of the cheap. However, TPG still has some of the most competitive plans out there with plan prices sitting in the more mid-range, all backed with the confidence that comes from choosing a bigger company.
As for speeds and service, TPG does regularly come out on top of the ACCC's NBN speed reports, although there has been some competition from Optus, as it dethroned TPG as the best-performing of the tested telcos in the November 2019 and February 2020 ratings. However, TPG is still found to be performing well, ranking in second place after Optus in the most recent September 2020 report.
As with all internet service providers, it pays to also have a look at modem costs and set-up fees, as well as potential early termination charges if you decide to cancel your contract. You'll also want to assess which NBN speed tier works best for your household, and look at the typical evening speed of your intended plan for the best indication of how fast your connection will be.