TPG has fast become one of the premier internet service providers (ISPs) in Australia, with more than two million internet customers across the country. Behind Telstra, it is the second-largest telco in the country thanks to its acquisition of iiNet and its subsidiaries. In the NBN space, TPG's size does not mean it has lost touch with consumers, delivering competitive plans across three speed tiers. Review the plans below and see how they stack up to the NBN competition.
TPG NBN Plans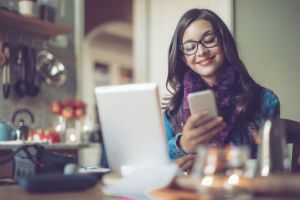 TPG has seven NBN plans across three different speed tiers – NBN 12, 50 and 100 – consisting of:
NBN 12 (11.1Mbps evening speed):

$29.99 for 10GB data
$49.99 for 100GB data (50GB peak, 50GB off peak) plus home phone calls
$59.99 for unlimited data
$69.99 for unlimited data plus home phone calls

NBN 50 (42.8Mbps evening speed):

$69.99 for unlimited data

NBN 100 (66.2Mbps evening speed):

$89.99 for unlimited data
$109.99 for unlimited data plus home phone calls + international minutes
TPG has made moves to pack more in for a cheaper price, cutting out NBN 25 plans in favour of NBN 50 plans at no additional charge. Generally speaking, speed tier jumps are around $10-$20 extra per month – as are home phone calling packs. The premium NBN 100 plan for around $110 comes with unlimited international calls to 11 countries plus 500 minutes to India, packing a lot in for expats or phone fiends.
Wi-Fi modems are included on all plans – $0 set-up for 18 month contracts and $99.95 set-up for month-to-month contracts.
It should also be noted that evening speeds denote times between 7pm-11pm when connections likely experience a major slowdown due to congestion.
Overall, TPG packs a fair bit in, and unless you're on an extreme budget or you know that you're a light user, unlimited data costs not too much more than plans with data caps. Here's a selection of the more popular TPG NBN plans:
How does TPG NBN compare to other providers?
With the revision of its plans to have NBN 50 at only around $10 more expensive than NBN 12, TPG competes very well in a sea of low-cost providers. See how it stacks up below.
TPG NBN Compared to Optus & Telstra
TPG compares very well against its main rivals Optus and Telstra. Both TPG and Optus have unlimited data starting at about $60, while Telstra comes in at a hair under $100 a month. It's not until the faster speed tiers that TPG's value may look more enticing as the others tend to be more expensive.
However, both Optus and Telstra have strong entertainment bundles, with Fetch TV and Foxtel Now bundles on dearer plans. This is where TPG may struggle to keep pace, as it tends to offer broadband and home phone calls but not much else.
TPG NBN 12 Plans Compared
For unlimited data, TPG is very competitive at just under $60 for the month. However, certain other providers may be about $10 or so cheaper. Over 12 months or longer this can add up. Cheap providers include Amaysim, Barefoot Telecom and Mate Communicate.
However, at this low price, cheap may not necessarily equal good value. Keep an eye out for set-up fees, modem fees and the like. Also pay attention to how providers rate their speeds; 11.1Mbps with TPG for its evening speed is quite admirable.
TPG NBN 50 Plans Compared
Since the NBN reduced its wholesale charges of the NBN 50 speed tier, a lot of NBN providers have lowered retail costs overall. TPG is leading the charge here with competitive plans to be found under $70 a month. This is pretty hard to beat, but once again Barefoot and Mate beat it out by $10 or so, while SpinTel is right up there as well.
TPG NBN 100 Plans Compared
NBN 100 represents the pinnacle of broadband speeds available to most Australians and TPG has some pretty competitive plans. However, you will have to weigh up for yourself if that sub-70Mbps evening speed is worth writing home about.
$85 is about the minimum mainstream price for NBN 100 with unlimited data. However, Buzz Telco manages to sell a plan for $60.
Other providers worth keeping an eye out for are MyRepublic, Barefoot and Mate Communicate once again. If you're paying over $80 for a plan, it also pays to keep an eye out for set-up costs, modem fees and the like; a first month's plan's cost can easily blow out to beyond $200!
Is a TPG NBN plan worth the money?
TPG's NBN plans compare extremely well to its main rivals – Optus and Telstra – but do tend to be about $10 more expensive per month than the cheapest of the cheap. However, TPG still has some of the most competitive plans out there, all backed with the confidence with choosing a big company.
At under $70 for NBN 50 and under $90 for NBN 100, TPG is one of the more competitive providers at the faster speed tiers.
As with all providers, it pays to also have a look at modem costs and set-up fees. While TPG's month to month plans come with a $99.95 fee, this takes care of the modem. Other providers may 'double dip' – charging both for set-up and a modem. In any case, it pays to look at more than just the monthly price. TPG is one of the biggest providers in Australia and remains one of the most competitive. Still, it doesn't hurt to look at other providers.