Virtual Reality, also known as VR, has been slowly taking over the gaming industry in recent years as the advancing technology allows gamers to immerse themselves in their favourite games like never before.
With plenty of brands developing and releasing their take on VR goggles, headsets and consoles, people around the world are eating up this latest trend in the tech market, but what exactly is available for VR gamers? Find out in this quick Canstar Blue guide.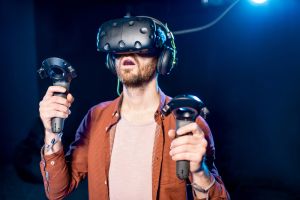 What is VR Gaming?
VR gaming is the application of an artificial 3D environment to a game, traditionally done in first-person perspective. VR can be controlled in-game with various methods, including motion capture, controllers or keyboard and mouse, with the majority of VR games using headsets or goggles to present the environment to the user, allowing them to move around and explore the artificial world of their choosing.
Popular brands of VR products include Oculus, HTC, Pimax and more as blockbuster console brands, such as PlayStation, have also looked to jump on board with the technology. Sony has released a VR bundle kit for PlayStation 4, with plans to make the upcoming PlayStation 5 console VR compatible as well. Not to be outdone, Microsoft has hinted that the upcoming Xbox Series X will feature more VR gaming options for users.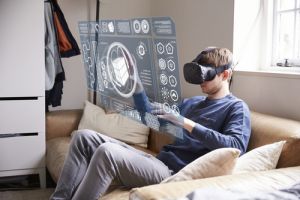 What consoles offer VR gaming?
While PlayStation is the only console manufacturer to currently offer its own official product on VR gaming, VR headsets can be utilised on the Xbox One as well, as long as you have a PC. The two most popular VR gaming headsets are the Oculus Rift and the HTC Vive, as they both offer top-of-the-line VR experiences, alongside various features for seamless and immersive gaming fun.
Here are some of the more popular VR headsets available on the market:
Oculus Rift
Oculus Quest
HTC Vive
Sony PlayStation VR
Pimax 5K
HP Reverb
Samsung Gear
Lenovo Mirage
What are the best games on VR?
Since its birth a few years ago, VR gaming has been host to a number of stellar titles, as developers are taking advantage of the evolving tech to create many immersive and fun 3D environments for gamers to explore. With genres ranging from racing to adventure, as well as family-friendly games, there's plenty to look out for.
Here are some VR games to keep an eye out for:
Beat Saber
Arizona Sunshine
Tetris Effect
Resident Evil 7: Biohazard
Pistol Whip
The Elder Scrolls V
Batman: Arkham VR
Space Pirate Trainer
Everybody's Golf VR
PlayStation VR Worlds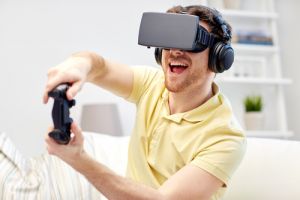 How do I play VR on my Xbox One?
To stream VR via your Xbox One console, you will need an Oculus Rift and a PC with at least Windows 10+. With Microsoft rolling out the Xbox One streaming app for Oculus Rift, owners of the headset have been gifted with being able to play their favourite Xbox One games in virtual reality. If you're looking to explore some VR environments on your Xbox One, read on to find out how to set up your Xbox One to be VR compatible.
Go to 'Settings' on your Xbox One and select 'Preferences' to make sure 'Allow game streaming to other devices' is switched on.
Using a physical USB to micro-USB cable, connect your Xbox One controller to your Windows 10+ PC.
Hop onto the Oculus Store and install the Xbox One Streaming application.
Once the app has downloaded, initiate Xbox One Streaming. The app will then start searching for an Xbox One on your chosen network.
Once the search is complete, a list of 'available devices' will be present. Carefully choose your Xbox One console from this list.
Once you have connected your Xbox One to the app, the console will start to automatically stream to your Oculus Rift.
What's the deal with VR Gaming?
As virtual reality continues to evolve and adapt to the gaming industry, more brands and products are expected to flood the market to help gamers fully experience what the gaming world has to offer. While you can still enjoy a game without experiencing it in virtual reality, VR does certainly give you another avenue to experience your favourite games. However, with plenty of brands available, it's best to look into all of your options beforehand, as well as the compatibility with each gaming console, to find the best fit for your gaming style and preferences.
Internet Plans for Gamers
The following table shows a selection of published NBN 50 plans on Canstar Blue's database, listed in order of monthly cost, from lowest to highest, and then by alphabetical order. Use our comparison tool to see plans from a range of other providers. This is a selection of products with links to referral partners.

Photo credits:  Mark Nazh/shutterstock.com, RossHelen/shutterstock.com, Monkey Business Images/shutterstock.com, Syda Productions/shutterstock.com