The NBN can be a crowded space when it comes to providers, and not all NBN providers are created equal. While two providers may offer the same speed tiers, there are often some big differences between the two when it comes to price, extras, real-world speeds and more.
Two of Australia's most popular NBN providers, Aussie Broadband and MyRepublic, have a lot in common, but there are also some key differences. Both providers offer a range of plans on different NBN speeds, along with additional plan types to suit specific internet users, such as gamers. In this guide we'll take a look at the plans, prices and other offers available from each telco to help you decide if Aussie Broadband or MyRepublic is the right NBN provider for you.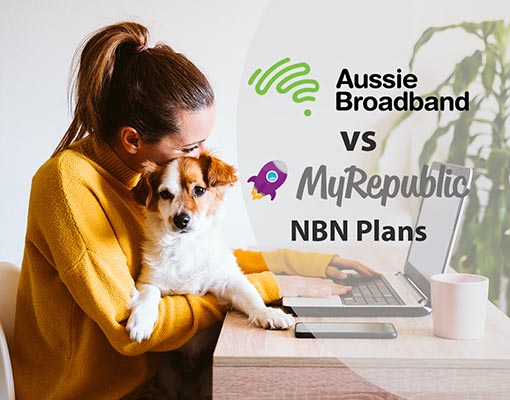 Jump to:
Aussie Broadband vs MyRepublic: quick comparison
Both providers offer a range of plans on different NBN speed tiers, including NBN 12, NBN 25, NBN 50 and NBN 100. For NBN 100, it's primarily the 100/20 speed tier that is offered by both providers — this means that while the download speed is still 100Mbps, you'll have 20Mbps upload speeds, rather than the 40Mbps upload on the 100/40 speed.
Aussie Broadband offers a couple of options for your NBN plans. You can either pick from its selection of month-to-month plans with optional modem and home phone on NBN 12, NBN 50 and NBN 100/20 speed tiers, or build your own plan with the option to choose your speed tier, data inclusions and whether or not you need a modem, home phone or Fetch added on.
MyRepublic offers the same three plans as either month-to-month plans with the option to add on or BYO modem, or as a 12-month plan with an included modem with an upfront $1 modem rental fee. These plans are on the NBN 25, 50 and 100/20 speed tiers.
As for price, generally MyRepublic is around $10 cheaper for some plans, but you'll find the NBN 100 plans are about the same price. The following table includes a selection of Aussie Broadband and MyRepublic NBN plans on Canstar Blue's database, listed in order of standard monthly cost, from the lowest to highest, and then by alphabetical order of provider. Use our comparison tool to see plans from a range of other providers. This is a selection of products with links to a referral partner.
Aussie Broadband NBN plans
Aussie Broadband is an Australian owned and operated NBN provider offering a range of internet plans to suit different needs. If you prefer the convenience of a pre-built plan, you'll have four options with Aussie Broadband, all on a month-to-month basis. Starting with NBN 12 speeds, the Basic plan is $59 per month, but if you want more speed, the 'Everyday' plan with NBN 50 speeds is $79 per month.
For faster speeds, there are two plans available with NBN 100/20 — the 'Family' plan is $89 per month, while the 'Family Entertainment' plan is $99 per month and includes a Fetch Mini set top box, so you can easily stream video to your TV and enjoy a selection of shows and movies. All of these plans have the option to add on a modem and home phone package.
One big draw card for Aussie Broadband is the option to customise your own NBN plan. Not many providers offer this, especially the number of speeds you can choose from. Building your own plan is simple: just select your speed tier from the seven options, choose from 100GB, 500GB or unlimited data (some speeds only include unlimited data) and then add on a modem or phone plan package if you need.
The seven NBN speeds available on the 'Build your own' plan option from Aussie Broadband are:
NBN 12/1
NBN 25/5
NBN 50/20
NBN 100/20
NBN 100/40
NBN 250/25
Home Ultrafast (1000Mbps download)
Plan prices for a 'Build your own' plan depend on your choice of inclusions, such as speed and data. The cheapest option is NBN 12 with unlimited data for $59 per month — the same as the 'Basic' plan — while the most expensive plan is the Home Ultrafast with unlimited data for $149 per month. Customisable data is only available on NBN 25, NBN 50, NBN 100/20 and NBN 100/40 plans. If you're interested in the ultra-fast NBN speed options or other internet plans, we'll go into more detail further down the page.
As for modems, you'll be able to choose from three devices: a Netcomm all-in-one modem for $149 upfront, a Google Nest router (1 pack) for $249 upfront, or a Google Nest (2 pack) with Nest point for $369 upfront.
If you want to add on a home phone package, pay-as-you-go calls come as standard for $0. For an additional $10 per month, you can get included local and national calls, with calls to mobile charged 22c per minute and international calls from 5c per minute. Going up to the $20 per month package includes calls to local and national numbers and mobiles, with international calls charged from 5c a minute.
Let's take a look at some of the NBN plans available from Aussie Broadband.
MyRepublic NBN plans
MyRepublic is an internet provider based in Singapore, which entered the Australian market in 2016. MyRepublic is much more simplified when it comes to NBN plans, however you can still customise to a certain extent. For its NBN plans, there are three plans to choose from across three speed tiers, with your choice between a month-to-month plan or a 12-month contract. Choosing a 12-month plan gives you the option of adding on a rental modem for a $1 upfront payment fee, but if you choose to cancel before the 12 months, you will have to pay an early termination fee. The month-to-month plan is BYO modem by default, but if you want a modem, you'll need to pay $69 upfront.
Whether you choose a month-to-month or 12-month plan, you'll pay the same price each month. For NBN 25 speeds, you'll pay $59 per month, up to NBN 50 you'll pay $69 per month, while for NBN 100/20 speeds, you'll pay $89 per month. MyRepublic also offers high-speed and Gamer plans, which we'll look at further down the page.
Once you've selected your plan, you'll have the option to add on a phone pack if you want more than the $0 included pay-as-you-go pack. For $10 additional per month, you'll get included calls to Australian landlines and mobiles with low rates for international calls. Going up to $20 additional per month will get you included national landline and mobile calls, plus included international calls to 40 international landline destinations and 30 international mobile destinations.
MyRepublic also offers some additional add-ons — the Gamer Add-On for an additional $10 per month with extras for optimised performance, and a Static IP Add-On for an additional $8 with extras to improve home connectivity, especially for a home office.
Let's take a look at what MyRepublic's NBN plans have to offer.
Aussie Broadband vs MyRepublic: NBN plans for gamers
One big similarity between Aussie Broadband and MyRepublic is that both providers have optimised internet performance for gamers. While MyRepublic has specific plans for gamers (also available as an optional add-on), Aussie Broadband has optimised its NBN network to provide a quality connection for online gaming enthusiasts.
Aussie Broadband offers real-time data about the network and ping times, and makes it easy to check your CVC (Connectivity Virtual Circuits) capacity. In addition, Aussie Broadband has established international transit links with major gaming regions in the USA and South East Asia, to connect to more direct routes to minimise latency. There is also an improved connection for Steam and Twitch to minimise slow downloads and improve live-streaming. For access to this optimised gaming performance, simply choose the appropriate plan and you're set to go — NBN 50, NBN 100 (both 100/20 and 100/40) and NBN 250 are the recommended plans for gamers.
MyRepublic does things a bit differently. There are four Gamer Pro plans available on NBN 50, NBN 100/20, NBN 100/40 and NBN 250/25 speeds. These are offered as month-to-month plans with the option to add on a modem, and 12-month contracts with the $1 modem rental included. MyRepublic optimises its network with traffic prioritisation, latency monitoring, connections to the fastest route available and Static IPv4 address. There is also dedicated customer support for gamers, with a specialised form to contact MyRepublic's engineers if gameplay is not optimised, along with customised support on MyRepublic's own Discord channel. There are also other perks and extras available from time to time, such as included gaming accessories, so keep an eye out to see what's on offer.
Fast-speed NBN plans
Want super fast NBN? Even faster than NBN 100 speeds? The good news is that both Aussie Broadband and MyRepublic offer plans with access to the NBN's super fast speed tiers — NBN 250 (Home Superfast) and NBN 1000 (Home Ultrafast) speeds. While MyRepublic only offers NBN 250, Aussie Broadband offers both NBN 250 and NBN 1000. These fast-speed plans are great if you want the best at-home internet experience available — great for large households with five or more users online at the same time, especially for simultaneous 4K or 8K video streaming, fast game downloads and pretty much any heavy internet use.
This might sound too good to be true, but there are a couple catches. Firstly, these plans aren't cheap — you're looking at over $100 per month, with Aussie Broadband's NBN 1000 plan coming in at $149.
Another downside is that you might not even have access to these plans at your home. These speed tiers are generally only available in select locations and can only be accessed with certain NBN connection types, specifically FTTP (Fibre to the Premises) and some HFC (Hybrid Fibre Coaxial) connections. To determine your eligibility, you'll need to check what your connection type is, and then search your address on the website of your preferred provider, to see if these speeds are available at your home.
Aussie Broadband and MyRepublic NBN speeds compared
If you're still torn between these two providers, you might want to consider the NBN speed performance of both providers to help you in your decision. While providers offer plans on the same speed tier, overall speed performance can vary greatly between providers. There are a couple of ways that NBN speed performance can be measured.
Typical Evening Speeds
Providers will generally list a 'Typical Evening Speed' with NBN plans to give an indication of the speed that customers can  expect during that heavy traffic time between 7pm and 11pm. You'll find that these speeds will differ from provider to provider, and the higher the listed evening speed, the better you can expect the overall performance of that provider to be. Keep in mind that there are many reasons why your connection might not reach those same typical evening speeds, such as your home location, connection type, etc.
Typical Evening Speeds for Aussie Broadband (correct as of June 2020):
NBN 12 — 11Mbps Typical Evening Speed
NBN 50 — 43Mbps Typical Evening Speed
NBN 100/20 — 86Mbps Typical Evening Speed
Typical Evening Speeds for MyRepublic (correct as of June 2020):
NBN 25 — 15Mbps Typical Evening Speed
NBN 50 — 43Mbps Typical Evening Speed
NBN 100/20 — 83Mbps Typical Evening Speed
ACCC NBN Speed Report
The Australian Competition and Consumer Commission (ACCC) releases a quarterly report with NBN speeds experienced across the country from a range of NBN providers. The Measuring Broadband Australia report compiles data from over 250,000 speed tests of nine NBN providers, and reports the average performance during peak evening times of 7pm to 11pm.
These results are listed as a percentage of the connection's maximum attainable speed, so providers are ranked by percentage rather than speed. A higher percentage indicates how consistently fast the plans were during the time the speeds were measured. This test gives a good indication on how reliable you might find the NBN speeds to be from each provider.
Both Aussie Broadband and MyRepublic are included, however neither provider has topped the most recent speed reports. Generally in these reports you might see some providers drop or improve each quarter. Here are the Aussie Broadband and MyRepublic results from the May 2020 report:
Aussie Broadband: 86.1%
MyRepublic: 82.9%
No provider ever reaches 100%, and generally providers are somewhere between 80%-90%. In this same report, Optus was the best performer with 89.6%, followed by Exetel at 87.0% and TPG at 86.7%. Aussie Broadband came in fourth, while MyRepublic was second last, with Dodo/iPrimus trailing at the bottom with 82.5%.
Keep in mind that results in these reports can change significantly from quarter to quarter, so while it's a good indication on how each provider is performing, it shouldn't be the deciding factor when comparing NBN plans. There are many factors that can determine how the NBN connection in your home will perform, so that while some households could have a great speed experience from one provider, it doesn't mean you'll also experience the same performance.
What about other internet plans?
MyRepublic focuses on NBN plans only, with its Gamer Plans a real draw card. If you're a renter, MyRepublic recommends its Flexi month-to-month plans with the option to add on a modem.
Aussie Broadband on the other hand offers a small selection of mobile broadband plans (in addition to a range of postpaid phone plans), along with a selection of Seniors NBN plans with home phone packages included. The Seniors NBN plans are available at three different price points. For $49 per month, you'll get NBN 12 speeds with unlimited data and pay as you go home phone rates. Up to $59 per month, you'll get NBN 12 speeds with unlimited data and included local and national calls (excluding calls to Australian mobile numbers) from your landline. For included calls to mobile numbers (in addition to local and national calls), you'll pay $64 per month with NBN 12 and unlimited data. These plans are available to customers over 60.
As for mobile broadband plans, Aussie Broadband's plans start at $10 with 1GB of data and go up to $65 for 60GB of data, charged monthly. If you need more data, 1GB of extra data will cost you an additional $10 on the $10 plan, however on the $60 plan, 1GB extra data will cost $1.08. If you're a heavy internet user, you might find that these mobile broadband plans don't have enough data included to suit your needs.
What do customers think of Aussie Broadband and MyRepublic?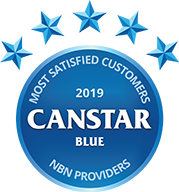 Curious about what customers think of Aussie Broadband and MyRepublic? Each year at Canstar Blue, we survey Aussies across the country (in this case, over 2,500 people) to find out what they think of their NBN provider when it comes to speed, customer service, value for money and more.
These results are published as part of our award for Most Satisfied Customers NBN Providers. In 2019, Australians rated Aussie Broadband as the best NBN Provider, achieving five stars across speed and reliability, customer service, ease of setup and overall customer satisfaction. It scored four stars for value for money and bill and cost clarity.
While MyRepublic featured further down the list, it did beat the likes of Telstra and Optus. MyRepublic scored four stars for value for money, bill and cost clarity, ease of setup and overall customer satisfaction. However, it achieved three stars for speed and reliability along with customer service.
Keep in mind that everyone will have a different NBN experience. While our Customer Satisfaction ratings are a great indicator of the general experience that customers have had from their provider, when it comes to certain aspects, such as speed and reliability, what one person experiences may be different to what another person experiences.
Aussie Broadband vs MyRepublic: Who wins?
There is a lot to consider when comparing plans between Aussie Broadband and MyRepublic. If price is the most important factor to you, you'll most likely find that MyRepublic's cheaper NBN plans are the better option. Considering Aussie Broadband does generally cost around $10 more (with the exception of the NBN 100/20 plans), choosing a plan with MyRepublic can save you some money depending on the plan you choose.
If you or anyone in your household is into online gaming, MyRepublic might just have an edge again. While Aussie Broadband has optimised its network to create a great online gaming experience, the Gamer plans from MyRepublic might have a little more on offer to entice you over.
Aussie Broadband does have an edge over MyRepublic in other aspects. Between the two, it's the only one to offer NBN 12, not to mention specific cheaper NBN plans for seniors. The ability to customise your NBN plan from speed tier to data inclusion is a rather unique offering for Aussie Broadband, giving you the option to truly tailor a plan to suit your needs and budget. The inclusion of two of the super-fast NBN speeds is also another edge that Aussie Broadband has, with MyRepublic only offering one of these fast speed plans.
In terms of performance, Aussie Broadband appears to come out on top across a couple of different areas. It records a better performance on the ACCC speed report, so you might expect a more consistent experience with Aussie Broadband. Customers have also rated Aussie Broadband very highly in our 2019 NBN Providers Most Satisfied Customers award across a range of categories, including customer service.
So, with all of this considered, it is a really close battle between Aussie Broadband and MyRepublic. Choosing between these two providers might come down to what you value more in a NBN plan — cheaper deals, customer service, more choice, etc. When you're comparing NBN plans, whether its between these two providers or a wider range of NBN providers, it's best to have a clear idea of what you want from your NBN plan and telco.
Whatever your criteria is for choosing a NBN plan, both Aussie Broadband and MyRepublic have a great selection of NBN plans to suit a range of needs. If neither of these providers seem to hit the mark for you, there are plenty of other NBN providers around. Use our NBN comparison tool to compare a range of NBN providers and plans across price, speed, contract lengths and more, to help you find the best NBN plan for your needs.

Photo credit: eva_blanco/shutterstock.com, GaudiLab/shutterstock.com, Syda Productions/shutterstock.com