Are you considering solar but aren't sure where to start? You're not alone. Most Australians don't have much experience when it comes to solar, so it's natural that you might have a million and one questions if you're considering it for your home. Canstar Blue recently surveyed hundreds of customers who have installed solar, to ask about their purchase and installation experiences. We've put together this article based on the findings to give you some idea of what to expect if you're thinking about installing solar.
What solar systems are Australians buying?
You shouldn't make a big purchase like solar without doing your homework first – that's probably why you've found this website. However, not everyone makes the effort. Canstar Blue's survey found that 69% of solar customers researched solar panels and inverters prior to engaging a solar installer. Solar panel systems come in a range of sizes, with the most popular identified in our survey being medium-sized 3kW systems (20% of respondents) and large 5kW systems (21% of respondents).
About one in five survey respondents (19%) also said they have installed a solar storage battery, such as the Tesla Powerwall. Solar batteries are particularly popular in NSW, with 36% of respondents claiming to have one installed.
Where are we buying solar panels from?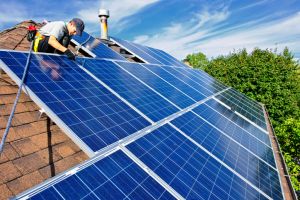 There are plenty of solar suppliers and installers out there, so it's important to do your research into them before committing. Fortunately, it seems most of us do. Canstar Blue's survey found two-thirds of solar customers compared quotes from different solar installers before settling on one. This research seems to pay off for most customers, with 71% of respondents saying they'd recommend their installer.
One in four solar customers (26%) purchased and installed their solar panels through their electricity retailer, such as AGL or Origin Energy. The other 74% presumably opted for a small business installer or certified local electrician.
How do we pay for solar?
Cost is the biggest factor for nearly half (46%) of those we surveyed when it comes to solar. Although solar panels can potentially save you money long-term, there will be a major upfront cost. We found the average household paid around $5,500 for their installation. Queenslanders were the biggest spenders with an average of $6,400.
Don't panic if you don't have a few grand spare to pay for solar. There are plenty of finance options available that seem to be popular with Aussies. 32% of survey respondents who installed solar said they purchased it on a $0 upfront deal, opting instead to make later repayments.
Our reaction to solar
Now for the question on everyone's mind… Is solar worth it? Well according to most respondents – yes. A total of 86% of customers we surveyed think installing solar has proven to be a good financial decision. Keep in mind, however, that the benefits will depend somewhat on your location. Customers in sunny Queensland were the most pleased, with 95% saying solar was a good investment. This number slips a little to 80% and 81% when we asked customers in New South Wales and Victoria respectively. This is despite the fact that customers in these states usually receive larger feed in tariffs.
Finding a good solar provider
After you have installed solar, the next step is to find an electricity provider that will help maximise the return on your investment. Some retailers will go above and beyond to support their solar customers, offering special deals and high-feed in tariffs to help customers slash their bills. Check out the link below to see how Australian solar customers rate their energy providers.