In the market for faster broadband speeds, better value for money, or more reliable service? Compare some of the best internet providers in Australia with our ratings.
Compare some of the best ADSL broadband ISP's using our customer satisfaction ratings.
Found a winning brand? Compare broadband plans with the WhistleOut comparison tool.
iiNet cast a wide net when it comes to award-winning customer satisfaction
Reviewed by the Canstar Blue Research Committee for publication on the .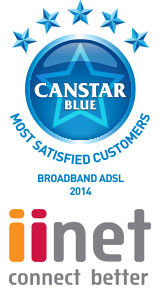 Nearly half of the respondents to our recent survey spend three or more hours every day online in their homes…but are they getting the best digital bang for their buck?
We asked Australians who had a broadband plan how satisfied they were with their ISP (internet service provider), and the results overwhelmingly point to one brand in particular: iiNet.
Compared to some of our other rated ISPs, iiNet is a relatively young company. Regardless, it has quickly grown to be one of the most prominent providers in the country – not bad for a company founded in someone's garage.
iiNet achieved our Most Satisfied Customers Award – Broadband Providers, 2014. This brand also received five stars for technical support, connection speed, reliability of service, and billing.
Our other rated brands had plenty to offer as well. Dodo received five stars for value for money, as did TPG. Additionally, Internode1 received a host of five star ratings for technical support, connection speed, and reliability of service.
Optus, Telstra, and iPrimus were also rated in these results. Want to see how each brand performed? Our full broadband provider results can be found below.
1 Internode was acquired by iiNet back in 2011.
Past Ratings
ADSL Broadband Internet Providers (2010)
ADSL Broadband Internet Providers (2012)
ADSL Broadband Internet Providers (2013)