Broadband Providers Review
In the market for faster broadband speeds, better value for money, or more reliable service? Compare some of the best broadband providers in Australia with our customer satisfaction ratings.
Compare some of the best ADSL broadband ISP's using our customer satisfaction ratings.
Westnet speeds off with our award for customer satisfaction
Reviewed by the Canstar Blue Research Committee for publication on the .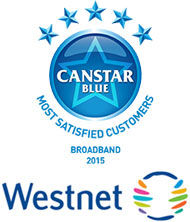 Westnet has swept its first award in our broadband providers category, securing five stars in the key area of overall customer satisfaction for 2015. Westnet stood out from a relatively large playing field, which included both Internode and iiNet – four star recipients in these results – and Optus, TPG, iPrimus, Telstra and Dodo, all of which achieved three stars.
In an impressive sweep, Westnet scored five stars in all the rated criteria, which consisted of value for money, after sales support, connection speeds, reliability and billing. Additionally, Internode took out a top rating for billing in these results.
Home broadband has become almost as indispensible a utility as water or electricity. However, the process of researching and changing broadband plans is often difficult and labour intensive.A whopping 45% of Aussies who responded to this survey thought that they could get a better broadband deal from another provider, and 38% have been shopping around over the past year to find a better deal.
The good news is that with the number of ISPs in the market increasing every year (and competition increasing as a result!), there's never been a better time to find yourself a great home internet plan in Australia. We've commissioned customer satisfaction surveys of Aussie broadband customers for roughly half a decade; with the aim being to help you decide which company can give you a great deal.
And these results don't just look at overall satisfaction.
Which broadband providers are best in show for 'value for money'?
The average Australian spends approximately $69.19 on their broadband plan every month, our survey results show. We were curious as to what that amount of money would buy you in terms of the products available from our rated brands.
So, give or take $10, and keeping in mind that terms and conditions will always apply for these kinds of products, here's what we found.
| | | | | |
| --- | --- | --- | --- | --- |
| | Monthly price | Contract period | Connection type | Data allowance |
| Dodo | $79.90 | 24 months | ADSL2+ | Unlimited |
| iiNet | $69.00 | 24 months | Naked DSL | 300GB |
| Internode | $79.95 | 24 months | Naked DSL | 250GB |
| iPrimus | $69.95 | Monthly | Naked DSL | Unlimited |
| Optus | $80.00 | Monthly | ADSL2+ | 200GB |
| Telstra | $73.00 | Monthly | ADSL2+ | 50GB |
| TPG | $69.99 | Six months | Naked DSL | Unlimited |
| Westnet | $79.90 | 24 months | ADSL2+ | 300GB |
Please note: Information published in the table above was current at time of publication.
It would seem that all the providers offer something similar, with only minor variances between them. While it's important to consider the above, we believe that value for money is a better barometer for assessing how valuable a product is than pure cost. Value for money essentially means great service and features at a price you think is reasonable – not just the cheapest price around!
In the value stakes, the majority of our surveyed providers achieved high scores; Westnet came out on top and was followed by Internode, iiNet, Optus, TPG and Dodo, all of which achieved four stars each. Next were iPrimus and Telstra, who both achieved three-star ratings. It seems if you're looking for a good deal in home broadband, you've got a lot of places to look!
After sales support
The scores achieved for technical support were more varied, with Westnet taking five stars and only two companies achieving four: iiNet and Internode. Behind these three were Optus, TPG, iPrimus, Telstra and Dodo with three stars apiece.
Connection speeds
One of the biggest bugbears for internet users is slow connection speeds; thankfully, the providers in our survey achieved good scores for customer satisfaction in this criterion. Westnet topped the charts with a five-star rating, and they were closely followed by four-star recipients Internode, iiNet, Optus and Telstra. Behind these on three-star ratings were iPrimus, TPG and Dodo.
Reliability of service
We found that the reliability of broadband services was the key driver of customer satisfaction in these results, meaning it's a key selling point for brands that perform well in this category. Westnet again the only five star recipient, and just two other providers achieving four– Internode and iiNet. The remaining companies – Optus, TPG, iPrimus, Telstra and Dodo – scored three stars.
Billing
Satisfaction with ISP billing was the only area in which we had joint five star achievers: both Westnet and Internode scored five stars for billing satisfaction, followed by iiNet on four and rounded out by Optus, TPG, iPrimus, Telstra and Dodo with three.
–
How we rated broadband
Canstar Blue commissions Colmar Brunton to regularly survey 3,000 Australian consumers across a range of categories to measure and track customer satisfaction. The outcomes reported are the results from customers within the survey group who currently have a broadband account in their name and pay the bills for it – in this case, 2,198 Australians.
Brands must have received at least 30 responses to be included. Results are comparative and it should be noted that brands receiving three stars have still achieved a satisfaction measure of at least six out of 10. The ratings table is first sorted by star ratings and then alphabetically. A rated brand may receive a 'N/A' (Not Applicable) rating if it does not receive the minimum number of responses for that criteria.