Gaming PCs are considered one of, if not the, most popular devices for gaming, as players utilise these high-performance computers to maximise their gaming potential and overall experience. As gaming computers don't come cheap, if you're looking to commit to a gaming PC, you may be wondering what the right one for you will be, and where you can buy it from. To help you find – or build – something that suits your playing style and budget, read on to find out what you need to consider when it comes to your ultimate gaming setup.
What is a gaming computer?
A gaming computer is a desktop or laptop that is built solely for the purpose of increasing performance in video games, often through increases in the computer's processing power and graphics cards. While generally in the realm of competitive gamers or YouTube stars, gaming computers are now more easily available for the casual user, allowing more to enjoy modern games without laggy screen time or poor performance, with most gaming computers also compatible with other gaming consoles or recording software.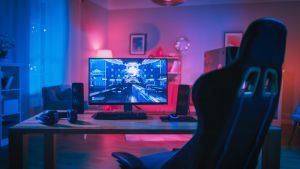 What's the difference between a regular computer and a gaming computer?
While they may share a number of similarities and basic functionality, the major difference between a regular and gaming computer is the processing power and video card capabilities. As video games often require a lot of processing power to keep you in the moment, more power is needed to keep everything running smoothly.
Additional differences include gaming computers often having more storage space and RAM to help facilitate a smooth gaming experience, with most gaming computers also coming with additional fans to help cool down the system when the game starts to heat up. If you're still not sure what the difference is, just think of a gaming computer as a big brother to a regular computer, with its software and specs more suited to high quality games than your run-of-the-mill spreadsheets and internet browsing.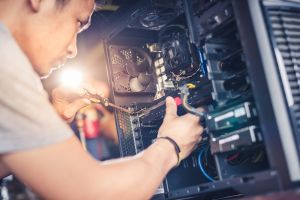 Pre-built vs custom-made gaming computers
When it comes to gaming setups, the biggest question is do you buy off the shelf, or build your own? Ultimately, it will come down to your personal preferences and budget, as pre-built and custom-made computers both have their pros and cons, as outlined below:
Pre-built Pros
Pre-built Cons
Custom-made Pros
Custom-made Cons

·  Convenient

·  Ready to buy, allowing you to jump straight into gaming

·   May not have the specs you want

·  Can be pricier, as someone else does all the work

·  More control on what goes into your computer

·  More personalised experience to suit your preferences

·  Sense of accomplishment after building your own

·  Can be pricey depending on what parts you need

·  May have to wait while parts are delivered

· Have to build the machine, which may a problem for first-timers
General guide only
How much does a gaming computer cost?
Gaming computers differ in price, as the top PC systems offering cutting edge features and immersive gameplay tend to be quite expensive, sometimes costing upwards of $2,500. A typical gaming PC can set you back anywhere from $1,000 and $1,500, meaning it's not for the faint-hearted, but well worth the cost for keen or professional gamers.
If you're looking for a gaming PC on a budget, some cheaper options can be found between $500 and $750, although you may have to sacrifice a bit of quality, as well as do the building yourself. But it may be a small price to pay to get the setup you want.
Where can you buy gaming computers?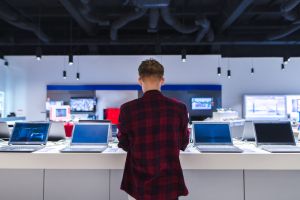 Gaming computers are available to buy either through electronics retailers or through the brand itself, with a number of stores available for those looking to go down the custom-made route. Below are some of the more prominent retailers for gaming computers:
Oz PCs
Umar
JW Computers
Sceptic
Dream
Computer Alliance
Harvey Norman
Levatich
Mwave
PLE Computers
Are gaming computers worth it?
When looking at gaming PCs, it's evident that there are plenty of options out there, with your optimal choice of computer essentially coming down to your budget and gaming preferences. Do you prefer to take your time and build your own, or are you ready to sit down and game straight away? Additionally, it is important to look into accessories and other components of the setup, including monitors, keyboard and mouse, and even headsets, as they may also impact on your decision to which brand, type and part you lock in for your setup.
Internet Plans for Gamers
The following table shows a selection of published NBN 50 plans on Canstar Blue's database, listed in order of monthly cost, from lowest to highest, and then by alphabetical order. Use our comparison tool to see plans from a range of other providers. This is a selection of products with links to referral partners.
Photo credits: Gorodenkoff/shutterstock.com, Preechar Bowonkitwanchai/shutterstock.com, BodnarTaras/shutterstock.com