With the gaming industry looking to surpass 90 billion dollars by the end of 2020, research shows that the recent spike in gaming popularity is partially due to the increasing gaming community that closely follows and support streamers, e-sports tournaments and more. With this rise of streaming awareness, there are more people than ever before making money from gaming. But how do you do it? And can you really make a living from what was previously considered a hobby? Canstar Blue answers your questions in this article surrounding the financial benefits of gaming, as well as some tips on how you can get into it yourself.
How to make money from gaming
While there are a number of ways to make money from gaming, here are some of the more popular options for gamers to cash in:
Twitch streaming
e-sports
Beta testing
Make money from Twitch streaming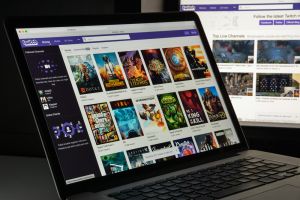 Twitch is the world's top video game live-streaming platform, with well-known gamers such as Ninja, Shroud and Myth utilising Twitch to showcase their gaming skills and personalities to millions of fans across the world. Twitch is free-to-watch for fans and interested viewers alike, although streamers also have paid subscription channels for exclusive content.
These subscriptions from fans provide a recurring income for Twitch streamers, as viewers can opt for one of three subscription options, all with different price tiers. Twitch usually takes a 50/50 split from the streamer's subscription fees, although the top streamers have been known to take a larger chunk of the pie due to their popularity and the amount of viewers they bring to the platform.
If you're wanting to generate capital from gaming, starting off on Twitch can prove to be challenging in some scenarios, as the level of competition out there can make it difficult to gain a following and make a name for yourself. It's recommended you do unique and out-of-the-box content to help entice viewers and start garnering a following.
Make money through e-sports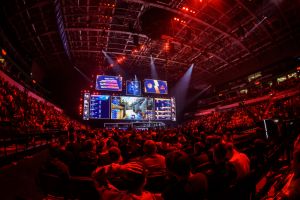 e-sports, also known as electronic sports, is essentially the top-tier of competitive gaming, which generally either places teams or individuals against each other on certain gaming platforms or games. The bigger e-sport tournaments can sell out arenas, and prize money can pool anywhere from $10,000 up to millions of dollars depending on the game and tournament. Like most professional sports, e-sports generally have different leagues and competitions, although this ultimately depends on the popularity of the game, with popular titles including Fortnite, Counter Strike: GO, League of Legends and DOTA 2.
How do I get into e-sports?
A lot of prospective gamers are sometimes discouraged by the long windy road it takes to get into e-sports, as like other competitive sports it takes a lot of time, effort and practice. If you think you've got what it takes to be successful in the e-sporting world then look at the tips below to help get you a jump start on your gaming career!
Watch streamers and e-sport tournaments to get a feel for the competition.
Choose a popular game and stick with it (make sure it's played at e-sport events).
Pick your platform, such as PC, Xbox or PlayStation.
Play as much as possible to hone your skills in order to play at a competitive level.
Invest your money into quality gaming equipment, such as RAM, graphics cards, monitors and chairs, to help you enhance your performance.
Try to network with other gamers and make a name for yourself in the gaming community.
Sign up for nearby e-sport leagues and competitions.
If you're successful in minor competitions, look to start competing in e-sport tournaments.
e-sports also opens up the possibility of sponsorship, provided you have a big enough audience. However, it's always best to look into all your options, and invest your time, money and image in worthwhile sponsors, particularly while you're just starting out.
Make money through beta testing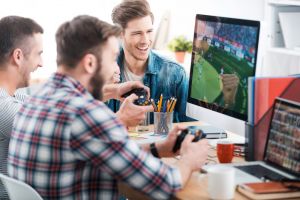 Beta testing is essentially the 'grown-up' version of making money from gaming, where game developers employ gamers to test titles that are currently in-progress. Beta refers to the first version of the game available to public, with beta testers using this time to play the game and provide feedback to developers and companies, such as how the game plays, how it looks and if it needs more work on certain areas before the title is given the green light to be developed and sold.
Becoming a beta tester can prove to be quite competitive, as who doesn't want to be paid to test games all day? Unfortunately, beta testing can prove to be a tough gig when you do get it, with only so much testing to be done, meaning most beta tests come only as contract work and you may have to look for another job in a few months' time.
Is it worth trying to make money from gaming?
Making money can rarely be an enjoyable task, but if you're passionate about what you do for work, then money may simply come as a bonus. However, as with most hobbies, trying to make money off gaming can prove to be tougher than many anticipate, particularly in the competitive gaming sphere, with many gamers putting plenty of hours into their style of gameplay, marketing their channels and competing at a high level, meaning it's not for the faint hearted. But if you think you have what it takes, or you're simply looking to make a bit of money on the side and don't mind putting in the work, then there are plenty of ways to make your hobby a profitable one.
Internet Plans for Gamers
The following table shows a selection of published NBN 50 plans on Canstar Blue's database, listed in order of monthly cost, from lowest to highest, and then by alphabetical order. Use our comparison tool to see plans from a range of other providers. This is a selection of products with links to referral partners.
Photo credits: sezer66/shutterstock.com, CasimiroPT/shutterstock.com, Roman Kosolapov/shutterstock.com, G-Stock Studio/shutterstock.com