Virtual Reality is here. The technology to place people into any space, real or imagined, at affordable consumer level prices has finally arrived and boy it's impressive. But what are the best VR headsets on the market in Australia? Read on as Canstar Blue offers the following guide, writes Krishan Sharma.
In 2016, we saw the arrival of not one but four VR headsets from some of the biggest names in the tech industry, including Facebook-owned Oculus, HTC, Samsung and Sony. Then in 2017 we saw hardware prices come down and software offerings begin to catch up as the VR market matured, making it a great time for newcomers to get into VR. Now 2018 looks set to be the year VR really goes mainstream.
From the top-tier VR experiences powered by PCs and games consoles, to the wave of mobile-based VR headsets that turn the humble smartphone into an engrossing VR display, there's a VR experience to suit almost any budget. With so many headsets across a number of different price and power spectrums, which one should you buy? To help you answer that question, here are our top picks for the best VR headsets.
Mobile Vs Tethered VR Headsets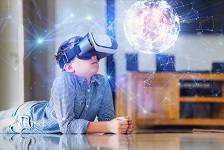 VR headsets fit into one of two categories – mobile or tethered. Mobile headsets are essentially shells with lenses into which you place your smartphone. The lenses separate the screen into two images for your eyes to see, effectively turning your handset into a VR device. The mobile headsets themselves are relatively inexpensive as they act as nothing more than a frame for your smartphone, which provides the display, sensors and processor for the mobile VR experience.
As mobile VR is powered by the phone, it is notably underpowered compared to tethered VR headsets that require a fairly powerful PC or a games console to drive. It also means that your smartphone will be inaccessible for other tasks when docked inside a VR headset. Using mobile VR for an extended period of time will chew through your battery at a rapid rate as well.
The two major mobile VR platforms include Samsung's Gear VR and Google Daydream. Support for mobile VR is limited to select high-end Android smartphones and will not work with Apple's iPhone. In the case of the Gear VR, only Samsung Galaxy smartphones from the S6 onwards are compatible while Google Daydream currently supports a handful of high-end Android smartphones such as the Samsung Galaxy S8, Galaxy Note 8, Google Pixel, LG V30 and Moto Z.
On the upside, mobile-powered VR units offer some consumer-friendly advantages, including a cheaper price point provided that you already own a compatible smartphone, wire-free setup and a plug-n-play experience that you can take with you practically anywhere – whether it be on an airplane, or on your morning commute. Oculus, HTC and Google are also planning to release standalone headsets that don't require a phone and have better head tracking.
Tethered headsets like the Oculus Rift and HTC Vive are physically connected to a capable PC while the Playstation VR (PSVR) requires a Playstation 4 games console. The use of a dedicated display in the headset instead of your smartphone, as well as built-in motion sensors, an external camera tracker and hand-tracked controllers, drastically improves both image fidelity and the overall immersion factor. Both the Oculus Rift and HTC Vive are also capable of room-scale which allows users to freely walk around a play area, with their real-life motion reflected in the VR environment.
Windows Mixed Reality headsets are yet another PC VR option, but they're arguably not worth the investment yet as they're more expensive than the Oculus Rift while also lacking the content and polish of its competitors.
The trade-off with being physically tethered to an external box, whether it be a PC or games console, is that you will have to contend with clunky cables. The barrier to entry is higher with the headset costing around $500 and that's before you factor in the cost of a capable PC or a Playstation 4.
For this reason, tethered headsets are often referred to as 'high-end VR' geared towards those who are looking to experience everything that VR has to offer, while mobile VR is suited for much more passive VR experiences such as watching 360-degree videos and other casual VR content.
What is the best mobile VR headset?
If you own a compatible Samsung Galaxy smartphone and just want to dip your toes into VR without spending too much money, then the Gear VR is an easy choice. For around $100, you get a headset, a motion sensing controller, and access to a significantly larger content library than what is available on Google's Daydream mobile VR platform.
While Google launched the Daydream View with a controller before Samsung, the Gear VR's version is arguably better overall. In particular, it has a trigger button, which is essential for interacting with virtual reality environments. Gear VR also has the ability to adjust the focal point of the lenses inside the headset, making it the better choice for those who wear glasses since you can adjust things so that your glasses aren't entirely necessary while in VR.
Compatible Samsung Galaxy smartphones include the Galaxy Note 5, Galaxy S6/S6 Edge/S6 Edge+, Galaxy S7/S7 Edge, Galaxy S8/S8+, or Galaxy Note 8.
What is the best tethered VR headset?
The Oculus Rift was the first headset to really make a splash in the industry and spark a VR revival releasing prototype headsets to developers as far back as 2012. It's first commercially available VR headset, the Oculus Rift, was released in early 2016 and in that short space of time the Rift has evolved considerably in terms of what it can do while also being significantly cheaper.
The Rift will cost Australians $US449 delivered, which equates to about $AU590 at the time of writing. For that price, you get the Rift headset bundled with its excellent Touch controllers which are more comfortable and compact than the HTC Vive controllers and far more accurate and versatile than the PSVR's Move controllers. The Touch controllers simulate real life hand movements, giving the feeling that the virtual hands are actually your own.
At $999, the HTC Vive is almost twice as expensive while also being more complicated to set up. The Vive's tracking base stations need to be placed high up in opposite corners of your room which could involve drilling mounts into your walls if you don't have bookcases nearby. In comparison, the Oculus Rift's two sensors can be simply placed around your monitor or television while the Playstation VR uses a single camera. Vive still has the advantage when it comes to room scale VR experiences, but the reality (pun intended) is that very few VR titles take advantage of it and you can always get room-scale performance on the Rift by adding a third sensor.
One main advantage that the HTC Vive has over the Rift or PSVR is the number of pricey but useful tracking accessories that you can add to the setup. These accessories use the Vive Tracker (sold separately) – a small motion tracking accessory that can attach to any object in real life, allowing the player to then use the object in the virtual world. There's also a wireless adapter accessory (sold separately) that removes one of the biggest bugbears of high-end VR – the long cord running from a PC to the headset.
If you own a Playstation 4, then Sony's Playstation VR headset offers a very accessible path to VR. While you won't get the same level of immersion as you would with the Rift or Vive (the hand-tracking isn't as accurate and it lacks room-scale), the headset is incredibly comfortable to wear which is important for long VR sessions and very easy to set up. Our biggest complaint with the Playstation VR is that it doesn't come with everything you need in the box. Once you factor in the cost of the headset, the camera and the move controllers, you're looking at a price point that goes above the Oculus Rift's $590 price tag.
But just like with any piece of technology, content is king and this is where the Oculus Rift is unmatched. The Oculus Rift software library boasts a number of big-budget VR games exclusive to the platform and it also has access to all of the titles available on HTC Vive thanks to the open nature of the Steam platform.