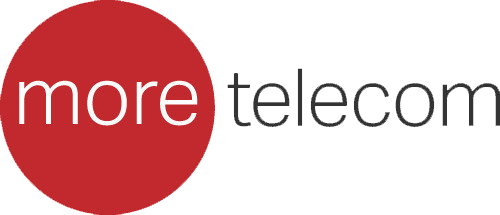 Review of More Telecom internet plans
If you're the owner or proprietor of a small business, there's arguably never been a better time to look for a broadband plan. No longer are you stuck with just Telstra or Optus for your business broadband-specific needs – there are now many providers out there all competing for your dollars. One such company is More Telecom. It promises to be "100% business, but without the grey attitudes". See how its plans stack up in this review by Canstar Blue.
More Telecom Broadband Plans
More Telecom has a range of both ADSL and NBN business plans from around $70 a month. See below for a quick rundown.
Connection Type
Data Included
Price Per Month From
NBN Fixed Line
100GB
$69.95
600GB
$79.95
Unlimited
$89.95
ADSL Bundles
500GB (Small Bundle)
$91.90
500GB (Medium Bundle)
$104.90
500GB (Large Bundle)
$139.90
500GB (XL Bundle)
$154.90
Beyond these two broadband deliveries, More also has business-grade fibre internet, with symmetrical speeds, guaranteed speeds and unlimited data from $449 a month. More Telecom also has business Ethernet plans with similar guarantees starting at $249 a month.
Beyond broadband plans, More Telecom also has a comprehensive customer service platform:
The call centre is open from 8.30am to 7pm Monday to Friday, and promises to answer calls within 10 seconds
The live chat function operates on the same hours
So let's see what More Telecom has to offer in more detail.
More Telecom NBN Plans
With pricing from about $70, More Telecom's NBN plans look the goods. The base speed tier comes in at 25/5, and to boost to 50/20 you'll pay an extra $10 a month, and again for 100/40 speeds. With More's NBN plans you'll also get unmetered uploads, with an NBN modem included. There are no connection or installation fees and customers also get a static IP address. Beyond these plans, you also have the option of bundling in a landline service from an extra $10 a month, which includes unlimited local and national calls.
More Telecom ADSL Plans
If your business is still in an area serviced by an ADSL connection, fear not! More Telecom still has you covered. With these plans you have no choice but to bundle a phone service in with your broadband plan, with 500GB data coming as standard across all plans. The amount of call allowances you have dictates price:
Small $91.90: PAYG calls with local calls 15.5c untimed, national calls 44c each, mobile calls 44c/minute, 13/1300 calls 45c each
Medium $104.90: Included local and national calls, mobiles 55c untimed, 13/1300 numbers 45c each
Large $139.90: included local, national and mobile calls, 13/1300 numbers 45c each
XL $154.90: everything's included
More Telecom also bundles in a standard modem, though you can upgrade to an AC modem for a $99.95 upfront fee.
How does More Telecom compare to other providers?
Between both its NBN and ADSL connections, More Telecom compares pretty well to other broadband providers, however the ADSL phone bundles may let it down a tad.
More Telecom NBN Plans Compared
In the business sphere, several large providers pop up, and manage to offer arguably more 'bang for buck' than what More Telecom can provide. Big providers such as TPG and Optus both offer unlimited data for around the $60-$70 range, however More's plans come with a base speed tier of 25/5, while these other two are on 12/1. To get faster speeds on Optus, you have to be willing to spend around $80 a month.
More Telecom ADSL Plans Compared
500GB from $91.90 per month
Again, TPG and Optus dominate the rankings for business ADSL, while Telstra and Spintel also come into the picture with some fairly competitive plans. TPG tends to offer the all-out cheapest plans, somewhat stymied by peak/off-peak data allowances, whereas Optus' ADSL plans are the same as its NBN plans – unlimited data from $60 a month. Spintel also offers an unlimited deal for around $70 a month, which also includes local and national calls as standard. Telstra's plans are mostly around the $100 mark, but for that you also get local calls included, as well as a range of bonuses from time to time. Seemingly, More Telecom somewhat falls behind when it comes to data-for-dollars, as well as call inclusions.
Can I get more data for less with More Telecom?
More Telecom is a small business-focused broadband provider dealing in both NBN and ADSL broadband plans – not to mention various fibre and Ethernet deals – to compete alongside TPG, Optus and Telstra. However, even against some of these providers' plans, More Telecom tends to look somewhat lacklustre when it comes to data. Specifically, with its NBN plans, it offers less than 500GB for the same price that others are offering unlimited data; for ADSL it's a similar story. Furthermore, the bundling of ADSL plans with landline calls also tends to stick out in a world where providers add calls as an optional extra. It's good to see More Telecom as another fairly competitive provider in the small business broadband race, but chances are you can at least find more data for cheaper prices elsewhere.