American TV network CBS has announced that it will buy struggling Aussie broadcaster Network Ten from administrators. CBS already has a streaming service of its own and a lot of its content is found on Channel Ten already, so what could this mean for streaming in Australia, and how will it stack up against Netflix and the like?
CBS All Access Streaming Australia
CBS has its own streaming service called 'All Access' which is already available in the US, and will come to Australia as part of the new Network Ten takeover. All Access will compete alongside Amazon Prime Australia, Netflix and Stan for market share, but it'll have to offer a lot to sway Aussie consumers.
CBS All Access in the US boasts 9000 episodes of CBS-centric shows such as The Big Bang Theory, NCIS, Blue Bloods and the Good Wife. You may recognise these shows as being mainstays on Channel Ten – well, be prepared to get a much bigger dose.
CBS All Access with ads costs USD $5.99 a month, but without costs $9.99 a month
This is for two simultaneous streams
All Access is available to watch through Apple TV, PS4, iOS devices, Android devices, Google Chromecast and many others – much like Netflix and Stan. Speaking of these two, these start at about $10 a month, so is All Access enough of a boon to warrant another $10-odd? For fans of the shows above, the answer may be yes but it will be interesting to see how content stacks up in Australia.
Foxtel & CBS All Access – What could it mean for Australians?
It will also be interesting to see how murky the waters get when Foxtel TV rights come into play. Lachlan Murdoch is a stakeholder in Network Ten, and is the son of Rupert Murdoch and part of the Newscorp empire that owns Foxtel.
Foxtel currently has rights to HBO shows and other shows like Game of Thrones, as well as rights to some AFL and NRL games in Australia.
Could this mean more streaming options for Australians and the breakdown of the Foxtel strangehold, or would it mean one super-globo TV streaming service – a combination of CBS and Newscorp/Foxtel? Livestreaming of sports will likely be a big bargaining chip in the years to come.
CBS All Access NFL & Sports Streaming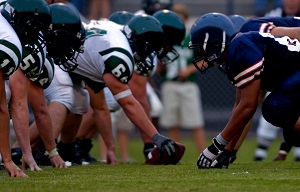 Oh and we forgot another thing – NFL streaming. As if the waters weren't murky enough, in comes Channel Seven. Seven currently has the rights to NFL broadcasting in Australia until the conclusion of the 2018/19 season. CBS All Access currently has a deal with the NFL to stream its games, so it will be interesting to see how this pans out. For NFL pundits in Australia, the addition of All Access to the streaming landscape would only make it more interesting. CBS also has access to many NCAA Men's college basketball and football games, potentially further saturating the Aussie market with American sports.
Channel Ten also has rights to motorsports and some rugby matches so it will be interesting to see if CBS can expand on this
No matter what happens, the introduction of All Access to Australia is going to ruffle a few feathers, and likely mean more content for Australian sports fans to watch.
Crunching the numbers of the Channel Ten takeover
Part of the CBS/Ten deal involves a hefty refinancing package including a loan from the Commonwealth Bank and guarantor fees of $33 million owed to James Packer, Lachlan Murdoch and owner of WIN Television Bruce Gordon. Secured loans helping the embattled network include $98 million to the Commonwealth Bank, $841,000 to Westpac and $640,000 to ANZ Bank. This brings the total takeover value by CBS to about $123 million.
CBS already has a 33% stake in Eleven, and the $123 million deal will see CBS takeover the entire family of Network Ten channels – including One, Eleven & TenPlay. Currently Ten is the only Australian TV group to lack a dedicated livestreaming service. The CBS takeover of Network Ten is a big deal, and potentially means a further splintering of the streaming market to take on the big guys like Netflix and Stan, as well as Foxtel.