One of the centerpiece parts of a smartphone these days is the camera. Ever since the phone and camera were first coupled in the early 2000s, companies and consumers have been unable to separate them, to the point where they've become a staple, with phones even adopting more than one camera as time went on. But what makes a good phone camera? It comes down to a lot of things, but we've got your answers in this article.
Jump to:
What makes a good camera phone?
A good camera phone should have a high megapixel (MP) count and be able to take photos with easy controls, without blurring them and showing colours well. When you're looking for a phone camera, you'll ultimately want a mix of value for money and quality, which both vary greatly depending on the brands you're looking at.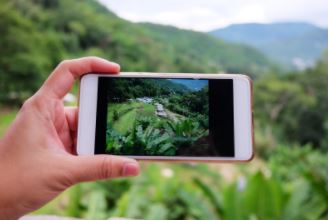 For videos, frame rate also matters, as it determines how smooth the recording will playback, along with recorded resolution (such as 1080p or 4K).
The value for money of a phone camera ties to other key variables, like storage capacity and the processor. Storage capacity determines how many photos and videos you can have stored on your phone, whereas your phone's processor determines how fast and responsive your phone may be.
When looking for a smartphone camera, you should keep an eye on the MP count of the cameras on the back. The best cameras will have a high MP number and be able to take a multitude of different photos. That being said, a good phone camera should be easy to use and have a user friendlty operating system to make things smooth and not laggy, so you don't miss the perfect shot.
What are the best camera phones?
The best camera phones typically have a high megapixel count with a wide range of lenses, along with a reasonably good camera app. Apple, OPPO and Samsung excel in these areas, although you'll find good camera phones from other manufacturers. Typically, a good phone camera goes hand-in-hand with a good smartphone.
Below, you'll find a table of the best cameras in smartphones on the market right now, with storage capacity listed as well, determining how many photos and videos you can have stored. If you're confused by any of the camera quality terminology, scroll below for our explainers.
Phone
Camera quality
Storage capacity

Five cameras: 50MP (Wide), 13MP

(telephoto), 50MP (Ultrawide), 3MP (microscope), 32MP

(selfie)

256GB

Three cameras: 12MP (Wide), 12MP 

(Ultrawide), 12MP (Selfie)

128GB, 256GB, 512GB

Seven cameras: 50MP (wide), 8MP 

(periscope telephoto), 8MP (telephoto),

40MP (ultrawide), TOF 3D (depth),

32MP (selfie) IR TOF 3D (selfie depth,

biometrics)

256GB, 512GB

Four cameras: 12MP (Wide), 64MP

(Telephoto), 12MP (Ultrawide), 1oMP

(Selfie)

128GB, 256GB

Three cameras: 12.2MP (Wide), 16MP

(Telephoto), 8MP (Selfie)

64GB, 128GB
Last updated August 2021
Phone plans for photographers
If you're interested in any of these phones, we have them all available within our comparison tool, although if you're interested in getting a new phone plan, see the table below. Having a phone plan with a good amount of data will allow you to upload and download more photos on the go from the internet, and is great for any photographer.
The following table shows selected prepaid and postpaid plans on Canstar Blue's database, listed in order of cost, from the lowest to highest and then by data allowance, largest to smallest. This is a selection of products with links to a referral partner.
Here is a selection of postpaid plans from Canstar Blue's database with a minimum of 10GB of data, listed in order of standard cost, lowest to highest, then by data allowance, largest to smallest. Use Canstar Blue's phone plan comparison tool to see a wide range of plans on offer from mobile providers. This table includes products with links to referral partners.
Here is a selection of prepaid plans from Canstar Blue's database with a minimum of 10GB of data, listed in order of standard cost, lowest to highest, then by data allowance, largest to smallest. Use our comparison tool to see a wide range of plans from other providers. This table includes products with links to referral partners.
What is a wide camera?
A wide phone camera is the general phone camera that takes photos. The wide element allows you to have a decent amount of zoom with the phone, giving you some fairly detailed wide shots and zoom. The wide phone camera is fine for group photos or general photos with short to medium distance.
What is an ultrawide camera?
The ultrawide camera in a phone is basically a more heavy-duty version of the wide phone camera. Rather than the wide camera being useful for both some wide shots and close shots, the ultrawide camera is optimal for extremely detailed ultrawide shots, say for scenery or cityscapes.
What is a telephoto camera?
A telephoto phone camera allows you to take photos of objects with increased magnification, with a narrow field of view. It's great if you want to take a photo of a central person or figure with the background blurred and not imposing, giving you some awesome portrait shot capability. They're great for getting zoomed photos without losing image quality.
What is a selfie camera?
A selfie camera goes on the front of the phone and allows you to take self-portraits (selfies) without turning the entire device and using the back cameras. You use the selfie camera to video call and take photos of yourself.
Most satisfied customers: Camera quality
At Canstar Blue, we collect data through customer satisfaction surveys. This year, we surveyed almost 1,500 Aussie consumers on the best smartphones available in the country, with Camera Quality as a category. This year, Apple came out on top, with a five-star rating for Camera Quality, although Samsung also has this rating.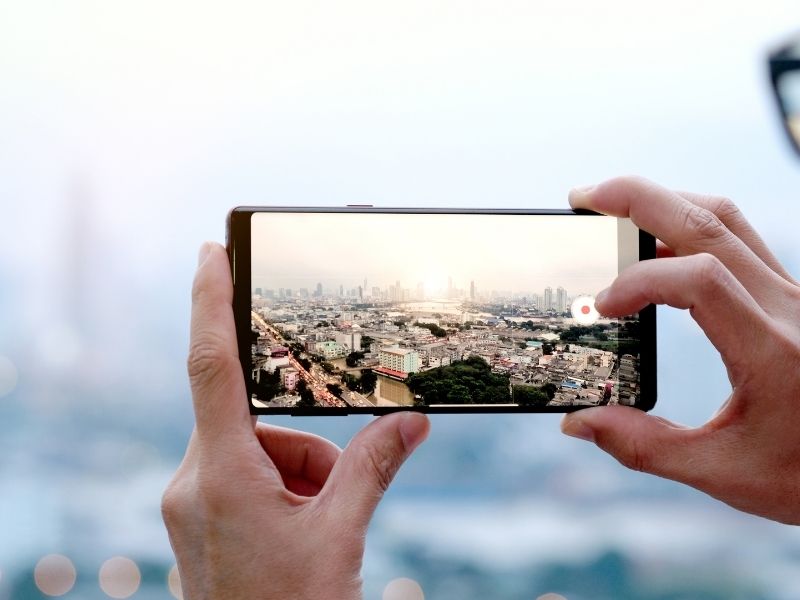 This is the order in which smartphone brands were rated in terms of their camera quality:
Apple
Samsung
Huawei
Nokia
OPPO
How much should I spend on a phone camera?
If you're after a smartphone with a great camera, you could spend anything between $500 and $1,500, although decent-quality cameras still exist on lower-end phones. Think carefully about how much you'll actually use the camera on your phone and work back from there. Having an amazing-quality camera isn't for everyone, and can certainly bump the price of your phone up significantly.
Also, consider other variables that will affect the quality of your pictures. The storage capacity of your phone, speed and the user-friendliness of the phone and the camera app. Generally, 64GB of storage will be enough for casual use, but if you like recording videos and taking photos often you should consider a phone with 128GB of storage, or potentially more. This will allow you to have more saved files on the go.
The last thing you want when capturing that perfect shot of your family or a sunset is a smartphone that only loads up its camera app half the time. Thankfully, most phones have easy-to-use user interfaces, with iPhones being incredibly easy to pick up and master with iOS, and OPPO sporting its own version of the Android operating system called ColourOS, which works really well too. The android operating system is typically easy to get the hang of, however can be quite laggy depending on the specifications of the phone you're using.
If you're big on cameras, we have more articles for you here: