Virtual reality (VR) is looming as a consumer technology growth industry, with a number of products set to hit the market over the course of the next year. Some of the world's largest technology players are devoting significant resources to VR, with the race well and truly on to grab a share of this emerging market.
While VR has been around for a while, it now appears poised for steep growth, following significant manoeuvring in the industry throughout 2015. A number of products have been released during the year as the industry moves from niche to mainstream, with Samsung, Google and LG among the technology players to have released VR products in 2015, making early moves in the market.
Analyst firm Juniper Research expects that wearable VR head mounted display shipments will grow from just over three million next year, approaching 30 million globally by 2020, stating that technological advancements coupled with a corresponding growth in interest from major players has VR "in a position where the market can finally take off".
Juniper believes VR technology is poised to transform the entertainment industry, including gaming and video, and has the potential to quickly expand into other markets, such as the industrial and healthcare markets. While VR is typically associated with entertainment, its functions may well be adopted by other industries.
So, what's in store for VR technology over the course of the next year? What products are set to be released and what will they offer? Here's a guide.
Samsung Gear VR
The recent release of Samsung's Gear VR headset is the forerunner to what will likely be a rush of consumer VR releases in 2016. The Gear VR works in conjunction with Samsung's 2015 flagship range of smartphones, with Samsung effectively building its consumer technology ecosystem via the pairing of the devices.
It should therefore be noted that, while the Gear VR carries a consumer-friendly price tag of $158.99, consumers will also need to own one of Samsung's more expensive smartphones.
Samsung states the Gear VR, which has been manufactured in conjunction with VR tech firm Oculus, provides users access to VR content such as videos and games, working in conjunction with such services as Netflix.
Oculus Rift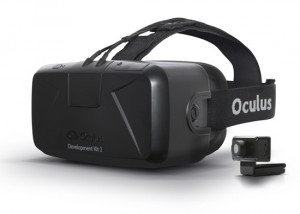 Oculus is set to release the Oculus Rift headset next year. Oculus was purchased by Facebook in 2014, lending significant financial clout to its VR efforts. Oculus states the Oculus Rift provides "incredible visual fidelity and an immersive, wide field of view", with users able to play games or access video content, such as movies and TV.
The Oculus Rift works in conjunction with the Xbox One controller, while Oculus has also introduced its Oculus Touch tracked controllers. The Oculus Rift is scheduled for release in the first quarter of 2016.
PlayStation VR
Sony's PlayStation VR is set to hit the games console market next year, potentially transforming the gaming industry. The PlayStation VR visor style headset will work in conjunction with the PlayStation 4, with Sony stating it will take the console "to the next level of immersion".
"When the player places the VR headset on their head, an impressive virtual world will appear right before the player's eyes, and as the player's head rotates, the image of the world will also rotate naturally and intuitively in real-time," Sony states. "By utilising 3D audio technology uniquely developed by SCE, sounds that players hear will also change in real-time depending on their head orientation within the 360-degree virtual space."
While the PlayStation VR will arrive in 2016, Sony has yet to narrow down the release date.
Microsoft HoloLens
Microsoft says the HoloLens "is the first fully untethered, holographic computer", enabling the integration of high-definition holograms into the user's world. The HoloLens works in conjunction with Microsoft's recently released Windows 10 operating system, with Microsoft stating that it enables gaze, gesture, voice and environmental understanding.
The HoloLens allows the user to place holograms in their physical environment, with Microsoft having partnered with a number of companies as it develops different applications. Microsoft has yet to confirm a release date for the HoloLens, however a development edition is set to ship in the 2016 first quarter.
HTC Vive
HTC is another technology player set to release a VR headset in 2016, with the HTC Vive set to deliver "sights and sounds vivid and lifelike enough to transport you to another place, another time".
The Vive is being developed in conjunction with gaming company Valve, with HTC stating that, powered by Valve's SteamVR, "plenty of games that take advantage of its capabilities will soon be available on the Steam service".
HTC recently advised that it will be making units available to developers early in the new year, with the Vive set for commercial release in April.
More than just entertainment?
VR is typically associated with entertainment, particularly gaming and video content, however its applications may well grow to encompass various other functions. With gaming and video as foundation industries, VR's applications may well become varied.
Microsoft's HoloLens, for instance, promises a variety of functions, with Microsoft having recently announced a partnership with car maker Volvo. "Imagine enhancing your car buying experience at the dealership by viewing the complete inside of the vehicle you are interested in," Microsoft stated upon announcement of the partnership. "With the power of holograms, we have the ability to open the car up completely, take a closer look at the engine, inspect the chassis or watch the drivetrain and transmission in action. Imagine viewing and customising the car of your personal choosing, and viewing it at scale."
Earlier in the year, a partnership between Microsoft and NASA had also been announced, enabling scientists to "work on Mars", doing so virtually utilising the HoloLens technology.
Samsung this year also demonstrated the additional potential of VR, with a world-first live streaming VR birth, employing its Gear VR.
Using the Gear VR headset, an electrical contractor on-site at work in Queensland was able to experience the birth of his son "in real time, almost as though he was standing in the Perth delivery room – 4,000 kilometres away".
Next generation entertainment
Meanwhile, the likes of the PlayStation VR, Oculus Rift and HTC Vive are set to provide a range of gaming and video content functions, teaming up with various content partners in delivering the anticipated wave of next-gen VR entertainment.
Streaming video-on-demand providers such as Netflix will likely be leading the content charge, with third party app developers set to build a range of VR games across various genres, tailored to various tastes, accompanying the release of the respective headsets.
Communication is another area in which VR may establish a niche, with various social media platforms likely to integrate with VR technology. This year Facebook added 360 degree videos to its platform in what may well be the precursor to further VR efforts.
Technology companies will likely be looking to integrate their various VR efforts into the current technology ecosystem, providing integrated functionality across various smart devices, and providing further encouragement for consumers to purchase VR products.
The VR rush is coming, and 2016 may well be the year that the industry establishes a firm foothold in the consumer technology space – it's certainly a technology to keep an eye on.
Other articles you might like
Wearable technology: The next big thing